How to help the Nepal quake victims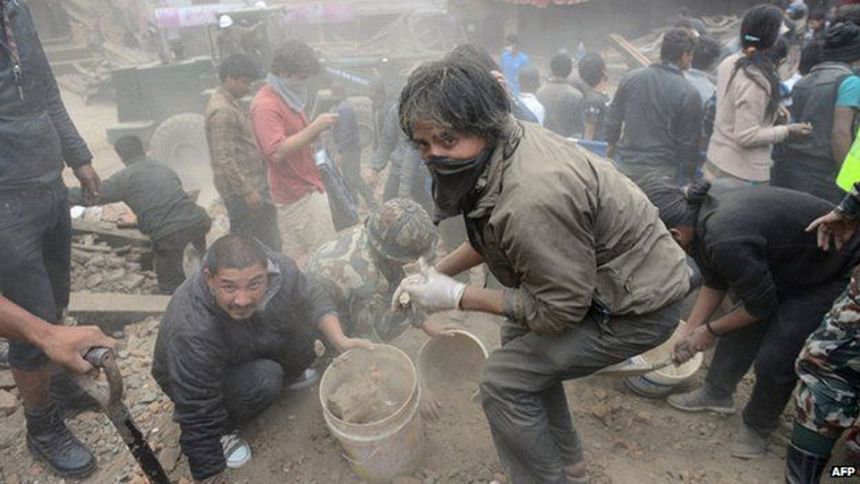 The news daily Mashable compiled a list of agencies that are providing help to the deadly earthquake victims in Nepal which killed thousands so far.
A massive 7.8-magnitude earthquake rocked Nepal on Saturday, killing over 1,900 in the country and dozens more in surrounding nations. Seventeen bodies were recovered on Mount Everest base camp and 61 were injured when part of the base camp was engulfed by the snowslide.
Several buildings collapsed in Nepal's capital of Kathmandu, including the historic Dharaha tower. The poor quality of buildings in the Kathmandu Valley, which has a population of 2.5 million people, makes them susceptible to extensive damage.
They have rounded up the following list of organizations that are helping victims in Nepal and other affected areas, which you can support:
World Vision
World Vision calls itself a Christian organization that helps bring children out of poverty, and tries to build communities with its relief work. The organization already has a presence in Nepal.
Donate to support World Vision's relief efforts in Nepal, here.
Oxfam
Oxfam is an international organization dedicated to fighting poverty. It also has a presence in Nepal.
Donate to Oxfam's relief efforts in Nepal, here.
Samaritan's Purse
Samaritan's Purse describes itself as an evangelical Christian organization that works "in crisis areas of the world." It has a presence in Nepal.
The organization's website hasn't put up a donate page yet, but this page about the earthquakehas a donate box at the bottom, where you can enter a dollar amount.
CARE
 CARE (Cooperative for Assistance and Relief Everywhere) is a large humanitarian organization, again with a presence in Nepal.
Visiting its website will take you to a page where you candonate to CARE's relief efforts in the country.
Save the Children
 Save The Children, an organization dedicated to helping children in 120 nations, also has a network in Nepal.
Donate to its relief efforts in the country, here.
UNICEF
UNICEF works to ensure that every child has a safe and healthy childhood, is on the ground in Nepal aiding children and families. You can donate to UNICEF's efforts online.
In addition, you can automatically donate $10 by texting "Nepal" to 864233 (UNICEF).