Fresh air strikes hit Yemen rebels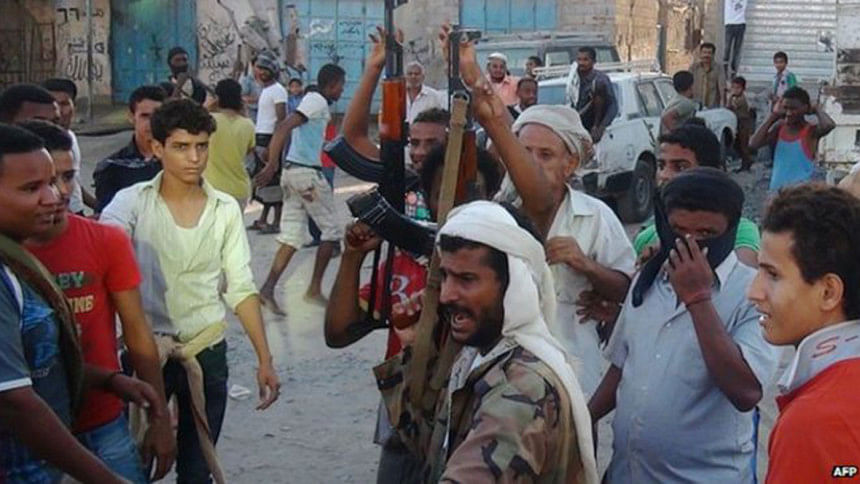 Warplanes from a Saudi-led coalition are bombing Yemen for a third night, targeting Shia Houthi rebels as they advance in and around the port of Aden.
The rebel advance has sparked street battles with forces loyal to President Abdrabbuh Mansour Hadi, who fled Aden and is now at an Arab League summit.
Former President Ali Abdullah Saleh - whose supporters are fighting alongside the rebels - has called for a truce.
But Saudi Arabia has vowed to defend Hadi's government from the rebels.
Obama reaffirms support
The Sunni kingdom has accused its regional rival, Shia-led Iran, of backing the Houthis.
It has mobilised a coalition, including Gulf Arab states and Egypt, to roll back the rebels' advance in a mission codenamed Operation Decisive Storm.
US President Barack Obama spoke to Saudi King Salman on Friday and reaffirmed his support for the military action, the White House said in a statement.
Obama and King Salman agreed their goal is to achieve lasting stability in Yemen through a negotiated political solution, the statement said.
The US military rescued two Saudi pilots who ejected from their F-15 fighter jet over the Gulf of Aden, a US defence official said on Friday.
He said the two were rescued in international waters at 21:20 GMT by a helicopter from Djibouti after Saudi Arabia requested assistance.
A statement on the Saudi SPA news agency said the plane had been hit by a technical fault.