FEATURE: The place where mystery rules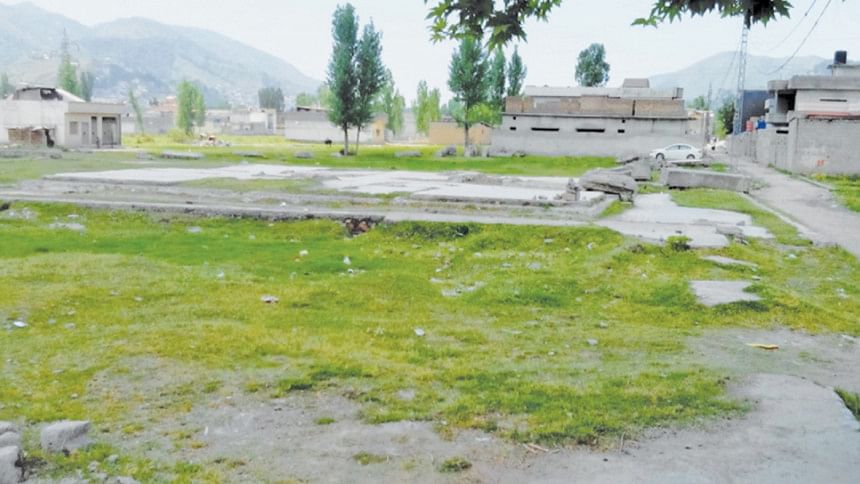 The potato, onion and garlic fields are green and well tended, and the streets feel sleepy under the early summer sun. It's hard to believe that this is the place that dominated world headlines five years ago, when US forces raided a compound here and killed Osama Bin Laden.
The structure of that compound has been demolished and the only other change in the neighbourhood is that some of the potato fields are being developed into modern agricultural farms using tunnel-farming techniques. 'OBL street', which at that time had only a few other houses on it, now appears narrow after the construction of several new houses.
The compound where America claims to have killed Bin Laden on May 2, 2011, is now nothing but a heap of rubble, broken concrete slabs and pillars. The contractor who bought these remains and was responsible for clearing up every single particle of this 'house of shame' left its foundations intact, though, and many concrete beams remain scattered around.
Young boys play cricket on the cemented floors of what probably once were the living rooms and bedrooms of the compound, using the concrete blocks to make temporary cricket stumps. Cows graze lazily on the patch which once was the back lawn and rainwater, accumulated in ditches and depressions, has stagnated between patches of grass. The vacant plots in front of the main gate of the compound where media corps from across the world set up their camps in the days that followed the raid are now littered with stones and cement blocks.
The first and immediate neighbour to this compound, Baba Zain, who is a traditional bone-setter, sits in the shade of the trees here. He is busy tending to the twisted leg of a small child who fell down while playing; he uses a brick to rest the leg on and applies pressure to fix the distressed knee joint. Then, Zain shows me his own arm.
"I am unable to provide relief to people now because my own arm has been broken," says the 84-year-old. "I have not shown it to doctors or other experts because they know nothing about the science of bones."
"My bone was broken because of the rubble in this compound," he explains. "I was standing here when a child ran towards the fields; I tried to catch him and fell. Since then, I have lost strength in my arm."
"So your arm has been broken because of Osama, since Pakistan's arm was twisted because of his existence in this compound," I ask mischievously, hoping he reacts and shares with me some details of Bin Laden's presence here.
"Osama! What Osama? There was no Osama living here," he says. "There were two brothers, Arshad Khan and Tariq Khan, from Charsadda, living here with their families. I used to go into this grand palace when it was under construction. But when their families arrived after it had been completed, I was stopped from going in."
"But those families might have been Osama's?" I try to stir up an argument.
"No, no! They were the families of these Khans who built this house," insists Zain, who witnessed this compound being built, attacked and dismantled, and was also detained for interrogation for being a neighbour.
"So then what enmity did the US have to attack this house and those Khans?" I ask.
"That was a drama staged by the army and America," cuts in Zain's friend Mohammad Aslam, who is sitting with us. "We don't know what they achieved from all this."
"That was a strange night," Zain finally muses. "We were sleeping in our house and the electricity went off. At around midnight, several helicopters hovered very low over our house and its tin roof was blown away due to the strong air current. They offloaded commandos over this compound, in the street and fields. Then there was the sound of gunshots, grenade blasts and a helicopter was destroyed. When the helicopters left, the army came and took over the area. We were too fearful with all this going on to come out of our homes."
"Later, some intelligence guys picked up my son and me, blindfolded and handcuffed us and drove us somewhere around five hours' drive away," he recalls. "They questioned me about this house and what I knew about the raid. I told them I knew nothing. After 16 days, they brought me back to my house."
"Thousands of people visited this place during the first year after the attack," he carries on. "Now, rarely does a visitor come here but the intelligence guys come every week."
"Why don't you ask the authorities to hand this place over to you, to do some farming and grow potatoes here?" I prompt him.
"No, I don't take others' things," he says firmly. "I have seen what happens to people who greedily grab others' things and those who violate morals — they end up destroyed.
Copyright: Dawn, Pakistan/ Asia News Network