Europe's populist right targets migration after Paris attacks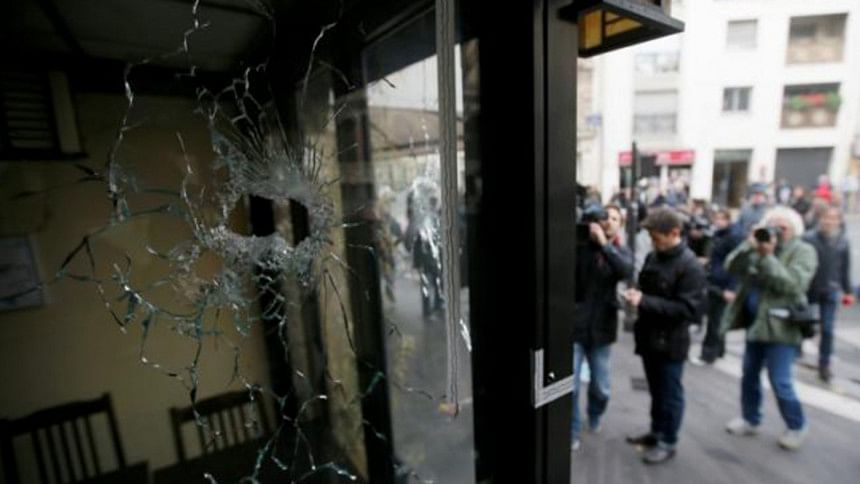 Populist leaders around Europe rushed to demand an end to an influx of refugees and migrants from the Middle East and Africa on Saturday after a wave of deadly attacks in Paris claimed by Islamic State militants.
The carnage in the French capital, directly linked to the conflicts in Syria and Iraq, seemed bound to further complicate the European Union's task in sharing out hundreds of thousands of migrants who have entered the bloc this year, fleeing war and poverty.
Poland's designated Europe minister said Warsaw could not take in refugees under an EU quota system after Friday's wave of attacks on restaurants, a concert hall and a soccer stadium in Paris, in which 127 people died and some 200 were injured.
The Islamic State militant group based in Syria and Iraq claimed responsibility for the carnage, saying it was to punish France for its involvement in those conflicts and for its attitude to Islam.
French President Francois Hollande said the group, also known as ISIS or by the Arabic acronym Daesh, had organised the attacks from abroad with internal help. He said France was at war with Daesh.
In a comment on the right-leaning news portal wPolityce.pl, Konrad Szymanski said his incoming government did not agree with the previous Polish administration's commitment to accept a share of an EU-wide relocation of immigrants.
"In the face of the tragic acts in Paris, we do not see the political possibilities to implement (this)," he said.
Szymanski will take up his position as minister for European affairs on Monday as part of a government formed by the conservative and Eurosceptic Law and Justice (PiS) party, which won a general election last month.
Slovakian Prime Minister Robert Fico, a centre-left nationalist who has also opposed refugee quotas, raised the possibility that Islamic State militants could have infiltrated the wave of migrants reaching Europe.
"We are working with two versions of the attack - radicalisation of the Muslim parts of population of France as retaliation for France's involvement in air strikes against ISIS, or infiltration of ISIS into the current migration waves," he told journalists after chairing an emergency meeting of his country's national security council.
"We have been saying that there are enormous security risks linked to migration. Hopefully, some people will open their eyes now," Fico said.
He is one of a group of central European government leaders, including nationalist Hungarian Prime Minister Viktor Orban, who accuse German Chancellor Angela Merkel of having triggered a stampede of migrants by opening German doors to Syrian refugees.
"Far reaching political ramifications will flow from yesterday's events as pressure increases on Merkel's liberal refugee policy, UK intervention in Syria becomes more likely, and building consensus on a pan-EU asylum policy more challenging," analyst Charles Lichfield of the Eurasia Group political risk consultancy said.
TAKE BACK CONTROL
In France, far-right National Front leader Marine Le Pen demanded that Paris take back control of its national borders permanently from the EU and "annihilate Islamist fundamentalism".
In a televised statement, she said France must outlaw Islamist organisations, shut down radical mosques, expel foreign "preachers of hatred" and illegal immigrants, strip binational Islamists of their French citizenship and deport them.
She did not mention Europe's migration crisis but she has previously opposed admitting any more refugees or migrants.
Elsewhere in Western Europe, some hard right politicians seized on the Paris attacks to sharpen their arguments for an end to migration while others were more cautious, expressing shock and condolences.
In the Netherlands, anti-Islam far-right leader Geert Wilders called on the government to close Dutch borders immediately, accusing the authorities of being in denial about connections between immigration and terrorism.
Wilders, whose Party of Freedom has climbed to record high popularity during the refugee crisis, said in a statement: "Prime Minister Rutte, I say to you: Close the Dutch borders. Now! Protect the Dutch people. Stop turning away and denying."
If elections were held now, opinion polls show, Wilders would triple his party's number of seats to more than the combined total of the two government coalition parties.
Mark Rutte, a centre-right liberal, announced a tightening of border checks and said the Dutch too were "at war" with Islamic State, but added: "We are not at war with a country, a belief or with Islam."
In Italy, where the right-wing daily Libero headlined its front page "Islamic Bastards", nationalist Northern League leader Matteo Salvini pointed to the religious radicalisation of immigrants and their children as a security threat and called for the closure of Europe's borders.
"Immigrants who are out of control do not help security. Of course if the terrorists turn out to be of second, third or fourth generation (of immigrant families) it's even worse because it means that Islam is not compatible and cannot be integrated with democracy," he told reporters in Milan.
On his Facebook page, Salvini said "all Islamic communities" in Italy should be placed under close surveillance, adding: "The throat cutters and Islamic terrorists should be eliminated with force!"