Tens of thousands evacuated from Ukraine arms depot blasts
Ukrainian authorities evacuated more than 30,000 people today from the central Vinnytsia region after a huge arms depot storing missiles caught fire and exploded in what prosecutors said was a possible act of "sabotage".
It was the second major incident affecting a large Ukrainian weapons storage site this year.
Kiev blamed a deadly March munitions blast on Moscow and its Russian-backed insurgents fighting Ukrainian forces in the war-wrecked east -- a charge both denied.
The ex-Soviet republic's military prosecutor's office said it had launched an investigation into possible "sabotage at a military facility".
Initial reports mentioned no fatalities and only two minor injuries from the raging explosions of heavy munitions and air defence missiles at the facility.
The Vinnytsia regional administration said the depot contained 188,000 tonnes of munitions, much more than the 83,000 tonnes the military first reported.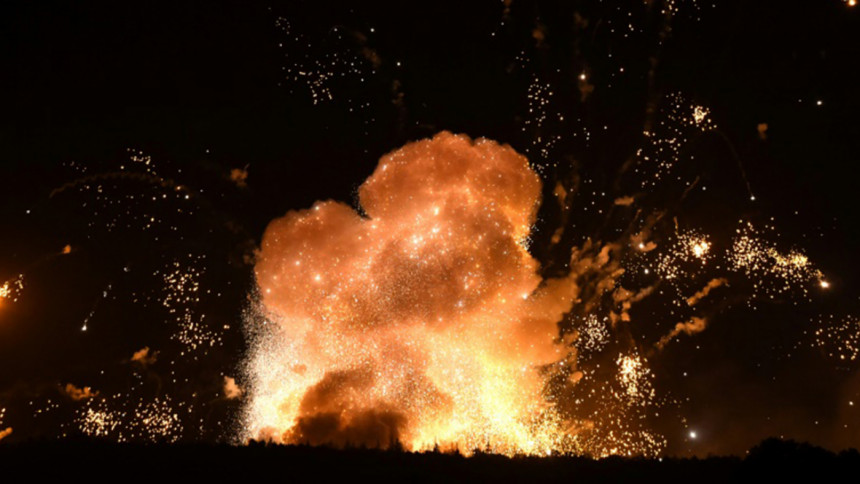 Various regional and military officials contacted by AFP could not explain the discrepancy or definitively say which figure was correct.
Military general staff spokesman Vladyslav Seleznyov told AFP that the arms depot was "one of the country's largest".
Explosions at the depot in the town of Kalynivka, some 175 kilometres (110 miles) southwest of Kiev, could be heard every five to 10 minutes and the streets were all but deserted by its 20,000 inhabitants, an AFP correspondent said.
"People suffered heavy damage," a local resident who gave just the name Antonina told AFP.
"Some homes had their windows and doors completely blown out," she said.
President Petro Poroshenko underscored the seriousness of the situation by telling his top military brass and Prime Minister Volodymyr Groysman to report to him directly after visiting the site.
"This is the arsenal of the Ukrainian army, and I think it was no accident that it was destroyed," Groysman said in televised remarks from the scene that hinted strongly at possible Russian or insurgent involvement.
Mass evacuation 
The Ukrainian army's high command wrote on Facebook that the fire broke out at around 10:00 pm (1900 GMT) Tuesday.
The flames caused artillery shells at the facility to explode one after the other in spectacular but harrowing orange balls of fire that lit up the night sky and shook the ground.
The national police said more than 30,000 people had been evacuated from areas immediately surrounding the storage site.
"In addition, 180 patients were evacuated from Vinnytsia area hospitals," Ukraine's emergency ministry said.
Officials also shut down surrounding airspace as a precaution to keep exploding missiles from hitting passing commercial jets.
Ukraine's emergency service began using two An-32 military cargo planes to douse surrounding forests with water to localise the raging flames.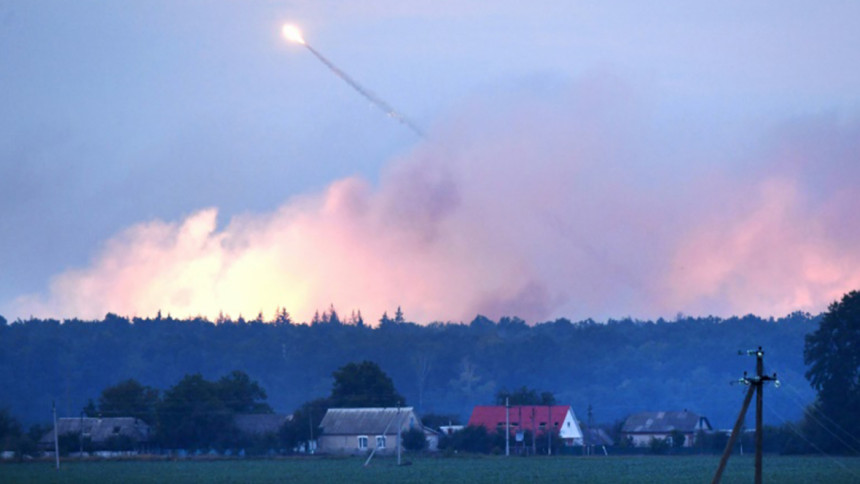 The last major arms depot explosion killed one person in the eastern town of Balakliya in March.
Authorities at the time pointed the finger at Moscow and Russian-backed militias fighting Ukrainian troops in a war that broke out in April 2014 and has claimed more than 10,000 lives.
Some officials in Kiev then mooted the possibility that the March fire was caused by explosives dropped from a drone.
Both Moscow and the Russian-backed insurgents dismissed the charge outright.
Vinnytsia lies nearly 700 kilometres west of the war zone.
Russia vehemently denies plotting and backing Ukraine's eastern conflict and refers to the fighting as a "civil war" -- a term that particularly irritates Kiev.