Brexit Deal Vote: UK PM suffers heavy defeat in House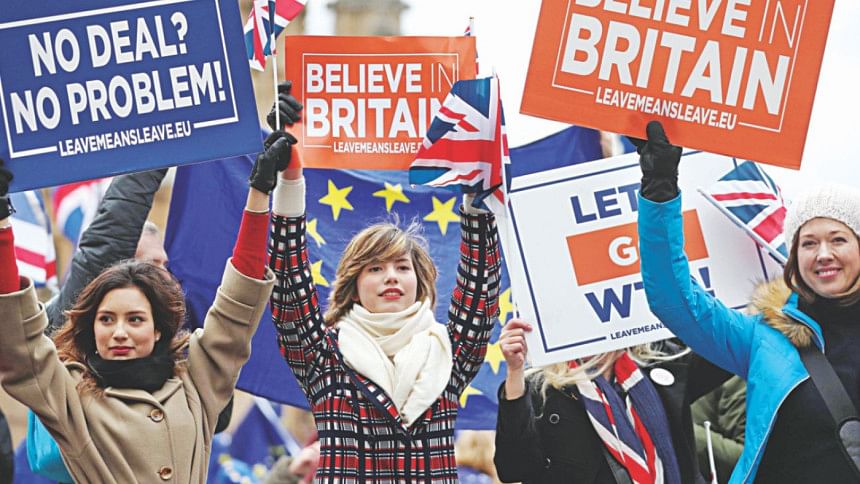 Lawmakers in the UK yesterday resoundingly defeated Prime Minister Theresa May's Brexit divorce deal with the European Union by a vote of 432 to 202.
The vote was viewed as one of the most crucial taken by British parliamentarians since the Second World War. It was followed minutes later by a formal call for a vote of non-confidence by Opposition Labour leader Jeremy Corbyn.
Prior to the vote, May told MPs in the House of Commons that their decision would set the future course for future generations of Britons.
The deal, which the prime minster herself has called "not perfect", was meant to establish terms for the March 29 exit and beyond, but was criticised from all sides. It was so much so that the prime minister recently had to fight off a  non-confidence vote in her leadership that has now been challenged.
The British PM said on Tuesday if new election were to be held, "whatever the results, the choices facing us will not change", adding, "all it would gain is two more months of uncertainty and division".
May's earlier win in the leadership challenge means she can't face a similar vote for a year. But some MPs from both government and opposition parties are exploring ways to use parliamentary procedures to wrest control of the Brexit process away from the government, so that lawmakers, by majority vote could specify a new plan for Britain's EU exit.
Conservative MP Dominic Grieve, who is spearheading efforts to unite parliament to prevent a no-deal Brexit, said ahead of the vote that the prime minister is, "pursuing a policy which doesn't meet with parliament's approval, and it's gradually running into the sand".
But with no clear majority in parliament for any single alternate course, there is a growing chance that Britain may seek to postpone its departure date while politicians work on a new plan.
MOST IMPORTANT VOTE 'IN A GENERATION'
Ahead of yesterday's Brexit vote, Corbyn said the blame will "lie firmly with the government and firmly at the feet of the prime minister".
Labour MP David Lammy, who has previously said Brexit is a "con" that will harm the country's most vulnerable, told CBC News that he thinks it's certain May will lose the vote, which he called "the most important in a generation".
"At that point, it's clear in our constitutional arrangement, the only thing you can do is go back to the country for a clear decision and direction," he said.
"That either means a general election or it means a people's vote -- a second referendum in which the issues, the more complex issues around Brexit, are put to the people."
And of course, a potential no-deal Brexit looms.
Grieve, who has backed calls for another referendum, said leaving without a plan would cause "immense" economic damage and hurt the country's most vulnerable.
Still, it's a possibility -- one many people in the UK have been readying for.
A major issue in the pre-Brexit wrangling has been around the border between Northern Ireland and the Republic of Ireland.
In a bid to win support ahead of yesterday's vote, the UK MP sought reassurances from EU leaders about the deal's most contentious measure -- an insurance policy known as the "backstop" that would keep Britain in an EU customs union to maintain an open border between the UK's Northern Ireland and EU member Ireland after Brexit.
Pro-Brexit lawmakers worry that Britain could be trapped indefinitely in the arrangement, bound to EU trade rules and unable to strike new deals around the world.
As Britain's deepest political crisis for at least half a century built to a head, a spokesperson for May said she would respond quickly to the result of the vote.
He also said there had been no discussion at a meeting between the prime minister and her cabinet on Tuesday morning of delaying Brexit beyond the March 29 deadline.