Christmas Day terror plot foiled in Australia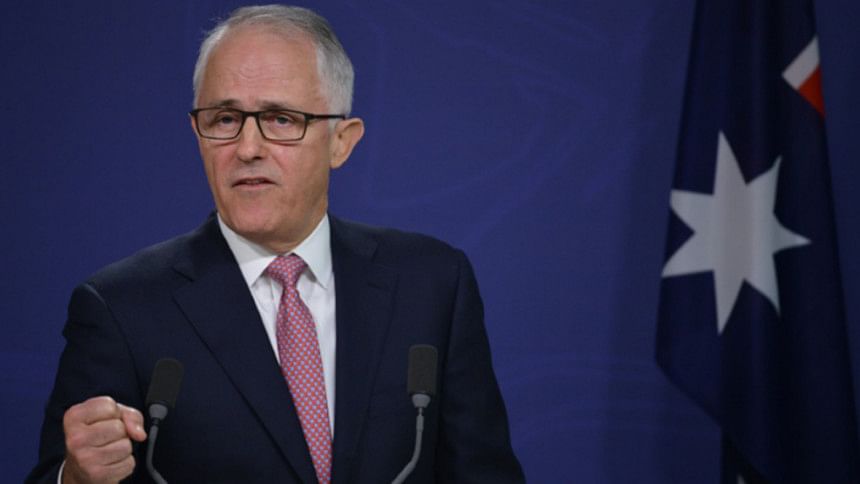 A "significant" Islamic State-inspired Christmas Day terror plot targeting central Melbourne with explosives has been foiled after a series of arrests in raids across the city, police said Friday.
Victoria Police chief commissioner Graham Ashton alleged those detained planned to also use knives and a gun to attack busy locations including Flinders Street train station, Federation Square and St Paul's Cathedral.
"Over the last fortnight... we have had to conduct a criminal investigation relating to the formation of what we believe was a terrorist plot," he told a news conference.
"We believe that there was an intention to conduct what we call a multi-mode attack, possibly on Christmas Day.
"The attack that we will allege was being planned, we believe was going to involve an explosive event, the use of explosives, and we gathered evidence to support that."
The targets of the alleged attack are all in the heart of the city, occupying three corners of arguably Melbourne's best-known intersection which is often packed with locals and tourists.
It is only a short distance from the Melbourne Cricket Ground where up to 100,000 people are expected to attend the Boxing Day Test between Australia and Pakistan, and close to the site of the Australian Grand Slam tennis tournament that starts in January.
Of the seven arrested Friday morning in raids involving 400 heavily armed police, five men remain in custody after two were released without charge. All had been under surveillance for weeks.
Ashton said four of them were Australian-born, of Lebanese background, with the fifth an Egyptian-born Australian citizen, all in their 20s.
"Certainly these are self-radicalised, we believe, but inspired by ISIS and ISIS propaganda," he said, referring to the jihadist group.
"If this had got under our guard this would have been a significant attack, we believe. No doubt about that."
He added: "A substantial number of people could have been injured in the attack, from what we've seen. Certainly potential for quite a number of people to be injured or killed in this attack."
'No longer a threat'
The foiled plot comes with security on heightened alert in Australia after a truck drove into a Christmas market in Berlin this week, killing 12 people in an attack claimed by the Islamic State.

On Wednesday in the capital Canberra, a van laden with gas cylinders exploded outside the headquarters of an Australian Christian lobby group, although police said it was not being treated as terror-related.
Ashton said there was no evidence to suggest the Melbourne attackers planned to use a truck or other vehicles.
Prime Minister Malcolm Turnbull said a potential disaster had been averted and praised police and security services.
"This is one of the most substantial terrorist plots that have been disrupted over the last several years," he said in Sydney.
"We are approaching the Christmas season, a time when we come together in peace and love, with our families.
"These terrorists sought to disrupt it. They have been thwarted. They are in custody. They are no longer a threat to Australians' security."
Twelve terror attacks have now been prevented on home soil in the past two years, according to Australian officials. But four have taken place, including the murder of a Sydney police employee last year.
Counter-terror police have made a large number of arrests since late 2014, with the youth and depth of radicalisation of many of those detained a growing concern.
Earlier this month, the government passed legislation allowing high-risk terror offenders to be kept in jail even after serving their sentences.