China pledges new funding for BRICS as group opposes protectionism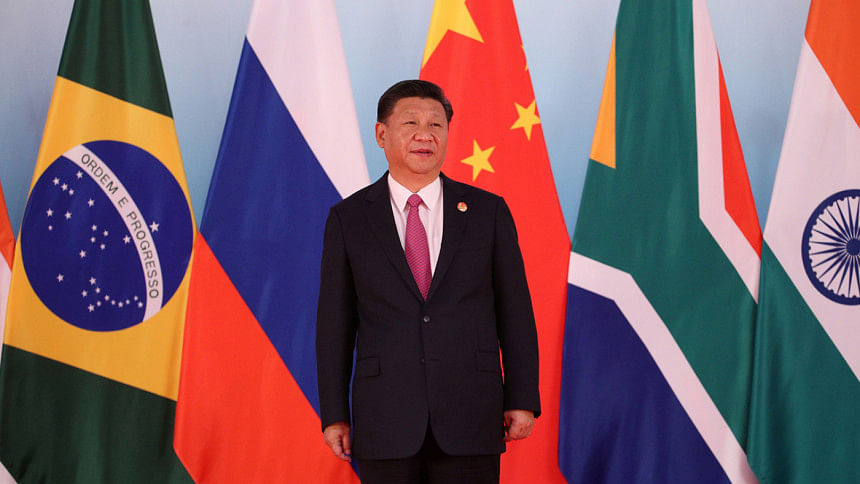 China will give $80 million in funding for BRICS cooperation plans, Chinese President Xi Jinping said on Monday, while the bloc of five emerging countries pledged to oppose protectionism.
Xi offered 500 million yuan ($76.4 million) for a BRICS economic and technology cooperation plan, and another $4 million for projects at the group's New Development Bank (NDB) during a three-day leaders summit in the southeastern city of Xiamen.
China's new contributions to BRICS pale in comparison to its $124 billion pledge earlier in May for Xi's own Belt and Road initiative, which aims to expand links between Asia, Africa, Europe and beyond as a new way to boost global development.
The announcement came amid questions over the relevance of BRICS and China's commitment to the NDB in light of the Belt and Road initiative and the China-led Asian Infrastructure Investment Bank, both key efforts by Beijing to bolster its global influence.
Xi said during a plenary session at the BRICS leaders' summit that the five emerging economies - Brazil, Russia, India, China and South Africa - should increase cooperation in sectors such as trade and investment, monetary policy and finance, and sustainable development.
"We should redouble our efforts to comprehensively deepen BRICS partnerships and open BRICS cooperation," he said.
Set up in 20l5 as an alternative to the World Bank, the Shanghai-headquartered NDB was seen as the first major BRICS achievement after the group came together in 2009 to press for a bigger say in the post-World War Two financial order created by Western powers.
The BRICS leaders will gather in Xiamen through Tuesday, giving host China its latest chance to position itself as a bulwark of globalisation in the face of US President Donald Trump's "America First" agenda.
A draft "Xiamen Declaration" seen by Reuters, a formal version of which is expected to be issued later, said BRICS countries will continue to firmly oppose protectionism as they are committed to an "open and inclusive" multilateral trading system.
The communique emphasised the need to be vigilant in guarding against "inward-looking policies" that could hurt global market confidence, and called upon all countries to fully implement the Paris climate agreement.
The summit has been overshadowed by North Korea's sixth and most powerful nuclear test, which came on Sunday just hours before Xi opened the meeting with a keynote speech, and prompted a vow of a "massive" military response from the United States if it or its allies were threatened.
Though China's Foreign Ministry has condemned the test, Xi did not mention North Korea during that 45-minute address or in his televised remarks during Monday's plenary session.
The BRICS grouping said in its draft communique that it strongly deplored Pyongyang's test, but that the problem over its nuclear programme should only be settled through peaceful means and dialogue.
"We express deep concern over the ongoing tension and prolonged nuclear issue on the Korean peninsula," it said.
North Korea tested two ICBMs in July that could fly about 10,000 km (6,200 miles), putting many parts of the US mainland within range and prompting a new round of tough international sanctions.
Though angered over the tests, China - North Korea's closest ally - has lambasted the West and its allies over recent weeks for promoting the "China responsibility theory" for North Korea.
The UN Security Council was set to meet later on Monday to discuss new sanctions against the isolated regime.
Chen Fengying, an economics expert at the state-backed China Institutes of Contemporary International Relations, said on the sidelines of the BRICS meeting that at the most BRICS countries will take note of the North Korean problem.
"Intervention is rather difficult. Our cooperation is mainly on global governance," she said.