Carson will not apologise for Muslim remark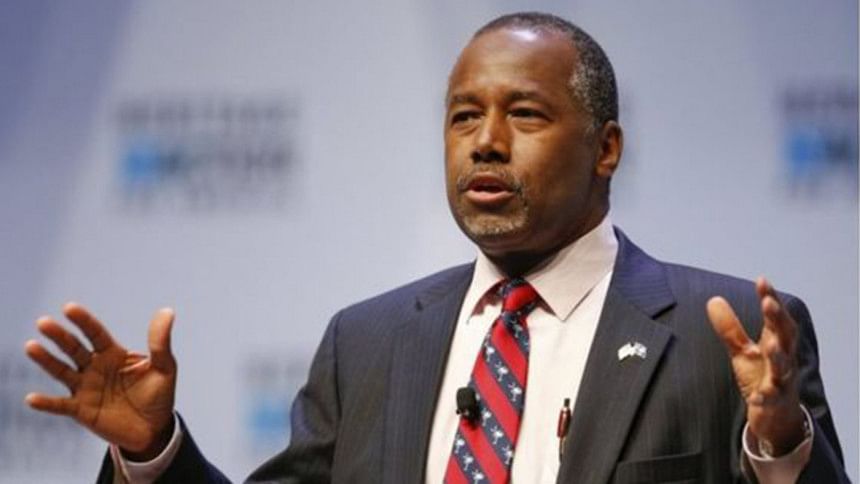 Ben Carson, the Republican US presidential candidate, will not take back his comment in a recent interview that a Muslim should not be president, Carson's Business Manager Armstrong Williams said this morning.
Carson has nothing to clarify, Williams added.
In an interview with NBC's "Meet the Press", Carson yesterday said Islam is not consistent with the constitution and that while he would consider voting for a Muslim member of Congress, the highest office in the land is off-limits to people practicing a faith professed by approximately three million Americans, reports Politico.
"He was thinking like someone who loves America first, who wants to protect America. He understands that there are tenets of Islam that hates Jews, that kills homosexuals, will kill Muslims, do not advocate belief and value systems that made America into the country that it is today," Williams told CNN's Alisyn Camerota on "New Day."
Replying to an observation that these views apply only to extremists, Williams said his candidate was "not trying to be politically correct."
"Dr Carson was asked his opinion. His opinion was, the timing at this point, he would not vote for a Muslim in the White House. This is why he's not a politician. This is why he's not trying to be politically correct. This is America. It's a place of freedom of speech," he said.
"It is not an issue of religion, it is an issue of one's belief system, of how they will govern."
Camerota then read out part of Article VI of the constitution, which mandates that no religious test can be used against someone running for office.
"Dr Carson, Alisyn, as you're alluding to, was not speaking about religion, not at all. He is like most Americans in their hearts and they search themselves and they ask questions. If you see what's going on in the world today, and you ask questions, if you search yourself deeply and ask yourself, at this time in the history of our country, in the question that was posed to him, which he asked and answered truthfully, is that he would not be comfortable with someone who shares the Islamic Muslim faith in the White House," Williams said.
"And if Dr. Carson, because of his love for America, he is willing, everything is not about winning the White House for him, it's about standing up for what he believes in, telling the truth, even if it makes CNN and others uncomfortable. It is what he believes."
"It is not about Christian, it is not about Jew, it is not about religion. It is about what one believes and what they would advocate if they became president of these United States," Williams continued, adding that Carson "will not take it back."
Asked whether Carson would sit with Muslim groups to clarify his remark, Williams was firm.
"Only, Alisyn, you and others feel that there is something to clarify. You don't need to clarify what you believe in," he responded.