'Unsustainable' spike in asylum seekers at Canada-US border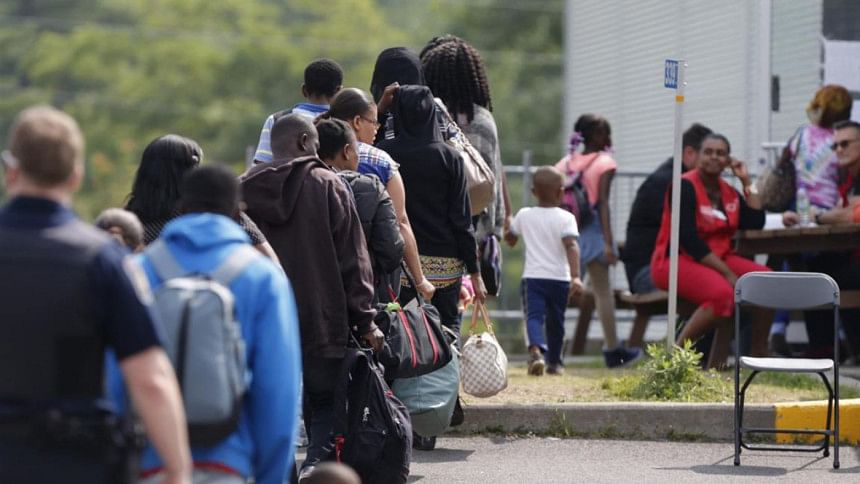 The number of asylum seekers who illegally crossed the US border into Canada more than tripled last month, according to Canadian government data released on Thursday, as migrants worried about the US administration's immigration crackdown head north.
More than 3,100 people walked across the border illegally in July to file refugee claims and were arrested, up from 884 in June, the federal government said.
Ninety-six percent of them went to Quebec, where an influx of asylum seekers, primarily Haitians, is sparking a backlash from opposition politicians and anti-immigrant groups in the primarily French-speaking province.
In the first 15 days of August, an additional 3,800 asylum seekers were arrested crossing the US border into Quebec, the Royal Canadian Mounted Police said. More than 1,000 people are living in tents and government facilities at a Lacolle, Quebec border crossing across from upstate New York.
"It's not a crisis. It's a situation that is extraordinary. But it's well-managed," Transport Minister Marc Garneau told reporters in Lacolle on Thursday.
Canada is struggling to house and provide social assistance for the influx of asylum seekers as its refugee system faces the worst delays in years.
The Immigration and Refugee Board (IRB), which is responsible for hearing all asylum claims, has redeployed resources to deal with the Quebec arrivals.
"The IRB had to make adjustments to be in a position to respond to the current situation that is clearly unsustainable," spokeswoman Anna Pape said in an email.
Canada has launched a campaign to counter misinformation about the country's refugee policy, which is believed to be one reason for the influx of refugees.
"Asking for asylum in Canada is not a guarantee for permanent residence in Canada, and it's extremely important we stress that," immigration ministry spokesman Louis Dumas told reporters.
Conservative parliamentarian Michelle Rempel, her party's immigration critic, said the government steps are a "band aid" solution.
"This situation started with Prime Minister [Justin] Trudeau's irresponsible tweets and he has a responsibility to fix it," Rempel said in a statement, referring to January tweets Trudeau sent touting Canada's welcome of refugees after a US travel ban was unveiled.
A Trudeau spokesman said the government has been consistent on the issue of refugees: "Canada welcomes immigrants ... that said, there are laws and processes in place for people seeking asylum and our government is sending a clear message."
Many of the most recent asylum seekers arriving in Quebec have been Haitians who face looming deportation from the United States when their temporary protected status expires in January 2018.
Canada ended its own ban on deportations to Haiti last summer. In the first quarter of this year, almost two-thirds of Haitian refugee claims were rejected, according to government figures.
The spike in asylum seekers has sparked protests by anti-migrant groups who say Canada is being soft on law-breakers.
The Montreal suburb of Boucherville has received dozens of messages on social media denouncing the asylum seekers, some of whom are being housed at a former seniors' home in the quiet suburb, according to local media reports. Montreal, Quebec's biggest city, opened its Olympic Stadium to house the arrivals.
Sylvain Brouillette, a spokesman for right-wing extremist group La Meute, which is organizing a Quebec City protest on Sunday, said his group is protesting the "policies of the Trudeau government toward illegal immigration."