Burundi votes in tense election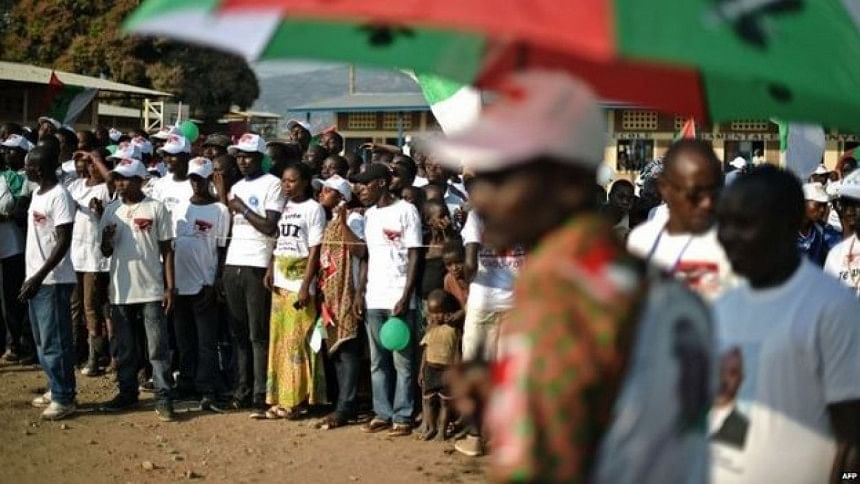 Burundian President Pierre Nkurunziza is standing for a third consecutive term in elections that have been denounced by his opponents as unconstitutional.
The opposition says the president is only entitled to stand for two terms.
Public anger over his bid for a third term provoked violent protests in April and a failed coup attempt in May.
Polls opened at 06:00 local time (04:00 GMT), after a night of gunfire and explosions in the capital Bujumbura.
The BBC's Maud Jullien in Bujumbura says shooting is continuing in the streets.
The president's office has described the latest protests as terrorist acts intended to disrupt the election.
None of the president's seven challengers in the election has made a significant impact, correspondents say.
In addition several leading opposition parties have said they would boycott the vote.
Nkurunziza's main challenger, Agathon Rwasa, is registered as an independent candidate as his faction of the FNL party is not recognised by the government.
Critics say that a win for President Nkurunziza would be a hollow triumph that will result in him governing a bitterly-divided nation.
"The government has opted to isolate itself and go ahead with pseudo-elections," prominent opposition figure Leonce Ngendakumana was quoted by the AFP news agency as saying after negotiations on the crisis broke down on Sunday.
Another opposition figure, Jean Minani, accused the government of being "very irresponsible".
"They have refused to save Burundi from sliding into an abyss," he said.
Tensions
But officials close to the president - a former guerrilla fighter, teacher and born-again Christian - argue that he is a man of the people and the only person capable of rebuilding the country after decades of civil war.
They say that he has an instinct for survival and is determined to remain in the presidential palace.
Tensions between Burundi's ethnic Hutu majority - comprising some 85% of the 10.5 million population - and the country's Tutsi minority have flared up regularly since independence from Belgium in 1962.
Nkurunziza led a Hutu rebel group fighting the Tutsi-dominated army until a peace deal let to him becoming president in 2005.
The Constitutional Court has backed his argument that his first term in office did not count towards the two-term limit, as he was elected by MPs.
The elections are being held following weeks of protests over President Nkurunziza's plan to seek a third term.
In May, rebel generals tried to overthrow him in a coup. After they failed, a rebellion began in the north of the country.
The African Union (AU) has not sent observers - the first time it has taken such a stance against a member state.
Tensions in Burundi have forced more than 100,000 people to flee this year.
Some 3.8 million Burundians are eligible to vote.