Blasts near Dortmund bus injure player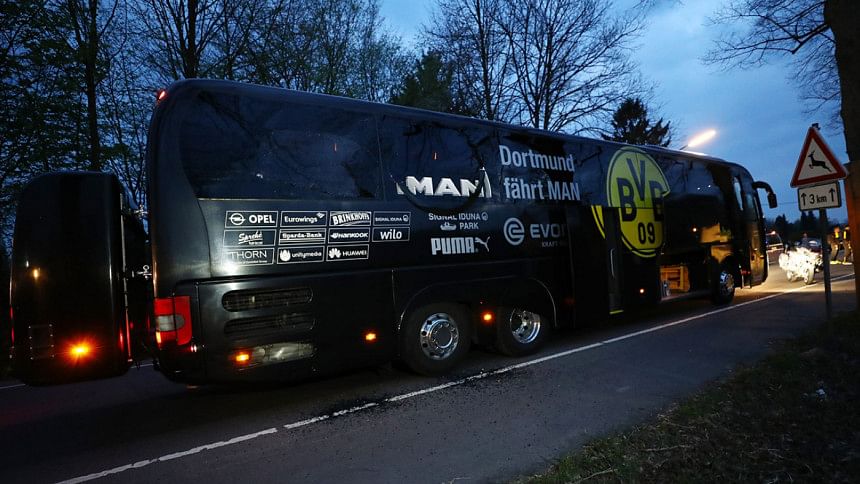 Borussia Dortmund's team bus was damaged and a player was injured following three explosions near the vehicle while it was on its way to Tuesday's Champions League game at home to AS Monaco, police said today.
The match, a quarter-final first leg, was called off and rescheduled for today.
"According to what is currently known, the windows of the bus were (entirely or partly) smashed and one person was injured," Dortmund police said in a said. The police said the incident happened in Hoechsten, located outside the city.
"It is not yet possible to say exactly what the explosion was or exactly where something exploded," said the statement.
Bei der Explosion wurde @MarcBartra verletzt und befindet sich derzeit im Krankenhaus. Gute und schnelle Genesung, Marc! #bvbasm

— Borussia Dortmund (@BVB) April 11, 2017
Dortmund said defender and Spanish international Marc Bartra had been taken to hospital.
Police added: "Currently there is no evidence of a threat to the visitors at the stadium."
Borussia Dortmund said in a statement: "Shortly after the departure of the Borussia Dortmund team bus from the hotel to the stadium there was an incident.
"The bus has been damaged in two places. One person has been injured and is in the hospital. At this point we will inform as soon as we know more."
Dortmund later said in a tweet that the match would go ahead on Wednesday at 1845 local time.