Blame game as crisis worsens
Donors pledge 10 billions in London for refugees after UN talks collapse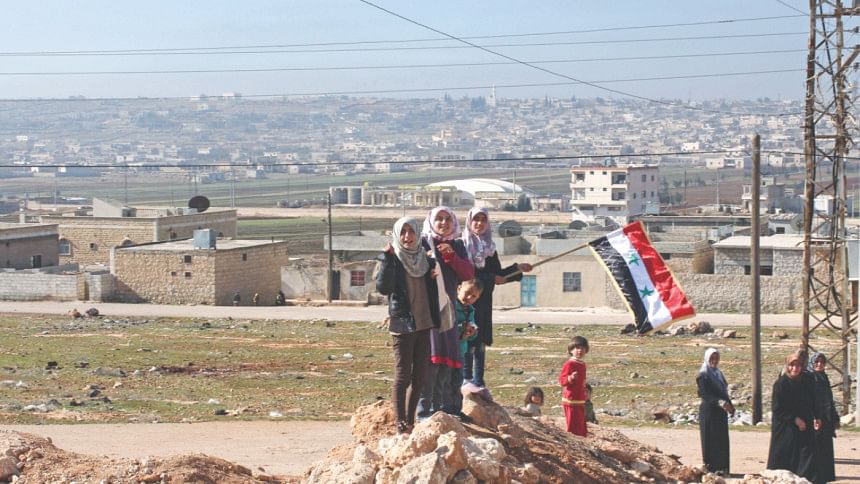 Tens of thousands of Syrians were reported to have fled their homes yesterday as regime troops pressed a major Russian-backed offensive around second city Aleppo.
Turkey's Prime Minister Ahmet Davutoglu, speaking at a donors conference in London, warned that up to 70,000 people were headed towards his country to escape the fighting.
The conference saw more than $10 billion pledged to help ease the plight of Syrians affected by the nearly five-year war, just hours after the collapse of UN-sponsored peace talks in Geneva.
Several Western nations accused Syria's regime of torpedoing the talks with its military offensive, and Washington yesterday demanded Russia halt its bombing campaign in support of President Bashar al-Assad's government.
The growing offensive around Aleppo this week overshadowed peace and aid efforts, as regime forces sought to build on a series of important gains since Russia launched air strikes in September.
The advance threatens to completely encircle rebels in Aleppo city, Syria's former economic powerhouse which has been divided between opposition control in the east and regime control in the west since mid-2012.
The Aleppo rebels' main supply line to Turkey was severed on Wednesday when regime troops broke an opposition siege of two Shiite towns, Nubol and Zahraa, on the route to the border.
Regime forces entered the two towns yesterday to the cheers of residents, who chanted pro-government slogans and showered the fighters with rice.
But elsewhere in the region the advance prompted tens of thousands to flee for fear of being caught up in the fighting.
The Syrian Observatory for Human Rights, a Britain-based monitor, said nearly 40,000 people in Aleppo province had fled their homes, with many massing at the border.
Observatory chief Rami Abdel Rahman said the regime was now likely to target the Aleppo rebels' last remaining supply route, through the neighbouring opposition-held Idlib province.
"The regime has managed to achieve in 72 hours what it failed to for the last three years," he said.
"If the rebels lose this last route, it will be the beginning of the end for them in Aleppo, they will be under complete siege," he added.
A high-ranking Syrian government official described the Aleppo advances as important, but said the regime had even more ambitious goals.
"The next objectives are to close the borders with Turkey to prevent the arrival of troops and weapons, then taking Aleppo province, then Idlib province, and finally Idlib city," he told AFP.
The Aleppo offensive has been backed by a wave of Russian air raids, including strikes yesterday that killed at least 21 civilians, including three children, according to the Observatory.
In London for the donors conference, US Secretary of State John Kerry said he had warned Moscow to stop bombing the Syrian opposition, in a "robust" phone call with Russian counterpart Sergei Lavrov.
Opposition delegates cited continued regime attacks as the key obstacle to this week's peace efforts, which struggled from the beginning.
UN envoy Staffan de Mistura said on Wednesday the talks had been suspended but insisted the process had not failed, saying he hoped to resume on February 25.
The UN Security Council said it would meet today for consultations with De Mistura on the breakdown.
Top diplomats from countries involved in trying to resolve the conflict are also set to meet again on February 11.
London conference host Prime Minister David Cameron said the gathering had seen pledges of more than $10 billion.
More than 260,000 people have died in Syria's conflict and more than half the country's population have been forced from their homes, including over four million who fled abroad.
Most Syrian refugees have fled to neighbouring countries, including Jordan, Lebanon and Turkey, but hundreds of thousands have also headed to Europe this year.