8 Bangladeshis killed as boats sink off Libya
Embassy officials say 54 Bangladeshis were on two boats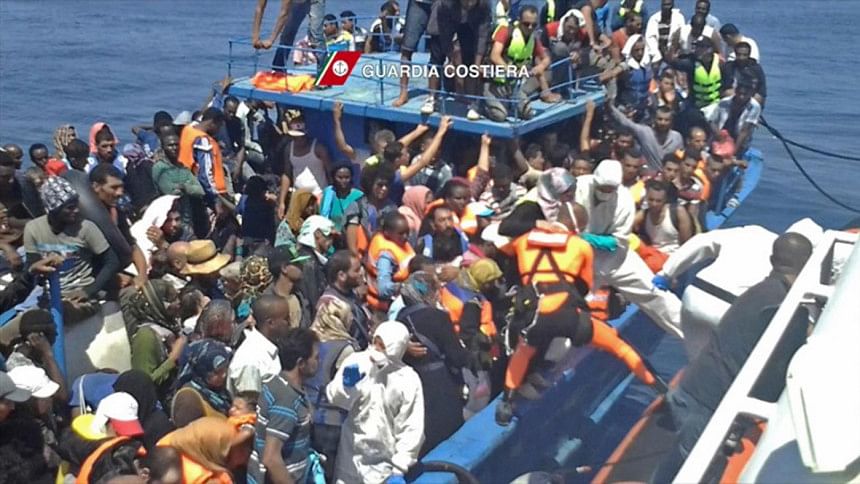 Eight Bangladeshi nationals were among those killed after two boats carrying about 500 migrants sank off Libya, confirms a Bangladesh's embassy official from Tunisia.
A total of 54 Bangladeshis were heading for Italy by the boats, ASM Ashraful Islam, councillor at Bangladesh embassy in Libya, told The Daily Star from Tunisia.
He added that 46 of them were rescued while the rest eight died in the accident.
At least 200 migrants lost their lives in the accident, United Nations Refugee Agency (UNHCR) told BBC Bangla.
Earlier, Mozammel Haque,Charge de Affaires of the embassy, told BBC Bangla that two children were among the dead.
Most of the Bangladeshis could be rescued as they were wearing life-jackets, he added.
Two families used to reside in Sirte while the other two lived in Tripoli. All the families lived in Libya for a long time and their children were born in that country.
Since Libya's condition deteriorated due to political turmoil and insurgency, the families were looking for a safer route to Italy by sea, Mozammel added.
The boats sank on Thursday after leaving Zuwara, a major launch pad on the Libyan coast for migrants hoping to reach Italy, added BBC World.
The UN says about 2,400 migrants have died trying to cross the Mediterranean to Europe so far this year.
More than 100,000 others have landed in Italy, whilst another 160,000 have crossed to Greece.
The Libyan coast guard worked overnight on Thursday to search for survivors from the latest tragedy.
But Libya is poorly equipped to carry out rescue operations as the ships available to its coastguard are small, BBC North Africa correspondent Rana Jawad reports from Tunis.
At least 100 bodies were taken to a hospital in Zuwara, west of Tripoli, a resident told the BBC.
The victims included migrants from Syria, Bangladesh and several sub-Saharan African countries, the resident said, but the information could not be independently verified.
A detention facility for illegal migrants in Sabratha, west of Tripoli, received 147 people, an official told Reuters.