Akayed Ullah: From limo driver to accused subway bomber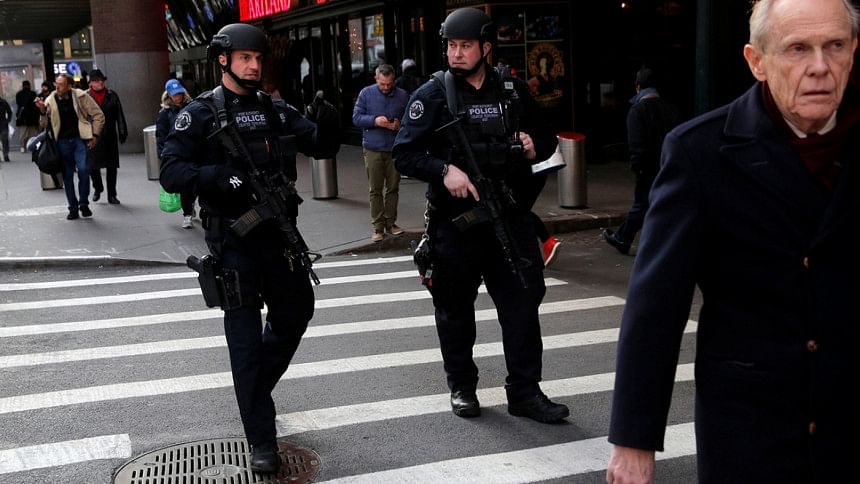 The Bangladeshi suspect in Monday's pipe bomb explosion beneath New York's Times Square is an angry former limousine driver who learned to build a bomb on the internet at his Brooklyn apartment, officials said.
Akayed Ullah, 27, was in police custody after he was injured by a pipe bomb he fastened to his torso with Velcro and zip ties. Three other people were also hurt in the blast in a pedestrian tunnel linking two subway stops beneath West 42nd Street, officials said.
One neighbor in the Brooklyn neighborhood of Windsor Terrace said she had not seen him in months but described his home as quiet and observant in Islamic customs. She saw no evidence of extremism.
"They're really nice people. This is shocking," said the neighbor, Arlene Jograj, a teacher who had greeted Ullah in passing. "We all know each other. We have block parties. I've been over there for dinner parties after Ramadan. We're a really tight-knit street," she said.
Ullah came from the southeastern Bangladeshi district of Chittagong and last visited the country on September 8, Inspector General of Police A K M Shahidul Hoque told Reuters on Monday.
He had no criminal record in Bangladesh, Hoque said.
Several US officials familiar with the investigation told Reuters there was no information indicating Ullah was previously known to any US spy or law enforcement agency for any connection to militant groups. But that does not rule out the possibility some connection could be found.
Ullah arrived in the United States seven years ago on a family visa, one authoritative US source said, speaking on condition of anonymity.
US investigators believe he was self-radicalized after entering the United States, most likely by watching militant propaganda on the internet, the officials said, adding that they were unaware of any specific militant video that might have led him to produce his faulty explosive device.
From March 2012 through March 2015, he held a license to drive a limousine or black cab as an independent contractor, the New York City Taxi and Limousine Commission said in a statement.
New York state Governor Andrew Cuomo called the suspect a "lone wolf," similar to the suspect in the most recent attack in New York, when an Uzbek immigrant driving a rented truck ran over people on a bicycle path on October 31, killing eight.
Each acted alone, inspired by jihadist groups such as Islamic State, Cuomo said.
"Both of them went on the web, downloaded information," Cuomo said of the two suspects, adding that Ullah learned to make a bomb online.
"They're not people who come from overseas. They live here. They're disgruntled," said Cuomo, who went to the scene of the crime where he met with investigators.
Ullah was influenced by violent Islamist extremists and was "angry," Cuomo said. This could have been for any number of reasons, whether because of US policy abroad or his lot in life at home, he said.
New York police shut down an entire block of row houses in Windsor Terrace, deploying a large show of force with at least one helicopter flying overhead. It was not clear if the neighborhood was Ullah's most recent address.
Neighbors called it a diverse, family-oriented neighborhood of longstanding white families of Italian and Polish descent with more recent Chinese, Indian and Bangladeshi arrivals
"This is a great neighborhood. It's very family oriented, very safe," Jorgraj said. "This doesn't change my opinion of the neighborhood at all. This is just the state of the world we live in now."