Auschwitz guard admits moral guilt
Begs for forgiveness as trial begins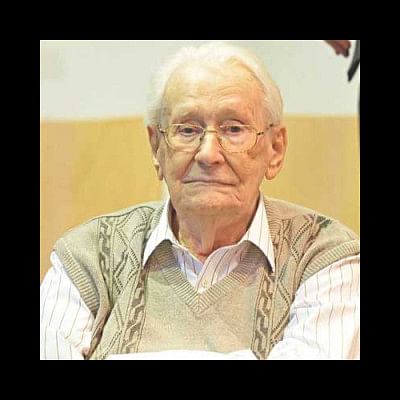 Former SS officer Oskar Groening, dubbed the "bookkeeper of Auschwitz", asked for "forgiveness" over his role in mass murder at the Nazi death camp, as his German trial began yesterday.
"For me there's no question that I share moral guilt," the 93-year-old former Nazi told the judges, admitting that he knew about the gassing of Jews and other prisoners.
"I ask for forgiveness," he said at the trial, which was attended by almost 70 Holocaust survivors and victims' relatives.
"You have to decide on my legal culpability," Groening told the court in the northern city of Lueneburg near Hamburg.
Given the advanced age of most German war crimes suspects, Groening is expected to be among the last to face justice, 70 years after the liberation of the concentration camps at the end of World War II.
He is being tried on 300,000 counts of "accessory to murder" in the cases of deported Hungarian Jews who were sent to the gas chambers, and faces up to 15 years in jail.
Prosecutors said Groening served as a bookkeeper, who sorted and counted the money taken from those killed, collecting cash in different currencies from across Europe.
Some 1.1 million people, most of them European Jews, perished between 1940 and 1945 in the Auschwitz-Birkenau camp before it was liberated by Soviet forces.
The trial is currently scheduled to run until July 29.
Groening could spend the rest of his life in prison if found guilty of the charges against him.