Japan's ancient island Okinoshima joins World Heritage sites
The UNESCO World Heritage Committee on Sunday added the island of Okinoshima, an ancient ritual site in the Munakata region of Fukuoka Prefecture in Japan, to the UN cultural agency's list of World Heritage sites.
Turning down advice by the International Council on Monuments and Sites (ICOMOS), a Unesco advisory body, to exclude four components, the committee decided to add all the eight components that the Japanese government had recommended to the cultural heritage list.
Okinoshima is called the "Shoso-in repository of the sea," as the island has records of national ritual services that were held during the fourth to ninth centuries. These ritual services involved praying for maritime safety when intense exchanges were taking place between the polities in the Japanese archipelago, the Korean Peninsula and on the Asian continent.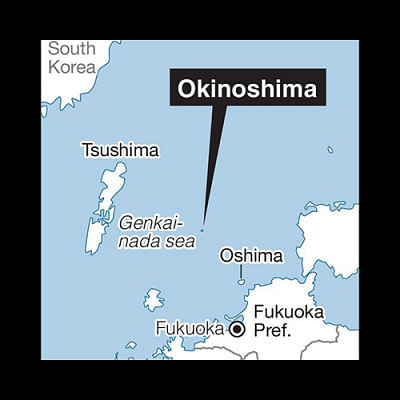 About 80,000 dedicated items, including golden rings and bronze mirrors that were excavated after World War II, have been designated national treasures. The government had recommended the UN cultural agency register the island and seven other components as the "Sacred Island of Okinoshima and Associated Sites in the Munakata Region" to the list.
In May, ICOMOS asked for four components, including Munakata Grand Shrine's Hetsu shrine in Munakata to be excluded, saying it could not find continuity between ancient ritual services and the beliefs of the current Munakata Grand Shrine. However, ICOMOS praised the value of Okinoshima as a ritual site.
The government had called for the committee's member countries to register all eight components, claiming all of the assets have contributed to continued beliefs from ancient times.
The total number of Japanese items on the World Heritage list will increase to 21, including Okinoshima.