7 die in Mumbai highrise fire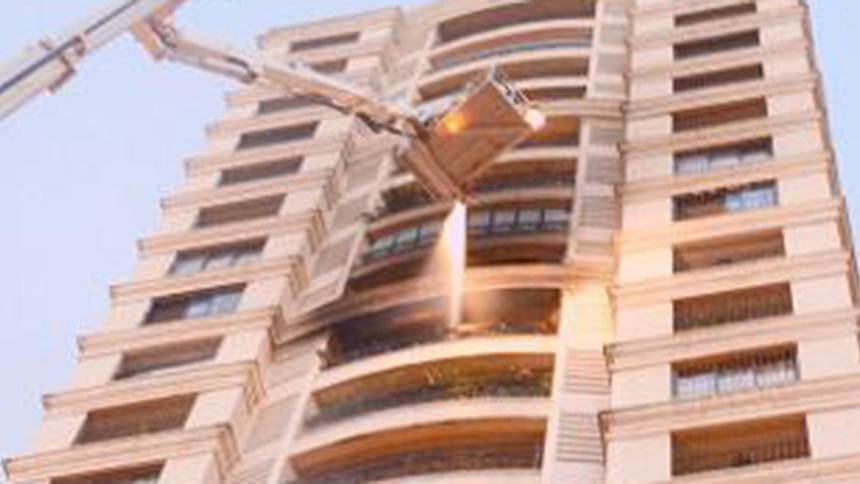 Seven persons, including a woman, died and 28 others were injured in a major blaze on the 14th floor of a 21-storey upscale Powai highrise in Mumbai yesterday, reports the Times of India.
The fire broke out around 4:15pm in the Lake Lucerne building of Lake Homes complex in Powai. The society is located between Hiranandani Gardens and Raheja Vihar, and its going realty rate is around Rs 22,000 a square foot.
Firemen said the possible cause of the blaze was the explosion in an AC unit in one of the three flats that were damaged in the blaze. The flames soon spread to a gas pipeline. At the time of going to press, the details were sketchy.
The fire was finally brought under control around 8:30pm, after which a cooling operation was started and firemen began to search the building for more victims, if any. Eighteen of the injured were admitted to Hiranandani Hospital at Powai and one was rushed to the National Burns Centre at Airoli with 40 percent burns. Ten were discharged.
Firemen and the police came up with contradictory reports on the cause of deaths. Chief fire officer P S Rahangdale said most of the casualties occurred due to suffocation as residents used two lifts to reach the ground floor, reminiscent of the Kemp's Corner fire of 2013 where two similarly lost their lives in elevators. Deputy commissioner of police (Zone X) Vinayak Deshmukh, on the other hand, said three of the bodies were found in the lifts that got stuck on higher floors.
A resident said, "The building's security guards switched off the main electricity line. Since there was no power supply, the lifts stopped working."
As soon as they noticed the blaze, residents called the fire brigade. Those trapped on the upper storeys began to flee. The firemen, through their public address system, asked a family of five in one of the flats to gather in a bedroom. They were brought down via the staircase. They also rescued one of the maids from another flat on the same floor and evacuated the entire building.
One flat was completely charred and two were left partially damaged.
The fire brigade said they struggled for around five hours to bring the fire under control. They said they found several residents were trapped inside the two lifts on different floors. The fire brigade has advised people to never use lifts during a blaze.
Around 20 fire engines were rushed in and a ladder was used to douse the flames. Locals also rushed in to help.
The police said they had registered an accidental death report and are inquiring with residents about probable cause. Most of the victims were residents and police could not confirm the names of the dead till the time of going to press.