6.8 Indonesia quake damages buildings
Hurts some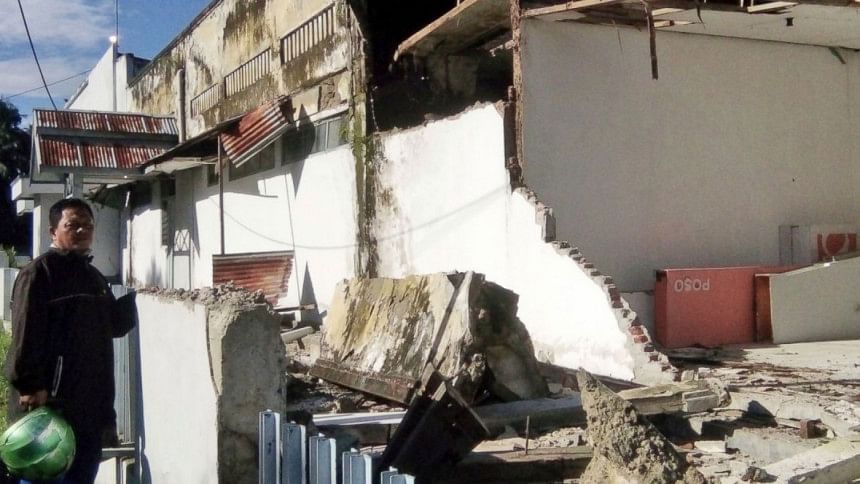 A strong, shallow earthquake rocked Indonesia's central Sulawesi province Monday evening, injuring at least three people and damaging some buildings and houses.
The US Geological Survey said the magnitude-6.8 quake was centered in a thinly populated area 79 kilometers (49 miles) southeast of the provincial capital, Palu, at a depth of 9.1 kilometers (6 miles).
The National Disaster Management Agency said buildings were damaged in Poso, a city to the southeast of the epicenter, and a number of houses and churches were damaged in nearby villages.
At least three villagers were hospitalised for head wounds, it said.
The agency posted photos of damage in Poso on Twitter. One showed a collapsed building and another showed a convenience store with goods strewn on its floor but otherwise intact.
Indonesia's Meteorology, Climatology and Geophysics Agency recorded 14 aftershocks of up to magnitude-5.2, also at a shallow depth. Shallow earthquakes tend to cause more damage on the Earth's surface.
It said the land-based quake didn't have any potential to cause a tsunami.
Indonesia is prone to earthquakes and volcanic eruptions due to its location along the Pacific "Ring of Fire." A powerful Indian Ocean quake and tsunami in 2004 killed a total of 230,000 people in a dozen countries, most of them in Indonesia.