Burkina Faso hotel siege declared over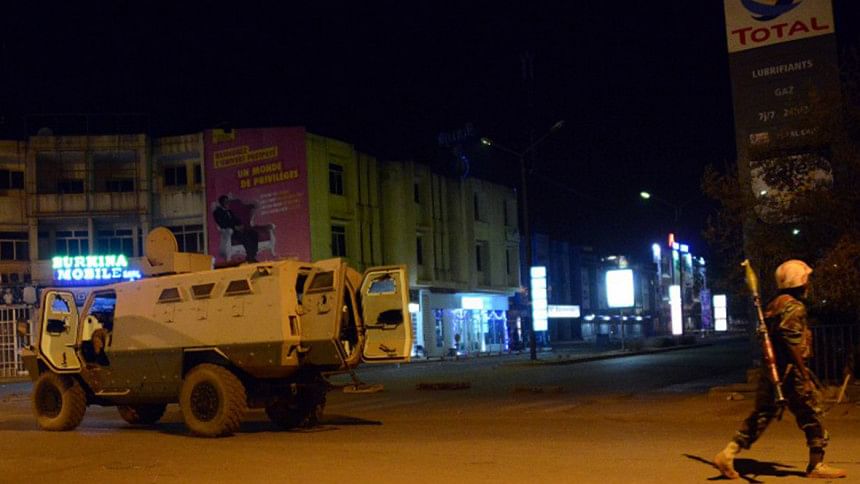 A siege at a Burkina Faso hotel seized by suspected Islamist militants is over, the authorities say, amid reports of an attack on a second hotel.
The assault on the Splendid Hotel in the West African state's capital, Ouagadougou, killed at least 23 people of 18 different nationalities.
Four attackers were killed, two of them women, officials said.
The Al-Qaeda in the Islamic Maghreb (AQIM) militant group has announced that it carried out the attack.
Bukinabe President Roch Kabore arrived at the scene on Saturday morning amid right security.
French President Francois Hollande condemned the "odious" attack on the capital of the former French colony. French troops helped their Burkinabe colleagues during the security operation.
In November, an AQIM attack on a hotel in the Malian capital Bamako left 19 people dead.
Militants attacked the Splendid and the nearby Cappuccino cafe on Friday evening, setting off several explosions. Both places are popular with UN staff and foreigners.
Interior Minister Simon Compaore said 10 bodies had been found on the cafe terrace alone.
He added that 126 hostages had been freed, with 33 of them injured. Among those freed is the country's Minister of Public Works, Clement Sawadogo.
As the end of the siege was being announced, reports came in that militants had taken up position at the Yibi hotel, a short distance away on the same street in Ouagadougou.
One of the attackers was killed at the Yibi, officials said.
Remi Dandjinou, the Burkinabe communications minister, told the BBC earlier that between six and seven militants had attacked the Splendid, adding that they had been staying at the hotel as guests.
Interior Minister Compaore said two black Africans and an Arab were among the militants killed.
'Political fragility'
Burkina Faso recently held its first presidential election since a coup earlier last year.
That coup toppled long-time leader Blaise Compaore, who had governed for 27 years.
"We are still in a context of political fragility, so I think the timing of this attack is meaningful," Cynthia Ohayon, an analyst with the International Crisis Group, told the BBC from Ouagadougou.
"The country has long borders with Mali and Niger, and we know there are armed groups present on the border, so this was probably something we had coming."