Senegal
Planting the seeds for a brighter future
In Senegal, urban women are turning towards micro gardening to bolster family income and fight malnutrition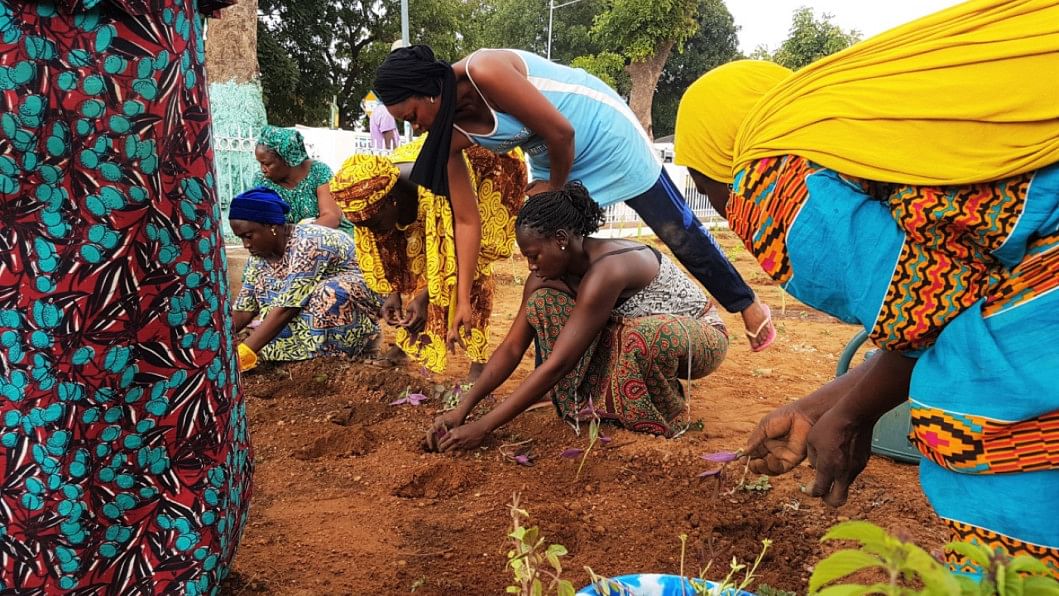 Wafts of fresh mint pass through the sticky air, the ground is littered with cut-off bottles from which other aromatic herbs peek out, zigzagging tables laden with plant pots lead up to a building covered in hanging containers—all sprouting luscious greenness. This building is Centre d'écoute et d'encadrement pour le développement durable (Centre for Support and Training in Sustainable Development), more commonly known as Ceedd. The centre, founded in 2005 in the city of Thies, seventy kilometres east of the capital Dakar, provides microcredit and training in micro gardening to women from deprived urban settlements.
Life in Senegal can be tough for women. Deep-rooted traditions and limited financial resources mean that only 57 percent of young girls successfully make the transition from primary to secondary school, resulting in elevated levels of adult illiteracy amongst women. Upon entering adulthood, the strains of family life compounded with a low-level of education mean that, according to the United Nations, approximately 80 percent of the country's active women work in the informal sector.
President of Ceedd, Oumy Seck Ndiaye, explained that the centre's micro gardening programmes respond to malnutrition and urban poverty in the area. The United Nations' Food and Agriculture Organisation defines micro gardening—practiced in urban spaces—as, "the intensive cultivation of a wide range of vegetables, roots and tubers, and herbs in small spaces." Just like the space at Ceedd, micro gardens are designed to be highly productive and easy to manage. Here, more than 360 women grow lettuce, cabbage, okra, aubergines and basil. Women use this produce to nourish their families and the excess is sold at markets or in the local community. Every woman grows a different type of crop, "They do not grow the same varieties as one another, meaning they then exchange and trade," said Ndiaye.
The centre is staffed with a dozen or so employees and volunteers from both Senegal and Europe who train the women in these gardening techniques. Ceedd uses a growing system  inspired by hydroponics. Tables or 'micro gardens' are covered in trays of organic soil and polystyrene, plant roots are then placed in the sodden polystyrene, and the surrounding soil is covered in gravel to protect it from the sun and to retain moisture.
Today, the centre can see that this initiative has begun to bear fruit. Ceedd has been awarded both national and international prizes. It has diversified its activities, now offering training in artisanal production and microfinance, and much needed education and health services to the community, these include HIV testing, access to contraception, home medical visit and vaccinations. The Ceedd team, looking to further empower their women economically, have opened up into the field of processing and commercialisation. "We are training women in conservation and processing methods for their fresh produce. We have made aubergine preserve, honey and lemon cordials and hibiscus and monkey-bread juices" said Ndiaye. The centre has the support of local collectives in Thies as well as in France where these conserved goods are sold—securing another source of income for the women.
The beneficiaries of the project don't put all their eggs in one basket. If the yield is disappointing, or they cannot sell all of their produce, they can rely on a revolving credit system. "The women are required to contribute a monthly fee of 1 500 CFA (2 euros) so that every month one of the them can borrow 60 000 CFA (80 euros), to be reimbursed after six months," said the president. This informal money lending system, called Susu, is practised across much of Africa and the Caribbean.
Despite having flourished, Ceedd may soon face testing times. Like in much of Africa, Senegal is experiencing rapid climate change and urbanisation. Failing harvests and unemployment have driven 40 percent of the nation's population to urban areas just like Thies. Urban property and land speculation is rife, potentially placing these women's agricultural gardens under threat.
For the time being it is clear that thanks to the multiple programmes on offer at Ceedd, life has blossomed for the women of Thies. Now able to financially support and nourish their children, these green-fingered mothers remain optimistic about their futures.