A glorious day for Dhaka's football
Sunday, November 21, 1937.
Sunday, November 21, 1937.
Something spectacular, unthinkable happened on the then Dhaka Sporting Association (DSA) field, now Bangabandhu National Stadium area. Two teams faced off for a battle of pride -- Islington Corinthians FA that came all the way from England and Dhaka Sporting Association (DSA), a local team.
In a fiercely competitive game, the DSA won one goal to nil. The solitary goal came towards the end of the first half. Dhaka team forward Bhupendramohon Sengupta, adoringly called Pakhi Sen, entered into history -- the goal from his feet. He was from Mymensingh.
This was the first and only defeat of the visitors during their India tour.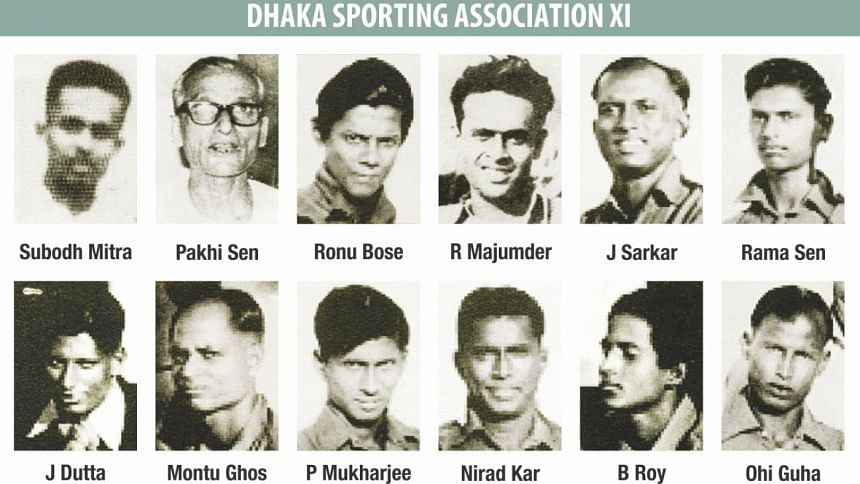 The match was part of Corinthians' world tour that began on October 4, 1937. In 1937-38 season, the team toured the Netherlands, Switzerland, Egypt, India, Myanmar, Malaysia, Singapore, Vietnam, the Philippines, China, Japan, the US and Canada. One of the largest in football history, the tour made headlines in top newspapers of the day.
In all, the Corinthians played 95 matches, losing only eight. In India, they played 31 matches during their 51-day tour -- winning in 25, drawing in 5. The only match the lost was with the Dhaka team. It was also the first defeat of any foreign football club in India.
The English team arrived in Dhaka by train from Narayanganj at 1:50pm. Their lodging was arranged in Dhaka Club. The match began at 3:35pm in front of about 19,000 viewers. 
On its November 22 issue, The Statesman newspaper wrote under the headline "CORINTHIANS SUFFER THEIR FIRST DEFEAT":
"…The visitors were undoubtedly feeling heat and strain of the journey and unable to give their best…. The game started at 3:35pm and for the first five minutes Dacca dominated. The Corinthians gradually settled down and worried the Dacca defence….
"In the 20th minute Dacca got the better of the Corinthians' defence and Kar [N Kar of Dhaka team] was about to score when Mannings made a spectacular save. Dacca then adopted long passing and in the 25th minute Mukharjee provided S Ghose with a fine pass. Ghose ran down the line and passed back to B Sen [Pakhi Sen] who scored from close range."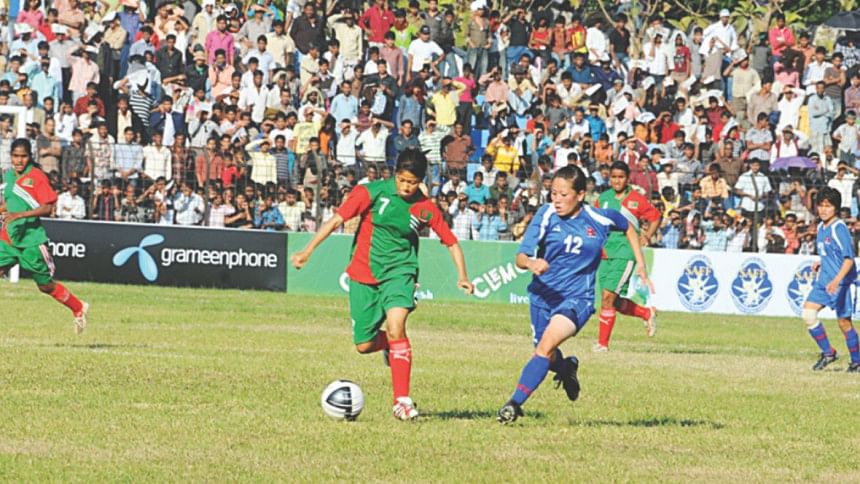 After the match, Corinthians captain P Clark said that the Dhaka team had given them a "good game". It was a day of glory for Dhaka's football.
Key Facts
BFF founded

1972
FIFA Membership

1974
Highest FIFA ranking

110 in 1996
Lowest FIFA ranking

197 in 2018
First international match

Bangladesh 2-2 Thailand, 1973
Last International match

Bangladesh 2 -2 Laos, 2018
Biggest win

Bangladesh 8-0 Maldives, 1985
Biggest defeats

Bangladesh 0-9 South Korea, 1979

Bangladesh 0-9 Iran, 1982
Most wins

12 against Nepal
Most defeats

12 against India
Achievements (champions)

4-nation tournament 

in Myanmar, 1995
SAFF Champions in 2003

 SA Games champions

in 1999, 2010  
[Credit: Dhakar Football-er Gaurabmoy Sei Din by Dulal Mahmud, Editor, Krirajagat.]
ALL PHOTOS RELATED TO THE DSA-CORINTHIANS MATCH: DHAKAR FOOTBALL-ER GAURABMOY SEI DIN BY DULAL MAHMUD. OTHER PHOTOS: KHANDAKAR TAREK