Watching planes their only entertainment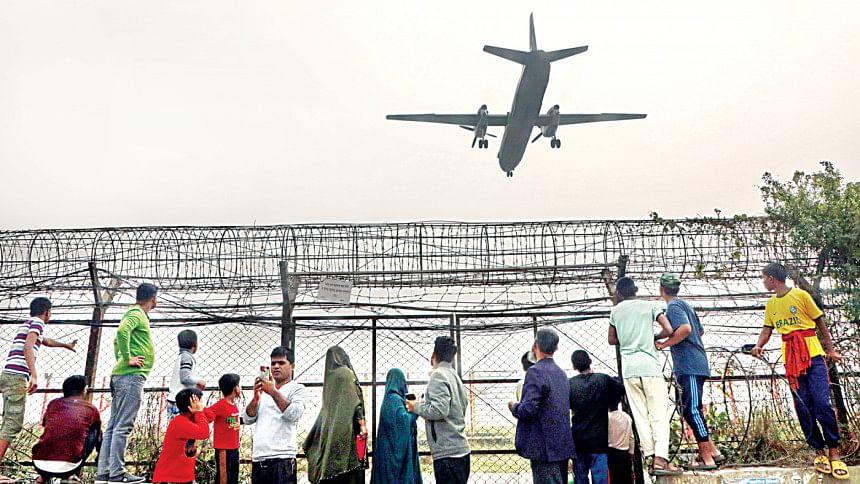 With a smiling face and curiosity in her eyes, six-year-old Anika stood beside a barbed wire fence and gazed up at the sky. Soon, an aeroplane took off with a loud roar.
A few minutes later, another plane touched down the long, grey runway surrounded by a wide carpet of green grass, causing the little girl to clap in delight.
This is a regular scene for residents of Dolipara area in Uttara, adjacent to the runway of Hazrat Shahjalal International Airport.
It is one of the few means of entertainment for the children as well as for other residents of Dolipara under zone-6 of Dhaka North City Corporation (DNCC). They flock to the area, keeping their eyes at the sky, just to see the planes fly.
In a recent visit, these correspondents found that there is no playground, or any other open space for the children in the locality. So, the residents have chosen the runway for their leisure activity.
People were seen standing close to the fence, maybe just out of a sense of curiosity, or imagining what it might be like to fly in the sky in a blink of an eye. Many were busy taking photographs and videos.
The sky becomes more interesting every day in the afternoon for the visitors, as most of the flights either take off or land during that time, they said.
Rows of large planes can be seen in the distance, including those of Bangladesh Biman, Emirates, Saudi Airlines and Turkish Airlines. People from different parts of Dhaka also visit Dolipara runway on weekends as well as on different holidays.
Masudur Rahman, Anika's father, said, "My daughter doesn't have any place to play. So, I brought her here today to have a quality time..."
Another visitor, Jui Mandal, said, "I've been living in Uttara sector-12 for seven years. There is no open space to spend an evening with your family... So, whenever I get a chance, I come here with my kids."
The place also provides a good opportunity for hawkers to earn some money.
Md Liton, a vendor, said, "Almost 300 to 400 people usually come here to see the planes every day."