Ukraine war: How far it will go?
As peace talks stall, West, Russia dig in for a protracted conflict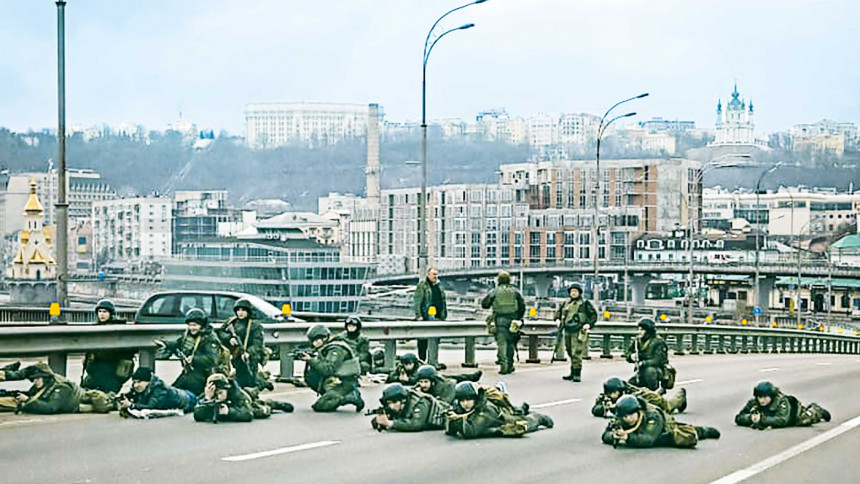 There are two ways for a war to end: One way is for one side or the other to be basically destroyed. And the Russians are not going to be destroyed. So that means one way is for Ukraine to be destroyed. The other way is some negotiated settlement. If there's a third way, no one's ever figured it out.
When President Vladimir Putin launched "a special military operation" on February 24 to "demilitarization" and "denazification" of Ukraine, there were a few to doubt that the military campaign would end in Russia's favour and it would be over soon.
But after nearly two and half months, the devastating war, which left cities in ruins, killed thousands and forced nearly 6 million people to flee the country, is raging. Moreover signs are indicating that it may expand beyond Ukraine and become a conflict that might redefine the diplomatic landscape of the world.
In Washington, there is a certain satisfaction with the way the first phase of the war has played out.
With Russia's advance stalled due to fierce local resistance and Western support, analysts say, despite Russian offensive has been narrowed and now mainly focusses on the east, both sides appear ready to dig in for a protracted conflict. 
From warning of nuclear confrontation to stoking energy crises and perhaps even eyeing up fresh territories to invade, Moscow has ramped up its threats in recent weeks— but so has the West: The United States and its allies are readying huge new shipments of heavy weapons and military equipment to help Ukrainian troops on the ground, while voicing more ambitious goals for the conflict.
US officials say President Joe Biden's request to Congress to provide $33 billion to Ukraine, which includes $20 billion for military equipment and assistance, would allow Kyiv and its allies to withstand months more Russian aggression.
The request followed remarks by Defense Secretary Lloyd J Austin that initially caused some disquiet among European allies. Speaking to reporters after a visit to Kyiv, Austin said the US wanted to see Russia "weakened to the extent that it can't do the kinds of things that it has done in invading Ukraine."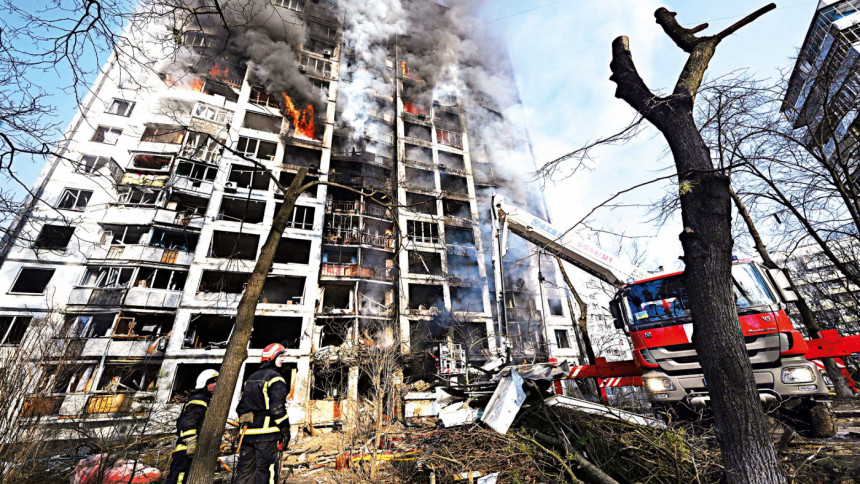 Last month, in an interview on NBC, national security adviser Jake Sullivan cast the war not just as a defense of Ukraine but also an opportunity to deliver significant blows to the stability of the Russian state. "At the end of the day, what we want to see is a free and independent Ukraine, a weakened and isolated Russia, and a stronger, more unified, more determined West," he said. "We believe that all three of those objectives are in sight, can be accomplished."
Meanwhile, the diplomatic door to end the war is closing. Despite several rounds of negotiations over the past weeks, the war continues to intensify.
Putin said negotiations had hit a "dead end" and Foreign Minister Sergei Lavrov warned that Russia will not pause its military operations during future peace talks.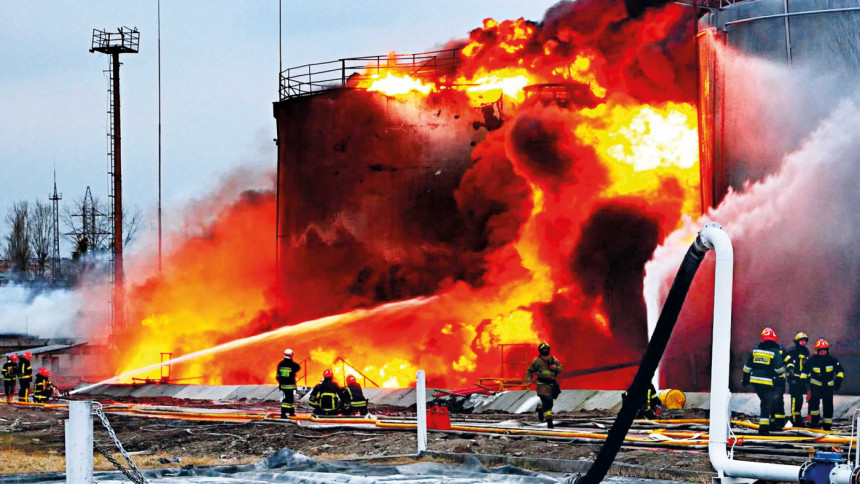 Putin, while launching the offensive, said the West, despite several attempts by Russia, has crossed a redline by not forfeiting its attempt to make Ukraine a Nato member. He said, despite promises, Nato continued its eastward expansion, closer to Russian border. 
"For the United States and its allies, it is a policy of containing Russia, with obvious geopolitical dividends. For our country, it is a matter of life and death, a matter of our historical future as a nation. This is not an exaggeration; this is a fact. It is not only a very real threat to our interests but to the very existence of our state and to its sovereignty. It is the red line which we have spoken about on numerous occasions. They have crossed it," Putin said in a nationwide televised address informing Russians that he had "no other options'.
Meanwhile, Nato appears set to expand further, with both Finland and Sweden indicating they are actively considering joining the alliance. Germany and other European countries are publicly committing to buying and selling more weapons and spending more on defense, which risks derailing efforts to confront more urgent global issues like climate change. 
Now the United States and its allies are warning the world that the next phase of the war in Ukraine will be long.  But it will pose a daunting diplomatic task for Biden, who must find a way to maintain unprecedented Western unity against Moscow -- for the duration.
Lead by US, the West has organized a vast coalition to impose extraordinary economic sanctions on Russia. But as the new battle takes shape in Ukraine's east, American strategists fear this mutual effort may gradually deteriorate.
If the fighting stays concentrated in the Donbas region, far from Kyiv and Nato's eastern border, the feeling of urgency that has so far united the West is likely to fade, according to a diplomat.
Another official believes that some European countries -- which are deeply affected by the inflation precipitated by the sanctions -- could be tempted to release some of the pressure on Russia.
However, such a scenario does not seem imminent. For now, the United States and several European countries would still rather turn up the temperature on Putin.
But they have already hit him hard, and the West is running out of future options.
The US is hoping for a European ban on Russian oil, or even gas to deprive the Russian economy of a major source of funds.
The European Union came close to that Wednesday when it unveiled plans for a gradual ban on Russian oil imports. But it will still not touch Russia's huge gas exports -- and several EU member states are demanding an extension behind the proposed one year period while they secure new sources of fuel.
But the oil embargo needs to be adopted unanimously by the EU's 27 countries amid signs of deep divisions among its members. Last year Russia supplied 30 percent of the bloc's oil and 15 percent of its petroleum products.
On Russian front, withdrawing its troops and focusing on Donbas region doesn't mean that Moscow doesn't have broader military goals in Ukraine.
Experts say Russia's withdrawal from Kyiv looks to be a temporary ploy. To minimise its own losses and maximise those of Ukraine, Russian offensives are now concentrated in one direction at a time.
Despite the sanctions, international isolation and alleged heavy losses in the war, experts say, Moscow can sustain the war militarily and economically for years.
Fresh out of Covid pandemic, the war has already disrupted much needed economic recovery efforts across the world. According to UN, the impact of the war had set in motion a three-dimensional crisis that is devastating global food, energy and financial systems for developing countries.
But who is winning the war?
While the battle lines in Ukraine are largely fluid and will remain so, the progress of the war suggests that neither side will be able to achieve a satisfactory outcome. 
Ukraine is unlikely to secure the total victory that some in the West are increasingly suggesting is a possibility. Ukraine will likely end up well-supplied and well-armed due to the West's support but there is a limit  for Kyiv to maintain the fight. It is unlikely that the United States or Nato will put troops on the ground as doing so will undoubtedly be seen as escalatory and risk further expansion of the conflict involving nuclear powers. 
More over the assistance Kyiv is receiving isn't without any strings attached. For example, the US Congress last month passed legislation that invokes the Lend-Lease Act of 1941 to allow Biden to supply weapons to Ukraine on loan. And these loans may complicate matters even after the war.
Many believe Putin has been dragged into a war that will cost Russia heavily in decades to come. Though militarily strong, Russia's economy will suffer from the sanctions, which are not expected to be lifted soon even after the war ends, if history teaches us anything. 
These rises many questions without clear answers. And the respective media of the two warring sides appear to toeing the line of their respective governments making the overall picture ever murkier.
It seems both Ukraine and Russia have to pay heavy prices for their misadventures. So, who is really winning?
How long Ukraine will be able to sustain its defense and prosecute its offense? Is there a point at which Western arms and assistance is exhausted or no longer strategically palatable? Will Western aid reach the undefined "red line" for Moscow and, if so, what comes next? What will be West's reaction if Russia attacks a weapon shipment intended for Ukraine inside a Nato nation?
Who will bear the massive reconstruction bill of Ukraine? How long European countries will have to house the refugees? Who will fund these projects and how long?
How the West will secure oil and gas for countries dependent on Russian sources? How long it will take?
At the same time, will Russia forever remain disconnected from the global economy? What conditions will be set for Moscow to normalize ties? How can robust support for Ukraine be sustained once Western citizens 'move on' from the war?
How will this conflict be resolved? Can Moscow and Kyiv reach an agreement that will be politically viable for the Ukrainian people and the policy makers of the West?
Only time will answer these questions.
In a recent interview to The Intercept, Noam Chomsky, a renowned dissident intellectual, said the conflict has to end by a negotiated settlement. 
"There are two ways for a war to end: One way is for one side or the other to be basically destroyed. And the Russians are not going to be destroyed. So that means one way is for Ukraine to be destroyed. The other way is some negotiated settlement. If there's a third way, no one's ever figured it out."
So the real question now is: can the world allow Ukraine to be destroyed to end the crisis?