First anniversary of Ukraine War
How will it end?
The Kremlin wanted Russia's invasion of Ukraine to yield a lightning victory, but 12 months on the war is dragging into a stalemate with neither side achieving military breakthrough nor prepared to agree a settlement based on the status quo.
The conflict has expedited the geopolitical changes already in motion. Alliances, worldviews, and energy markets have been tested while Europe has experienced its largest refugee crisis since World War II.
Now, apart from Ukraine and Russia, the rest of the world is dealing with acute food shortages, skyrocketing inflation, and the possibility of a nuclear calamity.
So how will the war end?
Analysts fear the conflict sparked by Russia's invasion on February 24, 2022 will not end anytime soon, and that its intensity risks increasing in year two.
They say each side feels that time is on its side and settling now will be a mistake. So far, neither side has signalled any real willingness to negotiate.
The Russian side, after some recent successes in Ukraine's eastern Donbas region, may well be preparing a spring offensive, experts believe.
But Ukraine appears determined to win back lost territory, aided by US and European governments whose support for Kyiv seems to be growing.
It has even made clear its intention to win back control of the Black Sea peninsula of Crimea which Russia annexed in 2014 -- an ambition that has sparked some wariness in the West.
However, the western alliance so far has been rock solid and broadly kept on their pledges of support to Kyiv.
But that doesn't mean that the war necessarily ends with a clear Russian defeat, said Liana Fix at the Council on Foreign Relations, another US think tank.
"I think the most likely scenario is Ukrainian gains leading to 'a good enough' victory," she said, followed by "continuous fighting in some territories", as Russia tries to hold on to Crimea.
Russia may have the potential to mobilise large amounts of new soldiers, but they would have to be trained, fed and supplied with equipment -- tasks the Russian army has been "really bad at so far in this war", she said.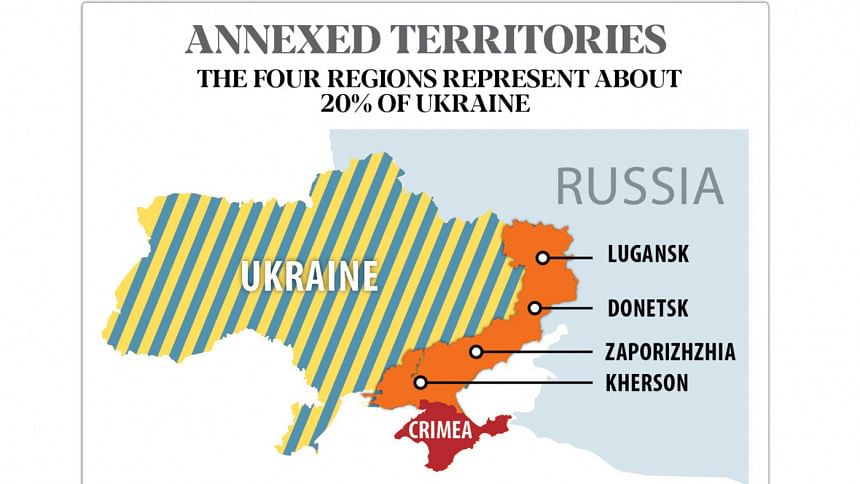 What type of arms Ukraine manages to get from its western allies will be decisive, said Dimitri Minic at the French Institute for International Relations.
Longer-range artillery, for example, "could allow the Ukrainian army to break the cycle of attack, counterattack and defence, weaken Russia's capacity to recover and obtain a decisive victory", he said.
A "strategic" win, he said, could consist of "splitting the Russian army deployment in Ukraine in two via Zaporizhzhia", a city and region in southeastern Ukraine.
Zelensky has put forward a 10-point peace plan involving a recognition by Russia of Ukraine's territorial integrity, and a withdrawal of all its troops.
On the other hand, experts say, Russia may "temporarily" accept Ukraine's independence and even a pro-EU and pro-Nato leadership in Kyiv, but only in exchange for a recognition of Russian conquests in Ukraine.
This, however, is a red line Ukraine will never cross, they added.
Another uncertainty concerns nuclear weapons and their possible role in the next phase of the war.
Experts say President Vladimir Putin's announcement to halt cooperation with US under the New START treaty should be understood as another attempt to put pressure on Western countries.
Putin told an audience of political elites that while Russia was stepping away from participation in the treaty, it was not actually tearing the deal up.
They say the suspension does not immediately heighten the risk of nuclear war, unless something dramatic happens.
Electoral events also could have a huge influence over the future of the war, including a general election in Ukraine in October, and next year's presidential vote in the United States.
For this year, US support is assured, but congressional approval of a new aid programme for Ukraine is not a foregone conclusion, Fix said.
Some allied governments in Europe could also face voter fatigue and political opposition against the war if it drags on.
"There will be more difficulty to explain why this war continues," she added.
"We have to accept that in 2023 we need to see some major advances and victories of Ukraine."