Cultivating reading habits since 2001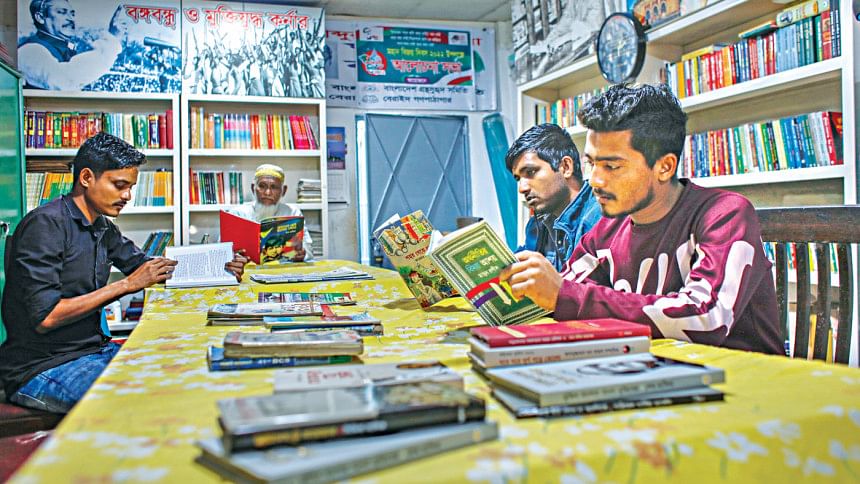 At first glance, it looks like a simple tin-shed house. One will not even find any decent-looking furniture inside the room. But this tiny and simple room is the lighthouse for the people of Beraid, formally known as Beraid village, situated seven miles away from North Badda in Dhaka.
The place is called Beraid Gonopathagar, a library established in 2001.
When readers enter the library, they will notice the words of Henrik Ibsen, Vincent Starrett, and other thinkers hanging on the walls. Around 3,700 books are housed in the library, including histories of the Liberation War, novels, stories, short stories, essays, poetry, plays, children's literature, and many more.
Over 50 people, the majority of whom are youths, visit the library every day.
"Anyone can read books here, and they can also borrow books to read at home," said senior librarian Sirajul Islam Bhuiyan.
The library remains open from 9:00am to 8:00pm, seven days a week, he added.
These correspondents met Jannat Hossen at the library, who came to return a book on rhymes.
The five-year-old said reading books has become a hobby for her since she began visiting this library near her home. "I like to read books of rhymes and short stories the most," she added.
"My sister and I come to this library regularly and read our favourite books."
Apart from books, some daily newspapers were also seen hung in a corner of the library for its readers.
Emdad Hossain Bhuiyan, a journalist by profession and the man behind this initiative, said, "This library is not a profitable organisation. But the maintenance cost is on the rise as we have to buy new books every year."
"We have to spend around Tk 2 lakh per annum to run this library, " he added.