First Bangladeshi to summit K2
In conversation with Wasfia Nazreen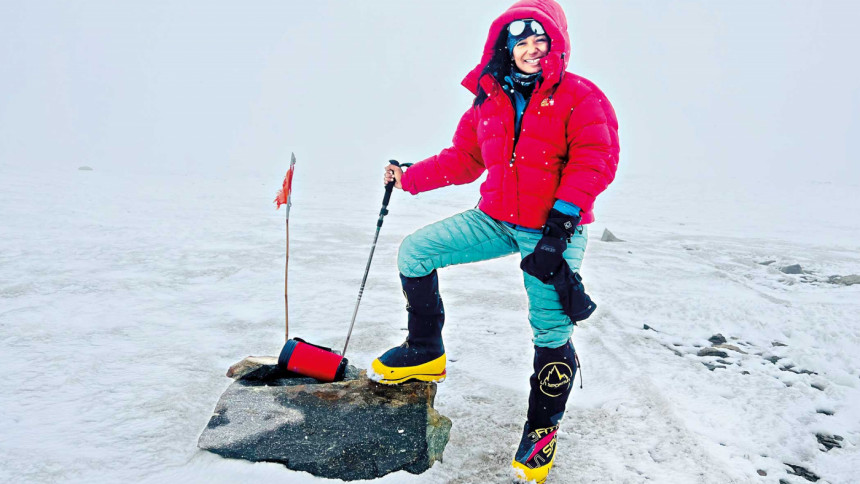 Anyone following the extraordinary feats of our native mountaineer, activist, and social worker, Wasfia Nazreen, will know that she has very recently conquered one of the most treacherous mountains in the world, the fearsome K2. Hot off the heels of this momentous achievement, she opens up to The Daily Star, with an exclusive interview detailing her experience on summiting one of the most dangerous mountain ranges in the world.
Childhood dreams
As a child, I was in survival mode and I lived with my aunt, Chobi Rouf and uncle, NAT Rouf from the age of 13, in a completely different city away from my family as my parents divorced when I was about 12. So, I did not really have that mindset of "dreaming." But I did know, even at that age, that I needed to be independent. That I had to set myself free. And the only way I knew how to do that was to be educated.
I requested my aunt when I moved in with them to put me in an English medium school although I was already only three years away from sitting for the board examinations. I knew I didn't want to be dependent on anyone, and thus, the strategy to be educated in English so I could figure out a way to go to a university abroad on my own. It was a huge shift for me — to start learning all the subjects in English, that too in the middle of the school year, but because of my aunt's persistent efforts, and my hard work, we did it.
The actual journey from base camp of K2 to the Advanced Basecamp to Camp 1, 2, 3, and 4 and then the summit demands a much larger space, and I am still processing all of it.
The most difficult summit
"K2 will try to kill you!" This was a line I had heard repeatedly before. But until I was actually there, I didn't fully realise the extent to which it can kill you. It's steeper than most mountains on the planet. There are constant rock falls — and I am not talking about pebble-sized rocks — these are huge rocks that will kill you or take one of your limbs, or cut the rope you are hanging from.
Descending the mountain post-summit, which is the hardest part and where most fatalities happen, I felt there was this god who was sitting on top, throwing rock discs at us and laughing. My helmet now has a crack on it, because one landed straight on top of my brain. Had I not had the protection, I wouldn't be giving this interview right now.
Mental preparation before an expedition
I was lucky to have spent a good chunk of my twenties in the Tibetan/Himalayan meditation world. I have at least a two-hour meditation practice on a regular basis that starts at 4 AM before I leave for the gym for physical training. By now, it has kind of become like clockwork. To me, meditation and mental preparation is most important. I am good with shutting off outside stimulation, including social media, and just focusing on what's ahead.
I suppose some call it the athlete's mentality. You need it during and post-expedition too. I lost 19 pounds in this expedition and went through an intense amount of physical pain. My entire body is bruised from rock and ice falls and I barely have energy. It's during these times and also during training that I understood, although I have a high tolerance level for physical pain, it's really the mind that ultimately is able to keep me at peace.
The fear factor
It's quite natural to have fear. You cannot be on a mountain like K2 and pretend fear doesn't exist. But it's how we deal with it, that is the bigger practice. There were things on this expedition happening that I have never experienced. Like the amount of rock fall.
On both Camp 1 and 2, we slept with our helmets on (although you can barely sleep!) and then in Camp 2, one of the rocks pierced through the tent and landed right by my teammate's head. Luckily, we all survived..
True empowerment comes from investigating and knowing our own truth and working on our inner selves. The only person who can ultimately make you feel weak is yourself. There's no need for validation or constant approval from outside when we trust ourselves.
A part of me was constantly praying, a part of me was in disbelief, and a bigger part of me believed I will survive and do it no matter what. I think it's the trust factor and our personal beliefs that triumph over fear at the end of the day.
Ascending K2
For death zone mountains (those above 26,000 ft) one has to acclimatise several rounds — that is, go high, sleep low, several times. Mountaineers call it "rotation." In order to minimise the chances of accidents on K2, we used Broad Peak (26401ft /8047m), another 8000m+ peak in the vicinity to get acclimated.
So, I did two rotations on Broad Peak up to Camp 3, then moved on to K2. The actual journey from Basecamp of K2 to the Advanced Basecamp to Camp 1, 2, 3, and 4 and then the summit demands a much larger space, and I am still processing all of it.
Call it luck or skills, I think I am one of the very few (alongside several members of my team) to have made it to the summit of K2 in one go from Basecamp. There are so many mountaineers who have come back year after year to make it to the summit. Or have done several attempts within the same season. So, I am extremely lucky.
Summit experience
I had studied the route for so many years, so I knew as I was ascending, (and based on my performance) that I would make it to the summit. Plus, I had radio contact with the leaders of my expedition, and everyone was cheering us on. Despite the heavy crowd on the mountain, I had pretty good speed.
During my last few steps approaching the summit, I heard a loud voice from the top saying "I am SO proud of you, I am mad proud of you!" — it was Nirmal Purja aka Nimsdai, who had waited on the summit for hours for all his clients to reach there and was shouting at the top of his voice.
This man is another breed — he climbed entirely without any supplementary oxygen (holds the winter-K2 record without supplementary oxygen too!) And I owe my safe descent entirely to him. I raised my left fist in a power symbol, as he was still cheering and another of our team members, Mingma Sherpa, standing beside him took that photo.
From this moment on, it became extremely emotional. As I reached the top, I completely broke down. I could not hold back my tears. I was crying like a baby. As if my body, mind, and soul had surrendered ten years of hopes, dreams, trials, and struggles all on the summit. I took my oxygen mask off and sat down to take the view. I was bawling my eyes out as several members of our team and other friends came and hugged me.
I felt proud and humble at the same time looking at the magnificence of the Karakoram range around me. I saw myself as a tiny dot in the whole expanse of it all. And at the same time, I knew how powerful each of us are. I remembered how I had almost died less than 2.5 years ago to COVID but fought on because I was supposed to do this, amongst other things. I remembered Abbu, whom I lost to COVID, and said a prayer for him from the top. I remembered all our martyrs and ancestors; I was grateful for all they had given us.
Usually, mountaineers take small-sized flags that can be tied to ice axes. I wished for our flags to be seen from the ISS (International Space Station) and took the grandest one I could find. I couldn't hold the flags alone as the wind was picking up, so I called Mingma Dorjee Sherpa to hold them with me. I was still crying and choking in pride. I sang the national anthem and was running out of breath. I knew this wasn't only my triumph. This was a victory for 16 crores+ people. This was for Bangladesh.
What's next?
It's going to take me a while to recover from this (sayings with a smile). I have TV production work and my memoir going on, in Los Angeles, for which I will head that way. The rest, I would rather do, than talk.
The best I can do is continue to work on myself and live my life as an example. Aside from that, currently, I am involved in different formats of storytelling and the majority of them are women's stories. When I was preparing to climb Everest more than ten years ago, I didn't see any brown woman going up that high or doing what I set out to do. I strongly feel for the next generation; little girls need to see themselves as examples. There needs to be a representation. I see myself contributing to that field.
Concluding words
Humanity has been going through a major shift — for too long, our earth was tipping to extreme masculine energy. Now it's finally balancing towards the feminine.
True empowerment comes from investigating and knowing our own truth and working on our inner selves. The only person who can ultimately make you feel weak is yourself. There's no need for validation or constant approval from outside when we trust ourselves.
This year, we made history by being the largest number of women (6) going to the summit from the same team. In my team, there was no toxic femininity or hidden agenda. We transparently supported each other (and so did our Nepali brothers) and empowered each other to do so. It was also the largest number of female summits in the history of K2 (altogether) — many may know K2 had a bad reputation for women as most female climbers died on the way down. This year, all of us survived — K2 has been kind to us!
Photo: Mingma Sherpa