Tribal rights activist's death: A wake-up call for India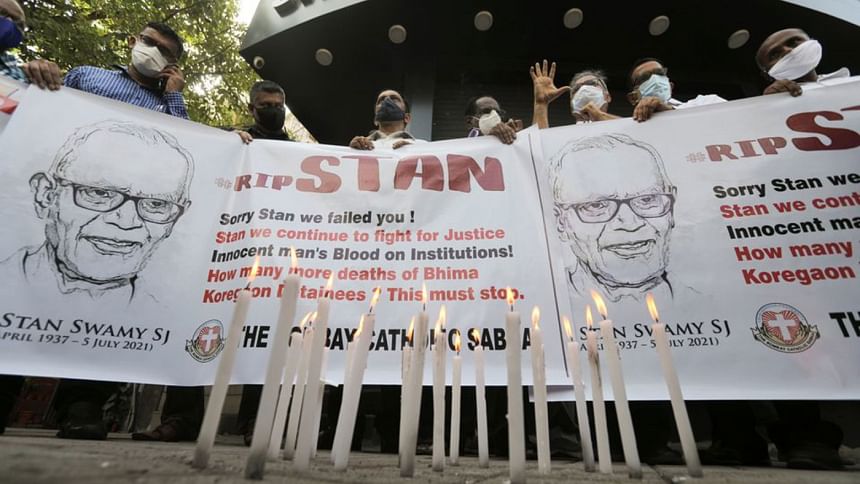 In May this year, India's veteran tribal rights activist Stan Swamy had told the Bombay High Court—where he was being tried after being arrested under the stringent anti-terror law Unlawful Activities (Prevention) Act, or UAPA, for his alleged links with Maoists—that he would die if "things were to go on this way".
How apocalyptic he was about himself! The frail 84-year-old, suffering from cancer, Parkinson's disease and post-Covid complications, finally lost the battle for life on July 5 while in judicial custody, where he had been since his arrest in October. His death came shortly before his appeal for bail on medical grounds was to be heard.
The Elgar Parishad case against Stan Swamy was related to inflammatory speeches allegedly made at a conclave held in Pune on December 31, 2017, which, police claimed, triggered violence the next day near a war memorial for tribals located on the outskirts of the western Maharashtra city. The state police claimed the conclave had been organised by people with alleged Maoist links.
Born "Stanislaus Lourduswamy" in the southern Indian state of Tamil Nadu in 1937, few people remember how his real name mutated into Stan Swamy while working for decades among the tribals in the remote areas of the eastern state of Jharkhand. Swamy studied theology and did a Master's in sociology at the University of Manila after joining the Jesuit order. Later, he studied at Brussels where he struck up a friendship with Archbishop Helder Camara, whose work among Brazil's poor influenced him.
While working among them, he took up the causes of tribals marginalised after their land had been taken over for construction of dams, mines and townships, often without their consent. He fought for the tribals' constitutional rights, rights to land ownership and forest produce, labour and representation of the community members. He was equally vocal about the release of young tribals arrested by security agencies accusing them of being Maoists. He also founded an NGO for this cause. This may have made Stan an icon among the tribals, but it also made him a reviled figure among powerful political forces. When Stan launched a movement for the enforcement of a Supreme Court order that said, "owner of the land is also the owner of sub-soil minerals," he earned the wrath of mining barons in mineral-rich Jharkhand.
India's top counter-terrorism body, the National Investigation Agency (NIA), had claimed its investigations had established that Stan was actively involved with the Maoists and that he was in touch with "conspirators" to further their activities. Besides, he was convenor of the Persecuted Prisoners Solidarity Committee (PPSC), which the authorities dubbed as a frontal organisation of the CPI (Maoist).
Even while denying his links with Maoists, Stan had reportedly said in a video before his arrest: "What is happening to me is not something unique or happening to me alone. It is a broader process that is taking place all over the country. We all are aware how prominent intellectuals, lawyers, writers, poets, activists, student leaders are all put into jail because they have expressed their dissent or raised questions about the ruling powers of India." He said he was part of "the process" and in a way happy to be so, because "I am not a silent spectator, but part of the game, and ready to pay the price whatever be it."
Stan's lawyer Mihir Desai claimed that the NIA had been negligent in providing timely and adequate medical aid to Swamy, and urged the Bombay High Court to order a judicial probe into the circumstances that led to the under-trial activist's death. He also said the probe agency did not seek Swamy's custody even for a single day but kept opposing his bail pleas. The NIA, however, had filed an affidavit in the High Court in May opposing his bail plea arguing that Swamy was a Maoist and part of a "conspiracy" to create unrest in the country, and that there was no "conclusive proof" of his medical ailments.
The death of Stan Swamy has once again brought to the fore the issue of the pace of India's criminal jurisprudence. In the nearly nine months of his stay in jail till his death, the ailing activist repeatedly sought bail in the trial court and the High Court but nothing happened. Since the charge sheet in his case has already been filed, the question arises as to what purpose Stan's stay in detention would have served. After all, an octogenarian with such debilitating diseases could not have possibly tampered with evidence, threatened witnesses, or fled.
Stan's death also calls into question the handling of old, ailing accused in custody and underlines the importance of making special provisions for their release unless it is absolutely essential for investigation and justice delivery. When Stan's lawyers asked for a sipper and a straw for him in prison, as Parkinson's disease had made it impossible for him to drink water from a glass, the hearing on the plea was adjourned for three weeks. The Bombay High Court was yet to begin hearing the second of Swamy's bail pleas filed on merit. Some legal experts have called for broadening the definition of the term "custodial death," which is usually associated with the physical torture of undertrials in prisons by police or jail authorities.
Stan's death has also triggered a fresh debate about whether the Indian judiciary should be more sensitive and show greater urgency to the issue of liberty of citizens, particularly those with age and ailment issues, who have been arrested under tough laws relating to dissent. Not that there have not been examples where the judiciary put personal liberty on top. All rights activists welcomed the recent Delhi High Court order granting bail to three activists—Natasha Narwal, Devangana Kalita and Asif Tanha—who were arrested under the UAPA for their alleged role in agitations against the Citizenship Amendment Act (CAA) and north-east Delhi riots. Another development welcomed by the rights activists was the release of anti-CAA activist Akhil Gogoi in Assam. He too was arrested under the UAPA and accused of having Maoist links.
The issue of prisoners languishing in jail without trial or due to slow pace of the trial is nothing new in India. The huge backlog of cases is a familiar story, and there is an urgent need for more courts and judges. This is where both the administration and the courts have to step in. While the administration should create the necessary infrastructure, the courts should expedite decisions on pending cases, including the important ones relating to constitutionality of the abrogation of Article 370 which conferred a special status to Jammu and Kashmir, the division of Jammu and Kashmir, the Citizenship Amendment Act, and the law relating to sedition which is often misused to curb free speech.
The issue of political dissent and civil liberty was also flagged by India's Chief Justice N.V. Ramana recently, when he spoke about an expansive idea of democracy beyond elections and political fault lines. His unambiguous message to those who seek to crush dissent or criticise policies could not have been timelier. It was encouraging to see Justice Ramana stressing the need for the judiciary to keep a check on "governmental power and action" by remaining independent of any control, direct or indirect, by the legislature and the executive.
However, what is also worrying is that every time court decisions uphold the executive policies or actions purely on legal merits, there is a tendency among a section of society to frown upon or at times slander the judiciary. The sole yardstick of an independent judiciary cannot be how many times it has gone along with or brought into question the policies or actions of the executive or the legislature. The uppermost criterion is whether these policies or actions are in conformity with the law and constitution of the land. 
All in all, Stan Swamy's death served a wake-up call for India in terms of criminal jurisprudence, political dissent and civil liberty. It should take notice.
Pallab Bhattacharya is a special correspondent of The Daily Star. He writes from New Delhi, India.