Mainstreaming nature-based solutions into development in Bangladesh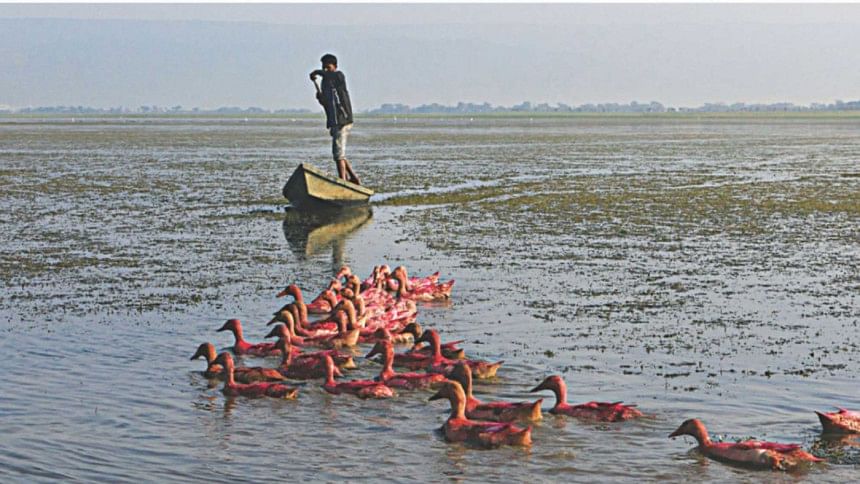 On November 13, 2021, the two-week 26th United Nations Climate Change Conference, or COP26, ended in Scotland with the participating nations agreeing upon the Glasgow Climate Pact. Since carbon emission reduction and climate finance were the top COP agenda, decisions on phasing out inefficient fossil fuel subsidies, phasing down coal power, and increasing adaptation funds by developed countries, for example, are noted as successes in this COP.
In recent years, nature-based solutions (NbS) gained significant momentum in climate conversations. It is, therefore, no surprise that the Glasgow pact repeatedly highlights the need for protecting, conserving and restoring diverse ecosystems to fight climate change. In the simplest terms, NbS means working with nature to tackle our societal problems, such as poverty, food insecurity, and of course climate crisis, while ensuring both human and biodiversity benefits.
On December 24, 2020, I wrote in this column how Bangladesh explored NbS last year amid Covid-19. Now, let's look back at 2021, at how the country has been mainstreaming NbS. And let's see what opportunities await us in 2022. Let's explore these along four interconnected threads: planning, practice, capacity development, and knowledge.
Over the last two years, we have seen a good number of analyses on how ecosystem-based approaches—or NbS, for that matter—are sufficiently represented in Bangladesh's short-term (e.g. 7th and 8th Five-Year Plans), medium-term (e.g. Perspective Plan of Bangladesh 2021−2041; the revised Nationally Determined Contributions, or NDC 2021, to reduce the country's carbon emission by 2030), and long-term plans (e.g. Bangladesh Delta Plan 2100). Although the term NbS has not been explicitly mentioned in these planning instruments, the action points outlined there are very much in line with the principles and scopes of NbS.
In terms of practice, Bangladesh has long been implementing NbS in various ecosystems. For example, we have been practising floating agriculture for the last couple of hundred years, we have been creating green belts along our coastlines since 1966, and we have been managing our forests and wetlands with local communities over the last couple of decades. Currently, the United Nations Development Programme (UNDP) and the Bangladesh government are designing a project for Tanguar Haor management. This will be a follow-up of the government's 12-year effort to conserve this globally important wetland with local people and administration. The envisaged scope of this project and the ongoing conversations show that this USD 21.6 million project will be taking a comprehensive approach to mainstream NbS for sustainably managing Tanguar Haor.
Since September 2014, the Asian Development Bank (ADB) has been supporting the implementation of Coastal Towns Environmental Infrastructure Project (CTEIP). This USD 103.5 million project is making the infrastructure at 10 municipalities in Bagerhat, Barguna, Bhola, Patuakhali, and Pirojpur districts disaster- and climate-resilient. This year, the ADB has started designing the second phase of this project. So far, urban NbS has been practised to a limited scale in Bangladesh, besides the green spaces in different towns and cities. Nevertheless, restoring natural drainage systems, reviving the lost riparian vegetations, and protecting and creating the mangroves around the coastal towns can fill in the current gaps in urban NbS. The increasing interest of ADB in NbS indicates that the second phase of the CTEIP could be a flagship project that mainstreams NbS into Bangladesh's climate-vulnerable municipalities.
Regarding capacity development on NbS, over the last year or so, Bangladesh Planning Commission, in association with UNDP, has been providing training to mid-level to senior government officials in a relatively new concept named Disaster Impact Assessment (DIA). One of the sessions of this training discusses the role of NbS in building disaster resilience. This gives the participants an opportunity to learn about NbS, and how Bangladesh has been implementing it to reduce disaster risks in different contexts. Recently, a training manual was prepared on DIA, which includes NbS and thus expands the capacity development opportunity on NbS.
In recent months, to improve risk management in development projects, the Establishment of National Academy for Development Administration (2nd Revised) Project has organised capacity-building events for project management leadership at government agencies ranging from local government, agriculture and EPZs to housing, power and education. The training includes a session on NbS, which links ecosystems with climate resilience, shares basic concepts of NbS, and showcases how Bangladesh can implement NbS in different sectors, such as forestry, disaster risk management and urban development, and how we can follow global standards to make our NbS effective. These training sessions are crucial to mainstream NbS both into policy and practice.
Finally, let's look at our efforts to create knowledge on NbS. In 2021, six researchers from the University of Oxford, International Centre for Climate Change and Development (ICCCAD), and University of Liberal Arts Bangladesh (ULAB) analysed 56 peer-reviewed journal articles and final reports from USAID-supported the MACH (1998−2007) and the CREL (2013−2018) projects, the CBA-ECA project of the Department of Environment (2010−2015), and SDC-supported Tanguar Haor project (2006−2016). Their research, published this November in the journal Frontiers in Environmental Science, shows a wide range of benefits we get from diverse NbS interventions practised in Bangladesh, the factors that make these NbS effective, and possible future actions. The authors concluded that "Bangladesh has an opportunity to lead the way in showing how high quality NbS can be deployed at landscape scale to tackle sustainable development challenges in low- to middle-income countries, supporting a Green Economic Recovery," since the world is recovering from the Covid-19 pandemic.
This first-ever review on Bangladesh's NbS fills in the knowledge gap identified during a learning hub event organised by Bangladesh Planning Commission and ICCCAD on March 15, 2020, just before Bangladesh went into lockdown. The article now creates a modest basis to further adopt NbS in our development planning and project design and implementation.
As we move towards 2022, we can take three immediate actions to advance NbS mainstreaming. First, Bangladesh is currently preparing the National Adaptation Plan (NAP) with technical support from UNDP. This gives us an amazing opportunity to effectively embrace NbS by making it a core element of the NAP. Second, the government is now updating its Development Project Proforma (DPP). The existing DPP clearly guides new projects to consider environmental sustainability, climate change, biodiversity, and ecosystem services. It is high time to adopt the global NbS standards and guidelines in the revised DPP, making our development projects NbS-friendly. Third, we need a comprehensive database to help us select suitable NbS interventions for specific regions to address location-specific societal challenges. The existing NbS Bangladesh Network can be an important platform for creating such a repository and decision-making tool.
It will take a while to understand if the decisions made in COP26 are being carried out or not. But Bangladesh must maintain the momentum it has created to mainstream NbS into its development actions. We can only hope the others will catch up.
Dr Haseeb Md Irfanullah is an independent consultant working on environment, climate change, and research systems. His Twitter handle is @hmirfanullah