How to prevent future cholera outbreaks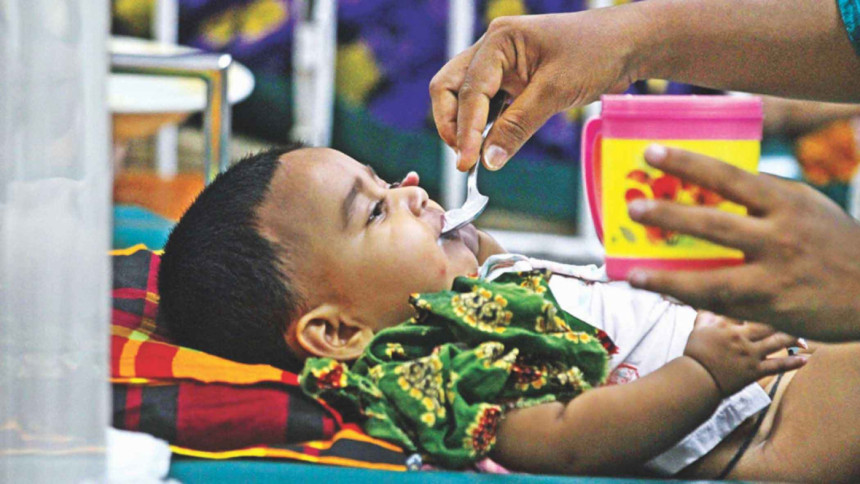 Cholera outbreaks in Bangladesh are quite common, particularly during pre- and post-monsoon times. There are over 20 cholera hotspots in the country, and Dhaka also remains at high risk, according to the International Centre for Diarrhoeal Disease Research, Bangladesh (icddr,b).
One of the worst cholera outbreaks of the last 60 years took place two months ago in Dhaka.  During the first week of March this year, icddr,b received around 500 patients a day, which more than doubled by the last week of the month. The highest daily average number of people who needed hospitalisation at the icddr,b was around 1,000 during the diarrhoea outbreaks in 2007 and 2018. This year, the number of patients exceeded 1,200.
The icddr,b noted that they were getting relatively higher numbers of patients from five areas in Dhaka: Jatrabari, Dakkhinkhan, Mohammadpur, Sabujbagh and Gandaria. The media revealed that the flow of patients was greater from areas that were suffering from water crisis. A group of researchers detected the cholera germ in water bodies within both the Dhaka city corporations and their peripheries. The chlorine level in the water at the consumer end was also found to be lower in some places.
Having tested the water samples from different zones of the capital, Dhaka Water Supply and Sewerage Authority (Wasa) claimed to have found no contamination. Recently, Dhaka Wasa has been trying to replace the old pipelines with new and better ones. However, there have been instances of leakage in the existing pipelines, which could have led to infections.
Diarrhoea is mainly a water-borne disease. The number of patients rise during summer when people consume street food and drinks. And outbreaks in Dhaka are often most severe in slums and low-income communities. Many slums where NGOs do not operate lack access to safe water. Solid waste is also not collected in a systematic way from urban slums, which leads to poor sanitation.
Malnourished children face higher risks of suffering from diarrhoea and cholera. Due to having lower immunity and because of living in poor conditions, their conditions often become critical, requiring hospitalisation.
During summer, the quality of water generally deteriorates. Therefore, extra attention by Dhaka Wasa is required to ensure the quality of the water supplied, especially when they are collected from surface water sources. People from low-income communities, floating population and street food vendors are more vulnerable, as they neither have legal and safe water supplies, nor sanitation facilities. They should get more attention both from Wasa and the city corporations, so that they can have access to safe water easily, affordably and, at the same time, can use public sanitation facilities available within their proximity. To bring this segment of the population under the required services, installation, proper operation, maintenance and management of water ATMs, mobile toilets and public toilets are required. Additionally, solid waste management system to the slum areas should be ensured.  
Bangladesh is one of 20 countries in the world that are trying to eradicate cholera. It approved the National Cholera Control Plan in 2019, which clearly emphasised the role of safe water, sanitation and hygiene to eradicate the disease. The government is also thinking of preventive approaches like providing oral cholera vaccine to people. This initiative could be very useful during emergencies.
At the same time, however, it could be a quite costly venture and difficult to manage. Therefore, a combined multisectoral preventive approach might be useful by merging oral cholera vaccines with ensuring safe water supply, safely managed sanitation and adequate hand-washing practice with soap by Wasas and city corporations, with support from relevant government authorities and development agencies. To obtain a sustainable solution, the health ministry, together with city authorities and utility service agencies, should take preventive measures at the beginning of every summer to educate the people about the risks of cholera and diarrhoea.
Dr Nurullah Awal is health adviser at WaterAid Bangladesh.
Hasin Jahan is country director of WaterAid Bangladesh.