How to design an emergency care system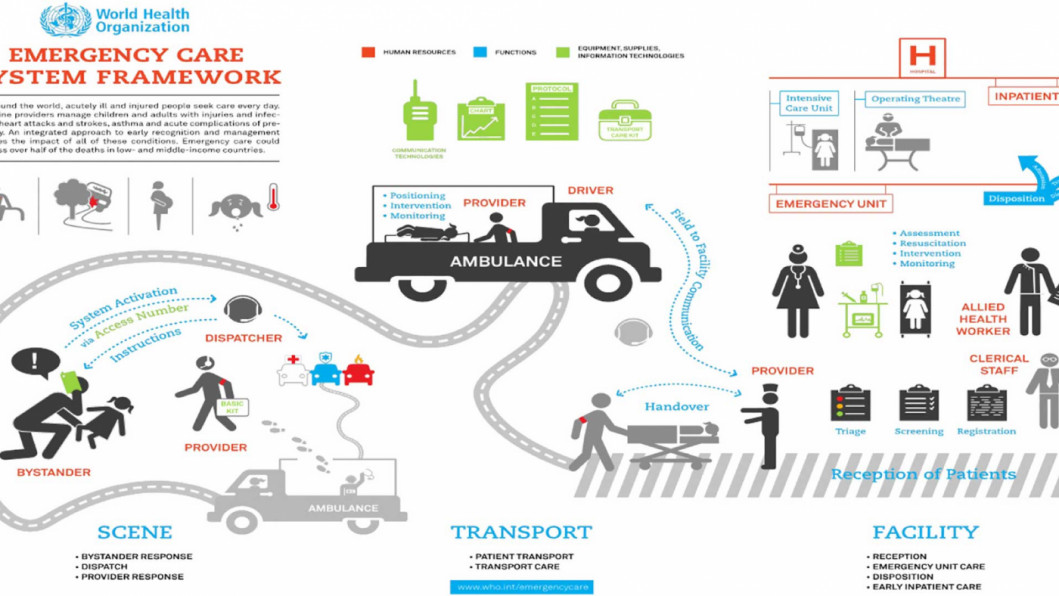 Developing an understanding of emergency care may seem like a daunting task—especially if, like in Bangladesh, there is no working system in place. However, there is a framework developed by the World Health Organization (WHO) that makes it easy to understand how to design an efficient emergency care system. Policymakers in low- and middle-income countries who wish to strengthen their national emergency care systems can study and implement that framework.
The WHO emergency care system framework divides the initial journey of an acutely ill or injured person into three locations: the first is the scene where the illness or injury originates, the second is the transport of the patient, and the third is the facility at which the patient undergoes treatment. It also classifies all the actions taken from the scene of illness/injury to the treatment facility in three segments: human resources, functions and equipment, and supplies and information technologies. When all three locations are interconnected by effective and prompt actions, not only are lives saved, but the overall quality of life after the illness or injury is much improved.
The most sensible aspect of this framework is that most, if not all, of the elements are already present in all health economies. Let's look at the framework in the context of Bangladesh.
The action plan of any particular case of emergency care may vary, as it depends on the patient and their illness. It may also vary depending on the scene of illness or injury: urban or rural, indoors or outdoors. The only constant in all these situations is the heightened state of emotion that the patient and their close ones experience, and the anxiety that stems from uncertainty. The response of a bystander, if there is any, is crucial in this situation. Whether it is having basic first aid skills or even just the ability to call for help, a bystander is key to providing the initial help to the patient. Bystander Response can be substantially improved in Bangladesh by means of one of many successful public health campaigns that have already been run, whether it be by media or formal education. Furthermore, the country already has a national emergency helpline, 999, which is accessible free of charge. Training these dispatchers in emergency care and efficient methods of communication can help both the bystander and the patient.
Transport is a critical factor when it comes to Bangladesh. Firstly, the current state of urban traffic is a huge barrier to providing emergency healthcare due to road congestion. The sense of responsibility to facilitate the passage of an ambulance at any given time must be instilled within the community. A combination of better traffic flow and improved policing is undoubtedly needed for this, but it will take time. However, what is more easily achievable is upgrading the ambulance services; instead of using ambulances as a means of transport, trained first responders and appropriate equipment should be added to the services. At the same time, the authorities concerned can develop a national ambulance service, which should take a relatively short period of time.
There is no shortage of facilities that house an emergency department in Bangladesh. The High Court has ordered all healthcare facilities and providers in the country to provide emergency care to patients. But what needs to be looked into is the quality of this emergency care, and standardise all these facilities, so that patients don't waste time deciding which facility to go to. The fact that most of the health economy in Bangladesh runs on an out-of-pocket scheme should not affect this stage of care, as care must be provided before payment. With proper training of all healthcare professionals and planning for infrastructure and resources, patients can be efficiently treated in these emergency units, and appropriate disposition plans can be made.
Effective communication is vital in this entire process, whether it is a dispatcher responding to a bystander and alerting the nearby facility, or the first responder providing a clinical handover to the receiving unit. There should be clear communication with the patient and their attendants as well.
There is no doubt that Bangladesh has all the required elements to design an effective emergency care system; what is needed is the alignment of these elements. The responsibility of ensuring that critical patients survive and make a good recovery does not only fall on the healthcare sector, but all the relevant government sectors as well. This is definitely a challenge—but it is a challenge that Bangladesh appears to be ready to take. 
Dr Mir Saaduddin Ahmad is academic director at Dr Nizam Medical Centre in Dhaka, Bangladesh, and a trained specialist in emergency medicine.