Captain Nawshad: A life of grit, determination and sacrifice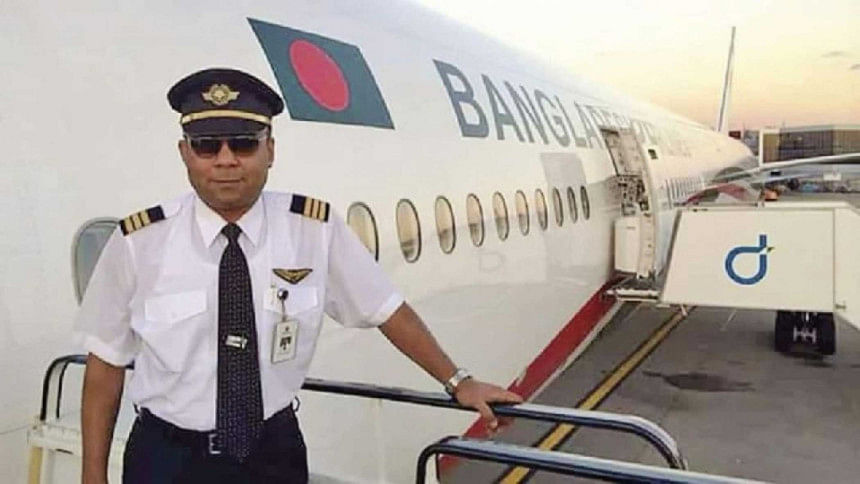 Captain Nawshad Ataul Quaiyum has passed away. The world goes on, you and I go back to work, and perhaps everyone will soon cease to talk about him except occasionally—even the hundreds of passengers he saved back in 2016. Everyone, except his family. But today my heart is heavy, and so I can't help but write.
Captain Nawshad had recently been in the news after suffering from cardiac arrest mid-flight on August 27. He was piloting a Dhaka-bound Biman Bangladesh Airlines flight from Muscat that was carrying 124 passengers on board, which was forced to make an emergency landing at Dr Babasaheb Ambedkar International Airport in India's Nagpur. Soon after the landing, he was put on life support after being admitted at the Kingsway Hospital in Nagpur, where he sadly breathed his last on Monday, August 30. He is survived by his wife, two daughters and a son.
I didn't know him personally, but he is part of our extended family that is Biman Bangladesh Airlines. My father, who is now retired, was a flight engineer in Biman for many decades. As cockpit crew, he was colleagues with Captain Nawshad's father Captain Quaiyum. My parents tell me we attended Captain Nawshad's wedding.
As family of a crew member of Biman, we know what that life looks like. We know what it means for crew to carry out their duty in the face of obstacles, and being asked to risk their own lives to save those of others if the need arises. We have learned the definition of dedication, honesty and patriotism from these crew members. We know what it means to not have them around for important occasions, or even ordinary ones, because they were gone on long and frequent flights for most of the month.
Captain Nawshad's sudden heart attack and his unfortunate demise at the age of only 44, while he was away from his family performing his duties, has moved hearts across the nation. After his death, the story of how he saved the lives of 149 passengers and seven crew members on December 22, 2016 has also resurfaced. On that day, a tyre of a Muscat-Chattogram flight at the Hazrat Shahjalal International Airport in Dhaka burst moments before takeoff. The situation could have become serious, but Captain Nawshad used his skills, technical expertise and bravery to first fly in circles to burn fuel and reduce weight to make way for take-off and landing of some other flights, before conducting an emergency landing.
This is only one incident that we are now hearing off. In the life of a flight crew member, there are many such incidents where the passengers are unaware of things that might have happened, had the crew not tackled the issue in time. And there are many that even we, the families of crew, haven't heard of—countless incidents that have gone unnoticed by the press and by passengers because of the skill of the cockpit crew of Biman Bangladesh Airlines, for their technical skill and efficiency are unparalleled.
There is an idea that being part of the flight crew is a fun experience only, which allows them to travel to many different countries. However, when you are tackling an emergency at 30,000 feet above the ground, or waking up at ungodly hours of the night whenever you need to fly, or going through multiple tests and medical exams every year to remain fit enough to fly an aircraft, or you are unable to be present for your family all the time like regular people—you realise that a great deal of grit, determination and sacrifices are necessary for carrying out such duties.
Biman is often looked down upon as the poor airlines of a poor country. Our national airlines may not live up to the standards of the fancy aircrafts of foreign countries that have ample resources to invest in their flagship carriers, but the people who work there to make your travel safe and peaceful prove with their health, sweat and honesty that they will do everything in their power to make the journey to your destination smoother.
Despite the fact that Captain Nawshad saved the lives of more than 150 people in 2016, he could not come back from this last flight alive. In any one lifetime, it is difficult to claim that one has measured up to the great work of saving the life of even one person, let alone that of scores of individuals. Is that not enough success, enough bravery—for this one ephemeral life we have? We pray that Captain Nawshad is granted eternal peace, and is remembered by all for his services to his nation.
Anika Tabassum is a software engineer at OpenText and is based in Waterloo, Canada.