Will Rohingya repatriation remain a myth?
The world must put pressure on Myanmar to expedite the process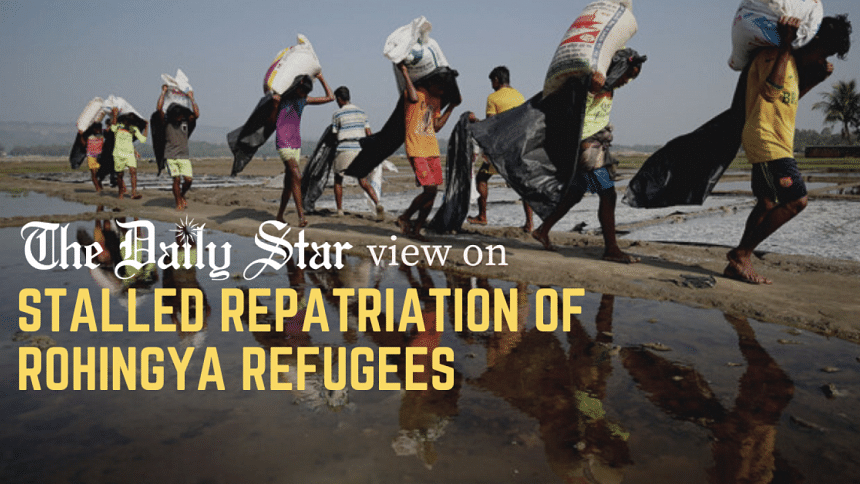 It is most unfortunate that even after four and a half years have passed since the repatriation agreement between Bangladesh and Myanmar was signed in November 2017, the process to take back stranded Rohingyas still could not be initiated. Although bilateral talks between the two countries resumed in January this year – after a two-year suspension due to Covid and the military takeover in Myanmar – no substantive outcome came out of it. Bangladesh has been asking Myanmar, for quite some time, to expedite the verification of Rohingyas to fast-track their repatriation. But the Myanmar authorities seem to be reluctant to do so. It appears they are just wasting time in the name of verifying Myanmar nationals, who fled around five years ago after enduring a brutal military crackdown in the Rakhine State.
Meanwhile, international funding for the Rohingyas is declining rapidly. While the humanitarian agencies need more than USD 881 million this year to support the Rohingyas in Cox's Bazar and Bhasan Char as well as the host communities there, according to the UNHCR, they have only received 13 percent of the required fund as of last month. With the funding for the refugees waning, the government is facing a huge pressure in taking care of such a large number of refugees. The recent rise in violence, drug peddling, human trafficking and other criminal activities in and around the camp areas has also become a security threat for Bangladesh.
Under the circumstances, both Bangladesh and the international community must put greater strategic pressure on Myanmar to take back its citizens, and it must do so by ensuring that the conditions in the Rakhine State are safe and conducive for their return. Reportedly, Bangladesh had handed over the names of 8.4 lakh Rohingyas to Myanmar officials, but so far, they have only verified around 42,000 of them. And despite some attempts to take them back, many Rohingyas refused to return because of the uncertainties surrounding their citizenship and safety. This is only fair. Why would they go back to their country if they are not given citizenship? But having to take their responsibility indefinitely is also unfair from Bangladesh's perspective. The onus rests with Myanmar to solve this unique problem which it created.
In order to resolve the current stalemate, both Bangladesh and Myanmar should hold regular meetings through their Joint Working Group and Technical Working group. And the role of the international community cannot be underestimated either. They should put significant pressure on Myanmar to expedite the verification process and grant citizenship to the Rohingyas. The world must act unitedly to reduce the plight of the forcibly displaced Rohingyas and to repatriate them to their own country.