Where's the end to Dhaka's terrible traffic?
Authorities need to stop being apathetic to common people's sufferings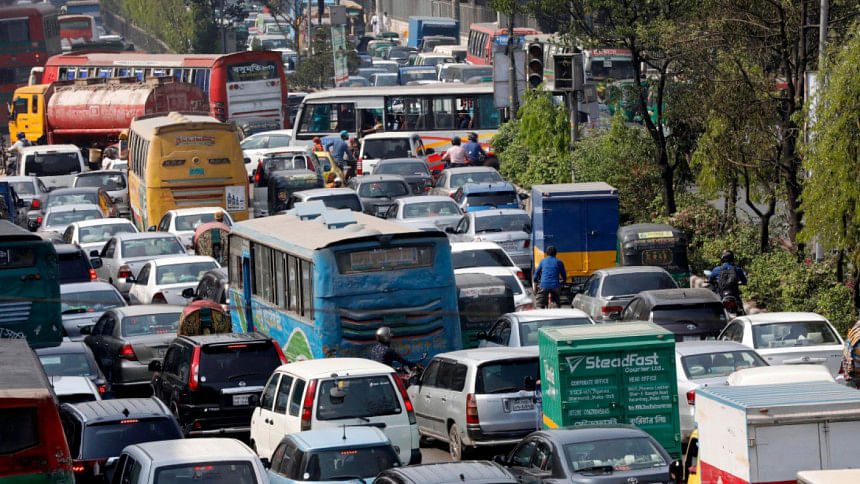 After nearly two years of hiatus, almost all offices, businesses, schools and colleges have started to resume their normal functions. As a result, Dhaka's traffic has returned to its nightmarish worst. What is most shocking in this regard is how completely unprepared the authorities were for the reopening of educational institutions, and how apathetic they remain to the most distressing issue concerning the capital city's residents.
Dhaka's horrendous traffic is nothing new. Given that it is one of the most densely populated cities in the world and lacks the road space required for the current volume of traffic to move smoothly, traffic congestion has remained a perennial problem for the city residents. On top of that, a large percentage of the roads that we do have are either always undergoing repair work or are in desperate need of repair because they were poorly constructed in the first place. Then there is the fact that Dhaka has one of the worst public transport systems in the world.
However, given the day-to-day suffering this causes people, as well as the economic and social costs, why is it that we have just given up and learnt to live with it? Why haven't the authorities come up with a comprehensive and effective plan to improve Dhaka's traffic? How long will we remain satisfied with their empty promises?
The two years of empty streets that the pandemic forced upon us provided the perfect opportunity to the authorities to improve our roads. Yet, we barely saw them being bothered to do so. Is it because most of our government high-ups—the VIPS—can shut down entire roads and travel quickly without facing such congestion—while causing inconvenience to others—that they have remained so apathetic to this problem that ordinary people are forced to endure day in, day out? 
There are, of course, other factors that exasperate our traffic problems, such as people ignoring traffic rules (which are barely enforced), traffic police looking the other way for rule violations (in exchange for bribes), etc. But many of them also have administrative roots. All these problems could be solved if the authorities were sincere in their pursuit to address them.
With Dhaka becoming more and more "unliveable" by the minute, there is no excuse for the failure of the authorities to address the city's traffic problems—and even less so, for their apathy towards how badly it is affecting the quality of people's lives.