The saga of river killing continues
When will we realise that we cannot survive without our rivers?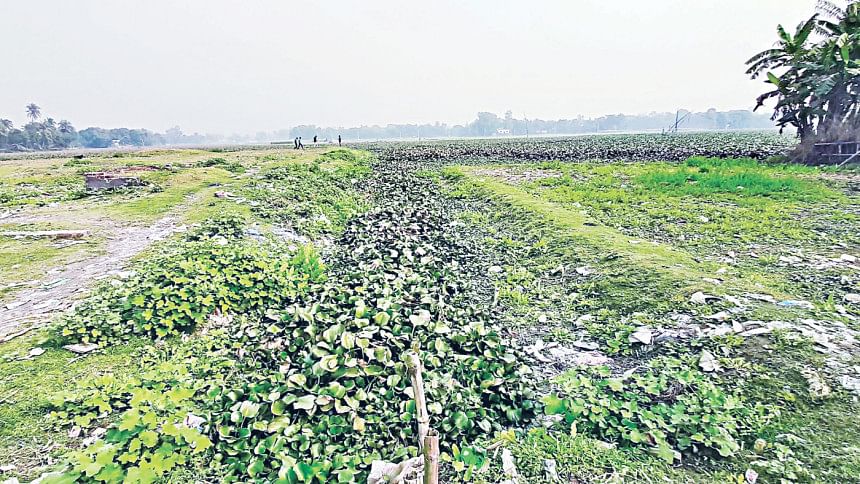 Hardly a day passes by without the media carrying news of a river slowly dying because of people's greed and the authorities' lax oversight. In the last two days, this daily featured reports on the fate of two rivers. One was the lifeline of the district town of Tangail, and the other used to run through the Dumuria upazila of Khulna district. These rivers, Burai and Hori, like hundreds of other dead or moribund rivers in Bangladesh, suffer not because of natural causes, but man-made.
Take the case of the Burai, which flows through the eastern part of the Tangail town. Not many decades ago, people could bathe and fish there. But indiscriminate dumping of waste has blocked the entire river, depriving the town of its major source of water. The Hori, on the other hand, has been encroached upon by land grabbers and brick kiln owners, and the once wide river is now a skeleton of its old self. This has been going on for decades, but the local administration and agencies responsible for protecting rivers never felt the need to address the matter.
As it is, many of our major rivers, tributaries and distributaries are dying because of inadequate water flow from upstream sources outside the country. Reportedly, as per a survey of the BIWTA, there are 310 rivers in Bangladesh. Out of these, 57 are border rivers, the condition of 175 is miserable, and 65 are almost dead. Eighty percent of the rivers lack proper depth. Many are either dead or have lost navigability. The same goes for many canals. Much of the woes of our rivers have to do with industrialisation, since the majority of key industries were built along riverbanks. That may be the case with many other countries, but the way we are destroying and polluting our rivers is incomparable.
Thus, the two aforementioned rivers are but a microcosm of almost all our rivers and canals. And the fates of Tangail town and Dumuria upazila are fairly representative of many major towns and upazilas.
Conurbations have been built around rivers and have perished because of rivers. Our policies and regulations regarding rivers and other waterbodies are plentiful, but their enforcement is absent. Even newly cropped up industrial sites have failed to maintain the environmental requirements; the Savar tannery is a case in point. There is a gross mismatch between what the administration avows, and its practical application. We urge the administration to live up to its commitment to save our rivers.