Save consumers from scams and losses
Govt should strengthen relevant bodies, uphold consumer rights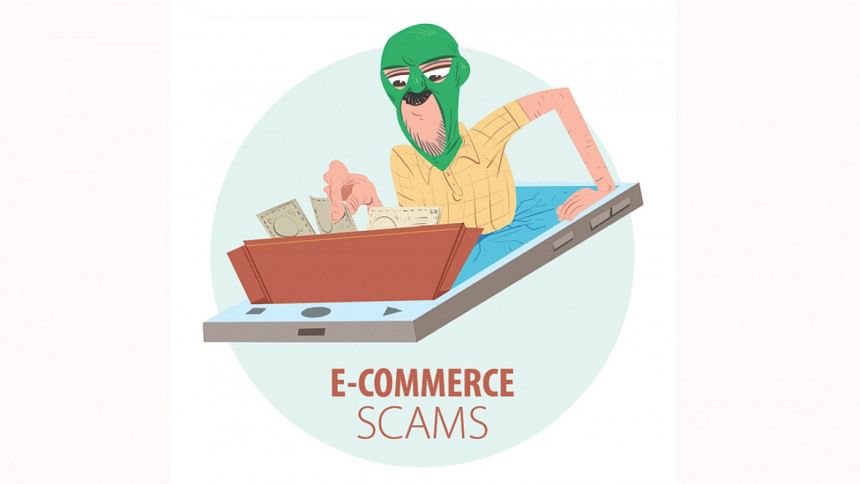 As consumer behaviour changes with a growing shift from traditional commerce to e-commerce amid inadequate regulatory response, people are increasingly getting the short end of the stick. Almost every day, reports of scams, manipulations and sufferings are hitting the newsstands, as the competent authorities struggle to keep up. This was again reflected in the theme of this year's World Consumer Rights Day—"Fair Digital Finance"—which calls for fair transactions and alterations in government policies in favour of consumers, as well as corporate behaviour towards the latter. As a report published in this daily shows, never before have these reforms been more urgent, given how widespread these illicit practices are.
The report paints a gloomy picture of the fate of the victims of e-commerce scams, saying that many may never get their money back. It shows how e-commerce platforms like Eorange, Evaly, Sirajganjshop, Dhamaka Shopping, 24Tkt, Alesha Mart, Priyoshop.com, and Qcoom—which built their business models around Ponzi schemes—swindled their customers, and now they have liabilities running into thousands of crores of taka. Each of these companies have many complaints against them, which remain undisposed to a large extent. Some of the outstanding money is said to be stuck in payment gateways. But it's nowhere near enough, and since these firms basically ran on empty pockets, the Directorate of National Consumer Rights Protection (DNCRP) faces an impossible task of realising money that simply does not exist.
With the authorities unable or unwilling to offer a way out for the defrauded customers, their suffering may drag on for many days to come. This is the opposite of the vision for fair digital finance. True, customers, too, need to take responsibility for being defrauded in ways that, frankly, shouldn't be too unfamiliar by now. But the authorities, and indeed traders both traditional and digital, have a bigger role to play in establishing fairness and accountability.
The commerce ministry needs to take control of this situation. Just as e-commerce scams, market manipulations in traditional commerce leading to unusual price hikes are also on the rise. This shows a pathetic lack of preparation and oversight on the relevant authorities' part. The priority is to overhaul the financial intelligence unit and especially the DNCRP, which received a staggering 26,538 complaints related to online shopping from 2018 till last February, but failed to respond adequately because of a manpower crisis. These bodies should be able to properly handle market oversight needs, consumer complaints, and other product and service related concerns across the country. We need sustainable, future-proof reforms that can prevent scams and manipulations.