Rise of hate speech in India
Stern official action needed to prevent it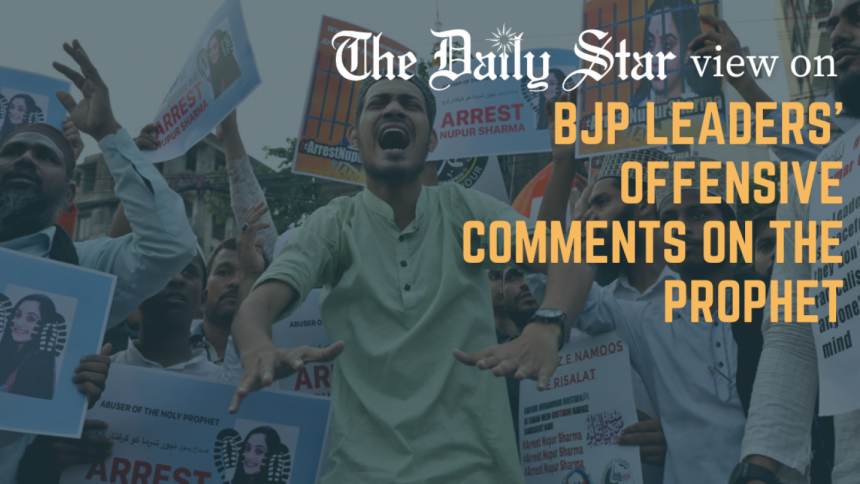 We're concerned by some recent developments in India relating to hate speech and anti-Muslim rhetoric pushed by Hindu nationalist elements. Last week, a now-expelled spokesperson for the ruling Bharatiya Janata Party (BJP) made offensive comments about the Prophet Muhammad. The remarks—made during a televised debate and then supported through a now-deleted tweet by another leader—landed the party in trouble by causing huge backlash from Muslim nations. So far, at least 15 countries, including close Indian allies, reportedly lodged official protests and demanded an apology from the government. The Organisation of Islamic Cooperation (OIC) also condemned the comments, which it said came "in the context of intensifying hatred and abuse toward Islam in India and systematic practices against Muslims."
One may recall that some months ago, in a meeting of religious leaders at Haridwar, Uttarakhand, most vicious anti-Muslim sentiments were expressed in the most hateful language. Under any other circumstances, police would have made arrests or taken some legal action for trying to disturb peace and social harmony. But this was brushed aside as the views of "fringe groups".
This whole situation, from our perspective, is highly disturbing, to say the least. As a neighbour and friend, we expect nothing but peace and stability in India, and hope that everything will be done to ensure that. While the government of Bangladesh has made no official comments about the recent development that caused the diplomatic storm in India, people, however, were disturbed by what they saw as a continuation of anti-Muslim comments and violence that are threatening peace.
It is, therefore, vital that the authorities in India, as in Bangladesh, remain careful about the profound and destabilising effects of communal politics. We have seen how hate speech and intolerance for religious diversity have often been promoted to serve vested interests. In India, Hindu nationalist forces have for decades pursued a particularly divisive agenda. The latest incident should, therefore, bring in greater awareness among Indian policymakers of the need to consciously undo the damage of that toxic tendency. They must stay vigilant so that no hate speech or crime is ever tolerated again. We also feel that sterner action by the government is called for to stop the spread of hate speech against the Muslim community. Only that can guarantee lasting peace in the country and the region.