Resurgence of violence may destabilise an already conflict-ridden Afghanistan
Taliban government must demonstrate their ability to govern by rooting out terrorism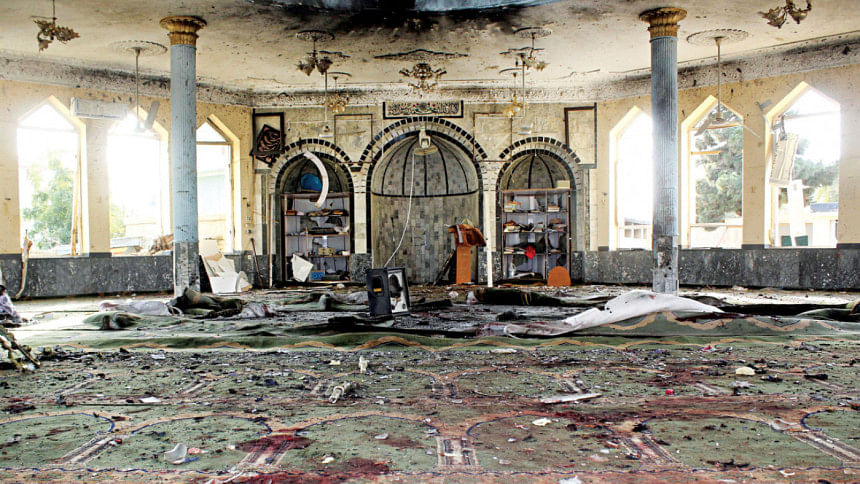 We are deeply saddened to hear of the suicide bomb attack at a Shia mosque in the Afghan city of Kunduz that killed at least 55 people on Friday. Many more were also wounded in what is being called the bloodiest assault within Afghanistan since the exit of US forces, and for which the Islamic State (IS) group has already claimed responsibility.
Ever since the takeover by the Taliban, there have been widespread concerns over the rights of women and minority communities within the country. This is especially because of the Taliban's terrible track record with Hazara Shias, who were one of the most persecuted groups when the Taliban last ruled Afghanistan and faced mass killings, torture and executions. On top of that, there have been predictions of an impending conflict between the Taliban and IS that will further destabilise the already conflict-ridden nation. This latest attack from IS only confirms these fears. 
And it seems, regardless of whether it is the Taliban or IS, the victims are always ordinary Afghans, especially Shia Muslims, who have suffered some of the most violent assaults in Afghanistan. Even in May this year, a series of bombings outside a school in the capital killed at least 85 people from the Hazara community—mostly young girls. Such attempts to stir up sectarian violence in Sunni-majority Afghanistan is part of an age-old strategy of Sunni extremists—the revival of which should cause the entire region much concern.
Renewed insecurity and greater instability within Afghanistan is not only against the interests of the region, but of the recently-established Taliban government as well, since it is yet to convince its neighbours and major donors and trading partners of its ability to govern effectively and peacefully. Although the initial tone taken by the Taliban seemed reconciliatory, they have already taken huge steps backwards by violating the rights to work and to receive an education of Afghan girls and women. When the Afghan government's ability to deal with an impending humanitarian and economic crisis is already in doubt, the last thing it needs is a resurgence of these disturbingly familiar patterns of violence.
The international community must not abandon the Afghan people in this great time of need. Simply making open-ended statements is not enough, there must be a serious push to ensure that the Taliban government holds terrorist groups like the IS to account and prevents them from operating within Afghanistan's borders. Failure to do so may lead to an escalation of violence that may ultimately cost them their seat of power. If IS is allowed to operate in Afghanistan, the repercussions for Pakistan, India and even Bangladesh can also be huge. We must be vigilant and ensure that the far-reaching arms of sectarian violence do not leave an impression within our borders as well.