Profit shouldn't be the goal of a public university
How will DU justify making huge profits from admission tests?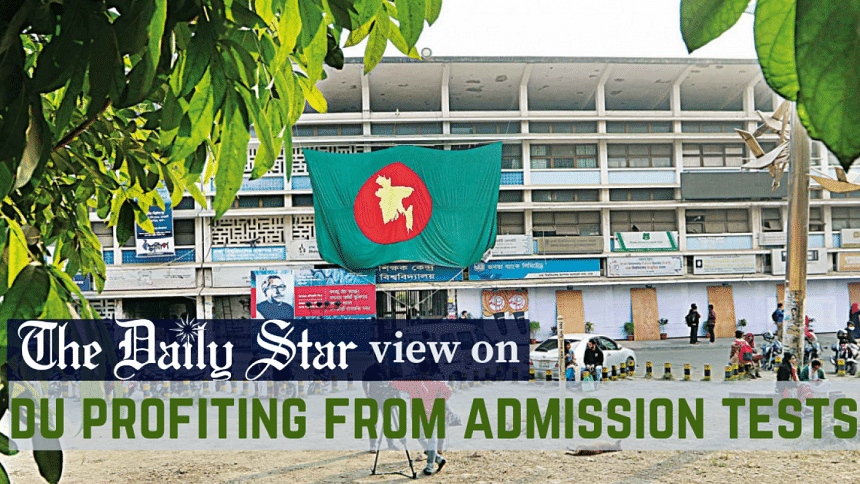 We're surprised to learn about the huge profit that Dhaka University has made from its admission tests held this year. According to a report by daily Prothom Alo, the profit made from the admission tests for the 2021-22 academic year stands at Tk 17 crore. Although DU authorities claim this to be the university's income, the question is, can a public university make such profits by taking exorbitant fees from admission-seekers?
Reportedly, the DU administration has increased the fee for admission tests every year since the 2019-2020 academic session, citing various reasons. While the fee was Tk 350 in 2018-19, it was increased to Tk 1,000 by 2021-22. This means the fee was increased by a total of Tk 650 in just three years. Is this justified? Apparently, for the DU authorities, it is. In fact, they've managed to cook up a reason for their action every time. The first time, during the 2019-20 session, they said they had to "slightly" increase it because they were taking written tests for the first time. The reason for the increase the following year was that they were holding the exams outside Dhaka which needed extra spending. This year, they came up with a unique reason – that they could not "adjust their costs" last year through increased fees.
When the new fees were finalised, the university's vice-chancellor claimed that they didn't have any motive to make profits from admission tests and that their spending for the tests was "much higher" than the money received from selling application forms. But now we know that they have actually made a good profit from their sale.
This is just an example of how our higher education sector has been commercialised over the years, and how this has been affecting many students who struggle to pay for the exorbitant test fees. While a profit motive from a private university makes sense, the same from a public university, funded by the public, doesn't. It is not just unreasonable but also totally against its character as a social institution. While charging a student what is necessary to pay for expenses related to a two/three-hour test should have been their goal – which shouldn't be too much – it appears university officials and teachers are being driven by self-serving interests. There are also questions whether public universities are spending their earnings and budgetary allocations to serve students. These institutions, like any other institution, should be made accountable for their decisions. Commercialisation of higher education must be stopped.