An inexcusable failure to ensure road safety
Safety taskforce must be held accountable for lack of action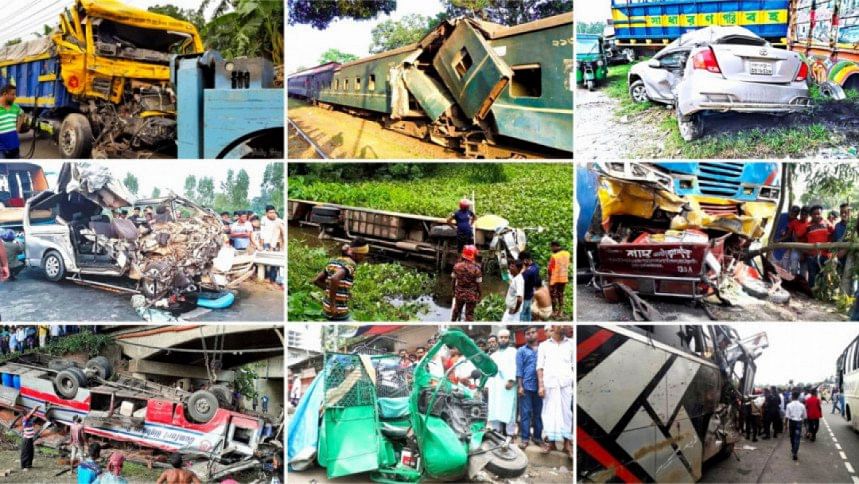 One issue that we have written extensively about is the lack of road safety in Bangladesh and the authorities' continued indifference to it. While the road safety movement by students in late 2018 prompted the government to enact the Road Transport Act 2018, it was not until November 2019 that the law came into effect. And yet, reports of continued crashes and casualties show how poorly implemented it is. For instance, according to the law, no driver can drive a vehicle unless he has an appointment letter from the recruiting transport owner. This directive, like many others, is widely ignored as bus/truck owners recruit drivers on a daily basis.
Another failed initiative by the government was to form a "high-powered taskforce," led by the home minister, which remains ineffective to this day. Its sluggish pace and lack of any sense of urgency are sharply contrasted by the fast march of deaths on our roads. As per a police report, 2021 saw the number of accidents and fatalities rise by a staggering 30 percent compared to 2020.
As we know, the most common reasons behind the increase are faulty vehicles, reckless driving, tailgating, non-implementation of traffic laws, etc. But these are merely symptoms of the disease that is the lack of seriousness of the authorities to ensure road safety. Since its formation in October 2019, the aforementioned taskforce has been mulling over the same nine decisions over and over again, with only one decision—to appoint a focal person from four ministries concerned to oversee the implementation of the other decisions—being fully implemented so far. Surely we would have seen some improvement in terms of road safety if the taskforce had been proactive and swift as they were meant to be?
Given that accidents and fatalities on our roads are still taking place every day, we hope the taskforce, which was set to meet on Sunday, will give us some solid answers as to why it has not been able to implement its decisions over the past two years, and also a timeline of when and how it intends to actually make moves which will make our roads safe. We will also urge the taskforce to prioritise the implementation of decisions which will have a direct and immediate impact, such as not allowing unlicensed or underage drivers to operate vehicles. Deaths on roads, preventable as they are, are occurring too frequently to justify their lax attitude.