Trump says American dream at stake in US midterms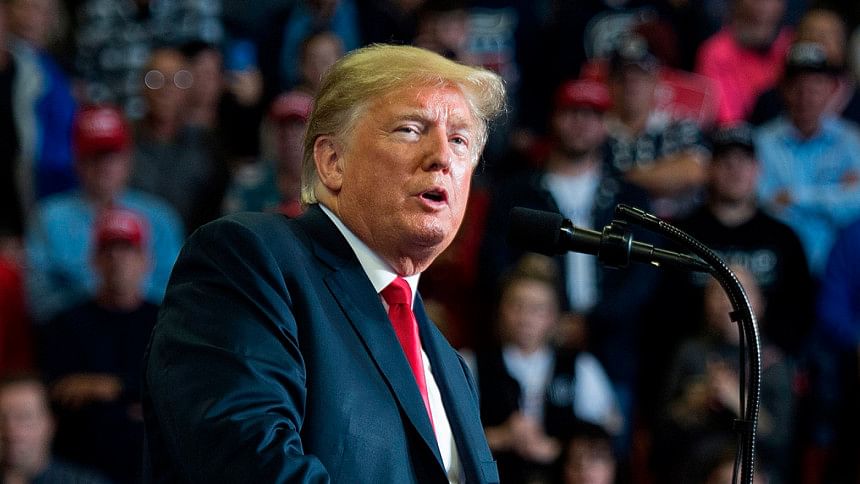 Donald Trump completed a whirlwind final push to stop Democrats from breaking his Republicans' stranglehold on the US Congress in bitter midterm elections today.
Hitting three states in one day, with a final late rally in Cape Girardeau, Missouri, Trump hammered home his boast that "the Republican agenda is the American dream."
Also read: Trump, Obama in frenzied final push
However, after an election campaign marred by extremist violence, opponents called the polls a chance to curtail a president they accuse of deliberately stirring racism and social division in the search for votes.
For almost two years, Trump's rule-breaking, sometimes chaotic administration has enjoyed a free hand from the twin Republican controlled chambers, but the midterms could see him forced to face an opposition with real teeth.
The entire House of Representatives and a third of the Senate are up for grabs.
According to nearly all pollsters, the Democrats have a good chance of winning the House, while the Republicans are likely to retain the Senate.
But with turnout a key unknown factor and pollsters still unsure about the effect of Trump's maverick style on voters, both parties admit that they may be in for a surprise.
While Trump is not on the ballot, the most polarizing US president for decades has put himself at the center of every issue.
With a characteristic mix of folksiness, bombast and sometimes cruel humor, he says voters must choose between his stewardship of a booming economy and what he claims would be the Democrats' extreme-left policies.
In a Fox News op-ed on Monday he wrote that the US "has the best economy in the history of our country -- and hope has finally returned to cities and towns across America."
At every rally, Trump has vowed to his chanting supporters they will "win, win, win."
But as he touched down in Indiana for the second leg of his final-day tour, even Trump conceded that the House may slip from his party's grasp.
"We'll just have to work a little bit differently," he told reporters when asked how he'd live with a Democrat-controlled chamber.
Racism claims
The party of a first-term president tends to lose congressional seats in his first midterm. However, a healthy economy favors the incumbent, so Trump may yet defy the historical pattern.
New figures on the eve of the polls confirmed that job growth is soaring and Trump gives himself credit for the "hottest economy on Earth."
But to the dismay of some Republicans he has often pivoted away from that message in the final week of campaigning to emphasize a hardline -- and critics say racist -- crackdown against illegal immigrants.
Claiming that the country literally faces an "invasion" of migrants, Trump has sent thousands of soldiers to the Mexican border, suggested that illegal immigrants who throw stones should be shot, and made wild claims about the Democrats planning turn the country into a crime-and-drugs black hole.
Stirring fear of foreigners and trumpeting American nationalism worked for Trump in his 2016 election victory against the Democrats' establishment candidate Hillary Clinton.
But the angry tone has also turned off swaths of Americans.
Bernie Sanders, the leftist populist who some feel would have had a better chance than Clinton to take on Trump in 2016, lashed out Monday at the president, calling him a "pathological liar."
"He is a sexist, a racist, a homophobe, a xenophobe and a religious bigot. He is trying to do what we have never seen in the modern history of this country to do what he is doing right now, to gain votes by trying to divide the American people up based on where we came from," Sanders said on SiriusXM Progress radio.
Former president Barack Obama said while campaigning for Democrats: "The character of our country's on the ballot."
Violence and jitters
Pollsters, still gun-shy after underestimating Trump's strength ahead of 2016, say that margins are so tight in key races that they cannot rule out another shock result.
Races to watch include Democrat Beto O'Rourke's challenge to Senator Ted Cruz in traditionally deep-Republican Texas.
On Monday, O'Rourke depicted the contest as an epic event, saying that Texans "will define the future, not just of Texas, but of this country, not just this generation but every generation that follows."
Other big races are Republican Pete Stauber's bid to flip a House Democratic stronghold in Minnesota, while Democrats in Florida and Georgia are aiming to become the states' first African-American governors.
Trump's ultra-loyal base laps up his colorful style, which includes at times jaw-dropping insults against opponents and factually erroneous claims.
However, even some supporters became jittery after a Florida man and ardent Trump supporter was charged with sending homemade bombs to more than a dozen senior Democrats and other high profile opponents.
Just after, a gunman walked into a Pittsburgh synagogue and shot 11 worshippers dead.
He had allegedly lashed out online against Jews he accused of transporting Central American "invaders" into the United States -- in language that echoed Trump's own attacks on the impoverished migrants as "an invasion."