'Upset with myself'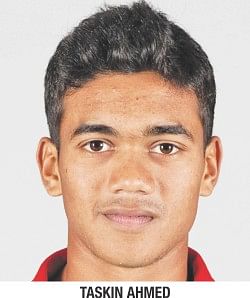 From picking up a five-wicket haul in his debut ODI against India to being dropped twice in the ODI series in the West Indies, in a short span of three months 19-year-old Taskin Ahmed has tasted both glory and disappointment in international cricket.
The first ODI in the West Indies saw Taskin bowl the fastest delivery of the match—145.6 km/hr. He however, gave away 46 runs in seven overs—a crime considering that Bangladesh had only 217 runs to defend. Slow-left armer Abdur Razzak replaced him in the next two ODIs.
Getting dropped after all the hype he generated following the India series in June was a move that immensely saddened the player; an anti-climax to the evident excitement that he reflected before leaving for the West Indies. "I am going to bowl full-paced bouncers at them, no matter who is batting," he had said.
"To tell you the truth, I am really upset with my performance. It was nowhere near my expectations. Yes, I did bowl fast, but what I have realised from this tour is that mere speed is not enough," Taskin told The Daily Star.
"I bowled wide and the batsmen took advantage of that. I could not stick to my line and length. In this small time that I have spent in international cricket, I think the biggest thing that I have learnt is that it's not enough if you give 90 per cent of your effort. To be successful, you always need to give your 100 per cent," he further explained.
Gaining accuracy and the usage of variations are the two aspects that the fast bowler has been focusing on in training ever since he returned from the West Indies.
"I won't compromise on my speed. I am a fast bowler and that's how it's going to be. But great fast bowlers around the world, the likes of Brett Lee and Shoaib Akhter, have been accurate and fast. Accuracy is something that I can gain only with time,
"Apart from that I don't think I was able to use my variations properly. The wicket was flat and slow and that made it worse," said Taskin.
"So, on the whole, it was not a great experience, but it was a tour that I learnt a lot from. Senior players in the side have asked me to gain from this experience and that's exactly what I want to do," the determined bowler added.    
Upon returning home from the West Indies the pacer avoided the media for a while. It was a change compared to the period before the series which saw the teenager feature in a string of interviews, especially after his flamboyant debut against India.
The difference in approach, according to the player, is just to give him some space to re-focus on his bowling.
"I clearly did not play well. I am not satisfied. So I really did not know what to say to the media. My performance shows that there are aspects in my training that I need to work harder on and I am just focused on that. I want to work hard and comeback well in the Zimbabwe series," said Taskin.