Why do thousands want to show off Mecca on a chat app?
Almost 300,000 people tweeted #Mecca_live as part of a campaign to get Snapchat to feature the Saudi city - which is closed to non-Muslim visitors - on their app.
Snapchat launched its "live" feature last year. It allows users to contribute videos and pictures to a live stream, which, like other content on the app, disappears after a short period of time.
While Snapchat focuses on locations of its own choosing - including a controversial Tel Aviv live stream last week - it's been the subject of lobbying campaigns, including a recent push to feature the holy city of Mecca when millions of pilgrims will be praying in the city.
A bit of background: Muslims consider Mecca the holiest place on earth. It's where Prophet Muhammad was born and where he had his 'first revelation' of the Quran.
And every year Muslims from all around the world flock the Saudi city to perform the Hajj pilgrimage. The pilgrimage is only required once in a Muslim's lifetime and only if they can afford it and can physically endure it.
But for those who can't make it during the Hajj season there's the Umrah pilgrimage - similar to Hajj but which can be performed any time of the year. Making Umrah during Ramadan is popular - in fact some Muslim scholars argue that performing Umrah during the holy month is equivalent to performing Hajj.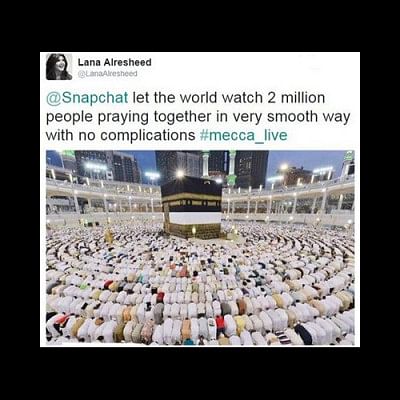 Many of the hundreds of thousands of Saudis campaigning for Mecca to be featured on Snapchat hope the coverage will show the beauty of the pilgrimage.
And for outsiders, it could serve as an interesting way to see a rarely viewed event - non-Muslims aren't allowed in the city.
"They always say New York never sleeps. They haven't seen Mecca yet! We want #mecca_live please," tweeted one Saudi.
Saudis are asking Snapchat to host this live coverage on the 27th day of Ramadan (13 July this year) as it is believed to be one of the more blessed nights of the month.
If the campaigners are successful, it wouldn't be the first time a Saudi city was featured by the app.
In April a stream from Riyadh was meant to document life in the Saudi capital but ended up with many poking fun at stereotypes of Saudis.
This has made some Saudis worry that the same would happen this time: "Dear Mecca residents, if this live event happens please do not joke and mess around," one concerned man tweeted.
Others were even less keen on the idea. "I'm against the hashtag," one man wrote.
"Snapchat shows clips of people in revealing clothes, how can you agree to show the most pure place on earth on the same platform?"
Snapchat didn't comment on the campaign when contacted by BBC Trending.
The Tel Aviv event this week happened to coincide with the anniversary of the last year's war between Israel and Hamas in Gaza, but was criticised by Palestinians who lobbied for a live event of their own.
Two days later the app featured life in the West Bank.