How 'Indian worker slapped' shocked an Arab nation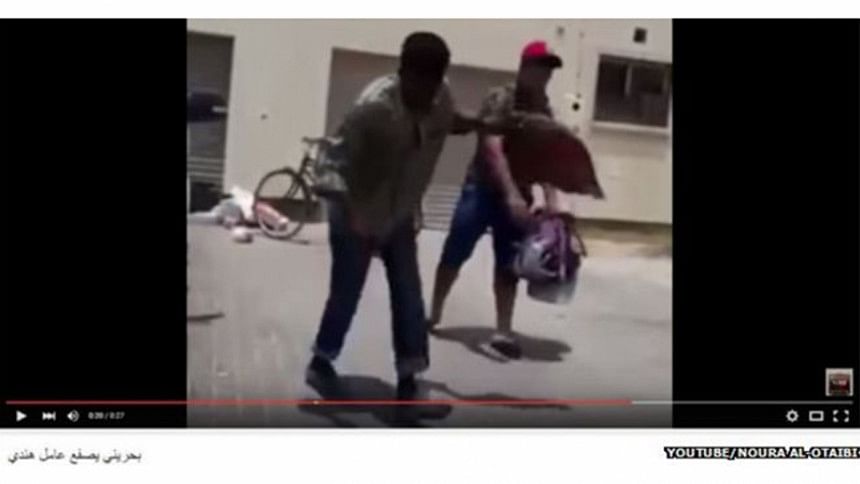 A video of a wealthy-looking Bahraini apparently slapping a man who appears to be a migrant worker has shocked social media users across the country, and now led to several arrests.
It all started earlier this month when a clip of the incident was uploaded to YouTube. In the 27-second clip, which replays the violent incident multiple times, a well built man in a bright red baseball cap slaps a much smaller man who appears to be a South Asian migrant worker.
Though it's hard to make out what's being said, a voice from behind the camera seems to be mocking the smaller man, who remains silent, holding a hand to his cheek. It's been viewed more than 140,000 times on Facebook.
Now pictures showing both men, in what appears to be a police station, are being circulated on chat apps. BBC Trending has not been able to verify the video or images, nor establish the identities of the men - but a statement issued by the Bahraini Interior Ministry appears to confirm the incident is genuine and says that an Asian man was assaulted in Riffa, a city in Bahrain's Southern Governorate district.
On social media, Bahrainis have been using hashtags that translate as "Bahraini Slaps Worker" and "Indian Worker Slapped" to condemn the attack, and highlight the contributions migrant workers make to the country.
"Everything comes back around in time and one day the Gulfies will work for the Indians, and then see how they will treat them. You don't believe it? Read history," wrote one commenter on YouTube. "If you use your power to abuse people, then remember Allah's power over you. The act which was carried out by you is abuse," read a tweet, while another said "It is the lowest and most despicable thing to slap a poor person who cannot defend himself and it is even more despicable to film the incident."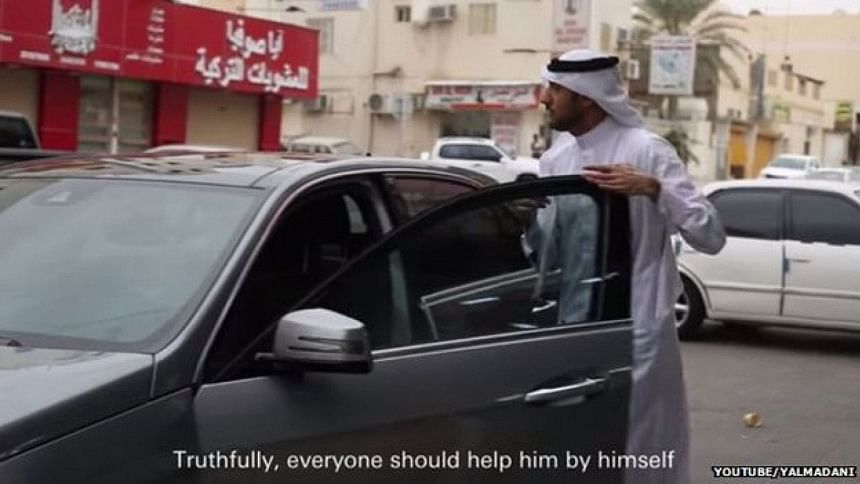 The video has come to the attention of the country's foreign minister, Sheikh Khalid Bin Ahmad al-Khalifa, who tweeted his support for the victim. "He came from his country bearing homesickness and being away from family, to work in the toughest of jobs for a modest wage. And a despicable person comes and slaps him #Indian_Worker_Slapped," he said.
It is incredibly rare for the authorities to speak out on this kind of incident, according to Marietta Dias of the Bahrain's Migrant Workers Protection Society. "While expatriates enjoy a certain level of freedom in Bahrain, low-income workers are particularly vulnerable. They might not report abuse because they are too nervous to confront authorities, or they might not be taken seriously. In this case, instant action was taken, sending a clear message," she tells BBC Trending.
According to Human Rights Watch, around 460,000 migrant workers, mostly from Asia, make up 77% of Bahrain's private workforce. They often struggle with issues such as unpaid wages, passport confiscation, unsafe housing, excessive work hours, physical abuse and forced labour.
The issue appears to be gaining more attention in the country, however. Another recent video being viewed widely in Bahrain uses actors to tell the story of a migrant worker who ends his life because he hasn't been paid, and is unable to send money back home for his father's operation. "The Prophet Allah's peace and blessings be upon him. Give the employee his due before his sweat dries," the caption says.