Village of widows
Sohagpur victims wait to see Kamaruzzaman punished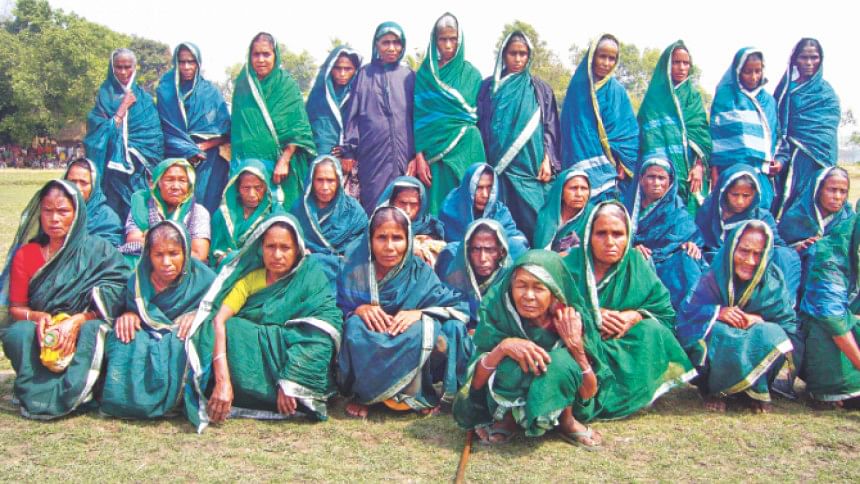 This story was first  published on May 4, 2014 at http://thedailystar.net
As the morning dawned in remote Sohagpur village on July 25, 1971, Julekha Begum (not her real name) became busy in household chores. Suddenly, she heard a loud burst of gunfire from a nearby field.
Little did she know that her peaceful village would soon be turned into a death valley.
Within a few minutes, Julekha's husband returned home from the field. Then came two Pakistani soldiers accompanied by some known faces. They enquired her husband whether he was a freedom fighter. Unsatisfied with his reply, they gunned him down. Before leaving, they also killed Julekha's brother-in-law.
Shuddered with fear, she fled to nearby Nakla village leaving her husband's body there. On her return three days later, she found that her husband's body had been partly eaten by animals. She buried his remains.
But her miseries didn't end there. The Pakistan army came again and raped her. And those known faces were with them this time too.
This is how the Pakistan occupation forces and their collaborators massacred innocent civilians at Sohagpur village in Nalitabari upazila of Sherpur during the Liberation War.
They killed 164 men and raped many women at the village on July 25, 1971. Only 57 women survived, only to live out life as widows. After that day, Sohagpur was to be known as Bidhoba Palli, a village of widows.
And it was Muhammad Kamaruzzaman, the then chief of greater Mymensingh Al-Badr, and his accomplices, who led the Pakistani army to Sohagpur to commit unspeakable atrocities on the villagers that day.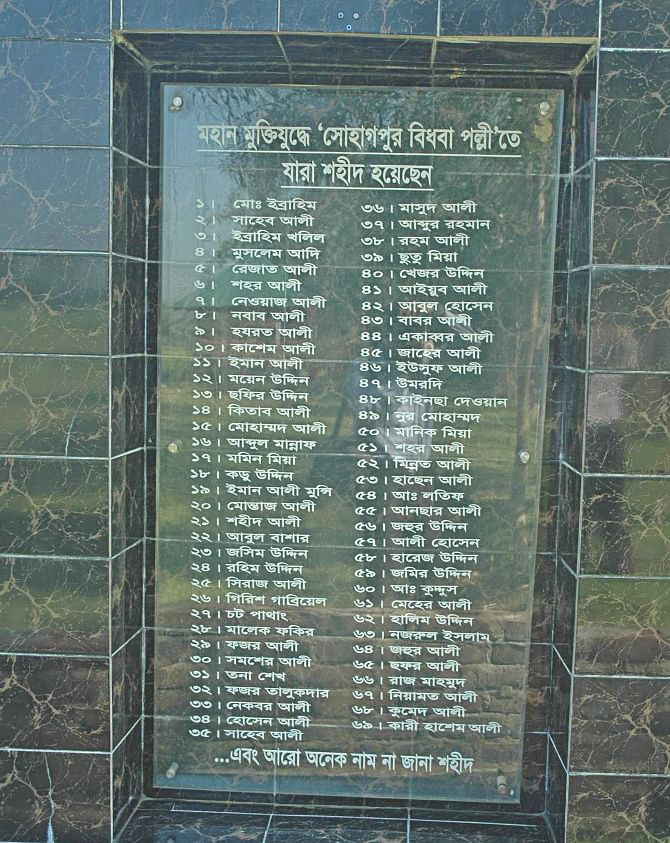 Forty-three years later, those heinous crimes bring in death for Kamaruzzaman, now assistant secretary general of Jamaat-e-Islami, as the Supreme Court yesterday upheld the death penalty handed down by the International Crimes Tribunal-2.
The tears of those widows have dried up, but they are happy to see the leader of the local collaborators get the capital punishment. They now demand quick execution of the verdict.
"We have waited 43 long years to see him [Kamaruzzaman] get death penalty. We are happy. We will feel happier when we see him hanged," Julekha told The Daily Star over the phone in an emotion-choked voice.
Julekha gave a deposition before the ICT-2 about the brutal killing of her husband and the torture she had endured.
In her testimony, she mentioned the names of Baka Bura and Nasa as local collaborators who along with Kamaruzzaman accompanied the Pakistan army.
Like Julekha, many others have stories that are full of horror and agony.
Jalal Uddin lost his father and other relatives on that day. He also testified before the tribunal.
In his deposition, Jalal, son of martyr Safir Uddin, said he hid in a nearby place hearing that Pakistan army along with Razakars and Al-Badr men attacked Sohagpur.
"When I came back to my house running, I saw 11 bodies at the yard of my house," said Jalal.
"The bodies of my father, my paternal uncle Kitab Ali, my cousin Monnas Ali, Mohammad Ali, Momin Mia, Kutum Uddin, Rejot Ali and Iman Ali, and some other unnamed people were lying there."
They were buried in three graves, he said.
Jalal also mentioned that Baka Bura, Nasa and Kadir daktar were Razakars, and Kamaruzzaman was their chief. They carried out the massacre, bringing the Pakistani army to the village.
In his reaction to yesterday's verdict, Jalal told The Daily Star that there was an apprehension that Kamaruzzaman might get a lesser punishment like Jamaat leader Delawar Hossain Sayedee.
"We were relieved after hearing the verdict. We want quick execution of the verdict.
"My father and other villagers were killed brutally at the hands of Razakars and Al-Badr men led by Kamaruzzaman, and only death is the befitting punishment for the crimes he had committed," said Jalal, demanding the trial of all local collaborators.
Adjudicating the charge of mass killing in Sohagpur, the ICT-2 in its verdict observed that the attack was launched in such grotesque and revolting manner that hundreds of unarmed civilians couldn't save their lives. The act of massacre and devastation of human honour was diabolic and detrimental to basic humanness.
"The accused [Kamaruzzaman] by his acts and conducts participated in the perpetration of such horrendous attack that resulted in murder of hundreds of unarmed civilians constituting the offence of crimes against humanity," it said.
"Undeniably, the act of indiscriminate sexual invasion committed on women, in conjunction of the event of mass killing at Sohagpur village, shocked the conscience of humankind and aggravates the pattern of the criminal acts and liability of the accused as well," the tribunal added.
A plaque with the names of 69 villagers stands next to a mass graveyard at Sohagpur, bearing the testimony of a brutal massacre.
The villagers demand that a monument be built there to commemorate the people who lost their lives at the hands of Pakistan army, Razakars and Al-Badr men.