Hasina for setting up Saarc institution to fight public health threats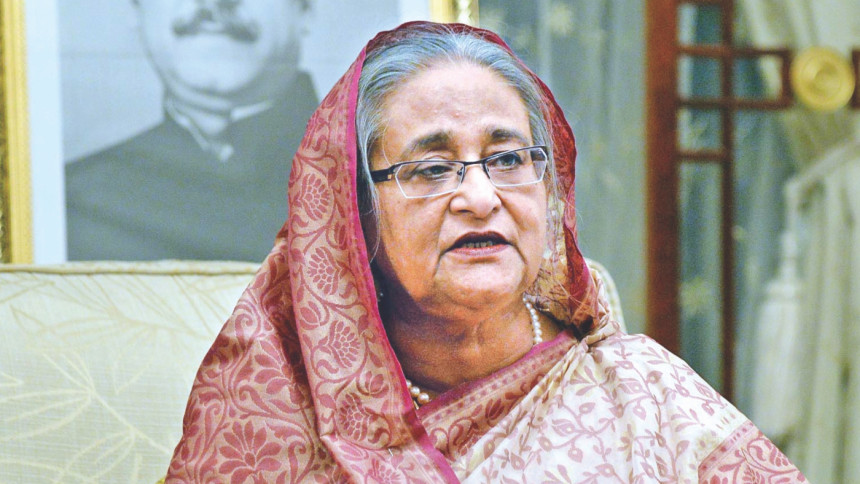 Stressing the need for forging collaboration among the Saarc countries to fight the coronavirus pandemic, Prime Minister Sheikh Hasina today proposed establishing an institution to prevent and fight any public health threat in the South Asian region.
"We believe it's extremely important to establish an institution to prevent and fight any public health threat in the South Asian region in future... Bangladesh will be happy to host such an institution if you all kindly agree," she said during a videoconference of the government representatives of Saarc countries, UNB reports.
"We need to forge collaboration through our collective capacity, expertise and resources," she said.
The PM also proposed that the health ministers of the region hold similar videoconferences and take forward the initiative to develop a common strategy to combat COVID-19, the report adds.
At the conference which began at 5:30am (Bangladesh time), Indian Prime Minister Narendra Modi proposed creation of a Saarc emergency fund and offered $10 million to combat coronavirus in the region, our correspondent reports.
He said India is also ready with a pool of doctors to assist any of the regional countries.
All the Saarc leaders joining the conference appreciated Modi's proposal of creating the emergency fund and pledged to contribute to it.
Meanwhile, during Hasina's speech, she also highlighted steps taken by Bangladesh to prevent the spread of COVID-19, saying the country had successfully prevented the entry of the virus through strong surveillance and rigorous checks-up at all international airports, seaports and land ports, the UNB report said.
The PM said Bangladesh had formed a national committee to provide guidance to people concerned from all ministries at all levels and undertaken massive awareness-raising campaign everywhere.
Bangladesh has kept four newly-built hospitals dedicated to COVID0-19 patients. In addition, there is one more hospital in Rajshahi to exclusively handle COVID-19, she said, adding the country had stockpiles of testing kits, infra-red thermometers, isolation gowns and masks.
In the wake of the coronavirus outbreak across the world, the Indian prime minister took the initiative to arrange the videoconference of all the Saarc nations to chalk out a joint strategy to tackle COVID-19 in the region.
Alongside Narendra Modi and Sheikh Hasina, Maldivian President Ibrahim Mohamed Solih, Sri Lankan President Gotabaya Rajapaksa, Bhutanese Prime Minister Lotay Tshering, Nepalese Prime Minister KP Sharma Oli, Afghan President Ashraf Ghani and Pakistan Prime Minister Imran Khan's Special Assistant on Health Dr Zafar Mirza also joined the videoconference to represent their respective nations, UNB reports.