'My only crime is I am a Bengali'
Says Rayhan; no Eid celebration for family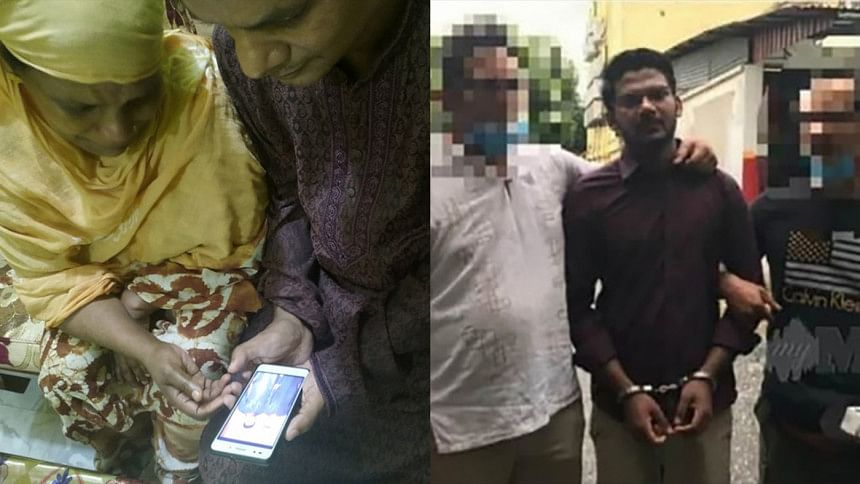 "There has never been a single Eid since his birth that our boy was not with us or did not talk to us. This is the first Eid without our son close to us, without having a word with him. We don't even know when our son will return to us."
Rayhan Kabir's mother Rashida Begum was crying as she spoke to The Daily Star on Saturday night when the holy Eid-ul-Azha was being celebrated across Bangladesh. His father Shah Alam was also crying.
Rayhan was arrested by Malaysian police on July 24 following an Al Jazeera documentary in which he criticised Malaysia's treatment of undocumented migrants. Nine days have passed since then. However, for Rayhan's family, time seems to stand still.
Rayhan's mother said, "I can't explain my pain to anyone. I cried all day. My boy is in jail. All the memories kept coming back. Only a mother knows how it feels. Afterall, I gave birth to the boy. If he were with us during Eid, he would always kiss my forehead. If he were abroad, at least he would have called us. My heart is breaking."
"Please give my son back to me. I plead to the Malaysian government to return my son. I have the same plea to our Prime Minister Sheikh Hasina. I know for sure that my son did not commit any crime. He is not someone who would commit a crime. If my son does not return, I will not celebrate Eid. The day my son returns will be my Eid day," Rashida Begum said in a choked voice.
Rayhan's home is in Bandar area of Narayanganj. His family includes his parents and two siblings.
Rayhan's father Shah Alam used to work in an export-oriented garment factory at Panchabati BSCIC in Fatullah, Narayanganj.
Shah Alam said, "My son has never done anything wrong in his life. But he always protested against injustice. I have told him many times, 'Son, if you always protest like this, you could be in danger.' The boy used to tell me that he felt guilty if he did not speak out against injustice. Who knows how my son is now."
According to family members and locals, Rayhan is known to everyone in the Bandar area as a young rebel. He always stood beside anyone in the area who faced difficulties. He used to help disadvantaged students with books and money. He was very vocal against drug smuggling in the area.
In 2014, Rayhan completed his Higher Secondary Certificate (HSC) and went to study in Malaysia. He passed BA there. Just before Eid-ul-Fitr he got a job in a company.
On July 3, Al Jazeera published an investigative documentary titled "Locked Up in Malaysia's Lockdown". The report raised the issue of the government's repressive treatment of migrant workers in Malaysia during the lockdown. In that report, along with the citizens of many other countries, Rayhan Kabir also gave interview, which angered the Malaysian authorities.
An arrest warrant was issued against Rayhan Kabir. He was arrested by Malaysian police on the evening of July 24.
DIfferent international and Bangladeshi organisations, including Human Rights Watch and Amnesty International, have condemned the arrest and demanded Rayhan's immediate release.
Asked when he last spoke to Rayhan, his father Shah Alam said, "He spoke to us on Thursday, before the arrest. My son told me, 'Father, I'm suffering as I stood beside people. You may have to go through some trouble'."
Rayhan's younger sister Meherun Maher studies Marketing at Narayanganj College. Worried about her brother, she is also not celebrating Eid.
"My brother always told me to stand by people," Meherun said.
"On July 19, my brother sent a message to a friend, who later sent it to me. I cried a lot when I read the message."
What did Rayhan write in the message? It is learned that Rayhan wrote the message on July 19 amid fear of his arrest, "Many countries around the world still enslave workers. Just do a Google search, you will know we provide the cheapest labour. Yet they hurt us, punish us, even though it is illegal, because that is how the system has become. Why do they make the people cross the airport with their hands in chains like animals in front of people from other countries? Why would they strip my devout brother naked in the name of punishment? Despite such injustice, we cannot raise our voice against them. We will just shed our tears with grief."
Rayhan further wrote, "I am fine. I have been comfortable with my family. I have a Malaysian degree. I could have spent my life comfortably doing a corporate job. But when I saw my countrymen inhumanely tortured in front of my eyes, I could not bear it. As a result, I am a fugitive accused today. Let's not talk about how I am now passing every moment, how I am struggling every second. I will put up that story for some other time. My only crime is I am a Bengali."
The writer is a freelance journalist.