14 crew rescued after ship sinks off Japan, search on for 8 missing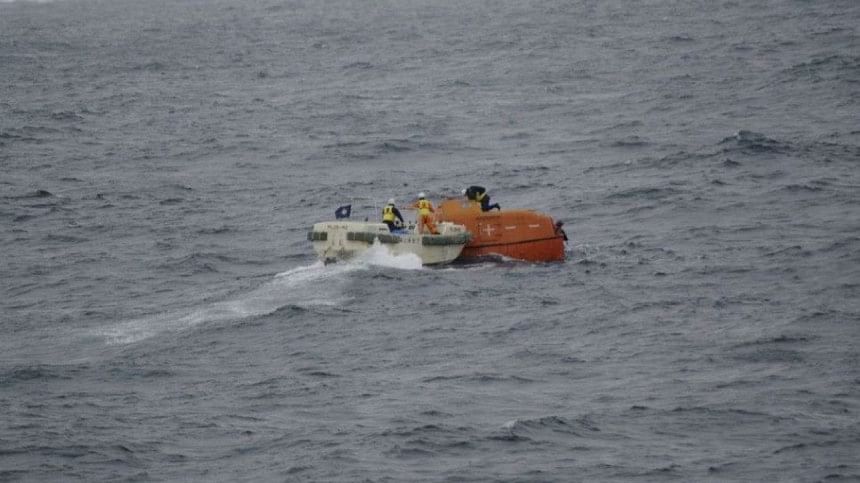 Fourteen crew members were rescued today from a cargo ship that sank off south-western Japan during fierce winter winds, with planes and ships, including private vessels, searching for the remaining eight.
The vessel, the 6,651-tonne Hong Kong-registered Jintian, issued a distress call late on Tuesday, the Japan Coast Guard said.
Media reported a person on the ship said it was listing and taking on water, and later reports said the 22 crew members - all Chinese or Myanmar nationals - had transferred to lifeboats.
There was no immediate word on what caused the vessel, which was carrying lumber, to capsize. A Coast Guard spokesperson said winds were strong at the time the distress signal was received at around 11.15pm on Tuesday.
The Coast Guard immediately sought assistance from patrol ships and aircraft in the vicinity, the west of Nagasaki city, top government spokesman Hirokazu Matsuno said. The ship sank at 2.46am, he added, quoting other vessels in the area.
The Coast Guard "is also seeking cooperation from the Self-Defence Forces, South Korean Coast Guard, and vessels sailing near the waters," Matsuno said at a regular news conference.
"A total of 14 have been rescued," a spokesman for the Japanese coast guard told AFP.
"We don't know their condition and nationalities yet," he added, declining to be named.
He said six of the crew had been rescued by South Korea's coast guard, which was assisting the operation.
Eleven of those rescued so far were "unconscious", the Jeju Coast Guard told AFP, adding that the rescued crew members were being transported to Japan's southwestern Nagasaki prefecture.
Earlier, the Japan Coast Guard said it had discovered four crew floating in the water and that they were rescued by a private vessel, some 110km west of the Danjo islands. The Coast Guard could not confirm reports the crew was in lifeboats.
Western parts of Japan were battered by winter storms that brought freezing, windy conditions on Tuesday.
The area where the ship sank is between Nagasaki and South Korea's Jeju island, where hundreds of flights were cancelled on Tuesday because of harsh weather conditions. Heavy snow has been falling in some areas and daytime temperatures in some of the islands nearest the rescue site reached just 3 degress Celsius.
A ship ran aground in heavy wind off the southern Japanese islands of Okinawa on Tuesday. The 19 crew members were rescued, media reported.
The Jintian incident appears to be the worst since a cargo ship carrying almost 6,000 cattle sank in 2020 off the coast, leaving most of the crew of about 40 missing at sea.
Copyright: The Straits Times/ Asia News Network