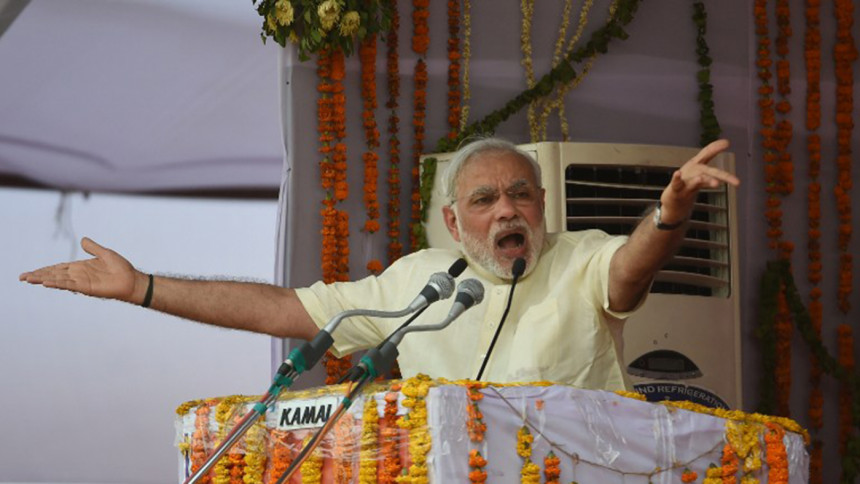 It will be a 36-hour foreign visit with a difference. No travel outside the capital and no glitzy diaspora function.
Narendra Modi's visit to Dhaka will be power-packed nonetheless. Bangladesh is all set to receive the Indian prime minister tomorrow.
With his focus on neighbourhood policy, Modi will travel to the country that India aided in its liberation war. After having visited 19 countries in the last one year, Modi's itinerary so far has included Bhutan, Nepal, and Sri Lanka in the immediate neighbourhood.
But Bangladesh had to wait for Modi's arrival, as the Land Boundary Agreement was stuck in parliament.
With the historic unanimous passage of constitutional amendment bill in parliament, India and Bangladesh can now officially exchange land enclaves in each other's territory.
Therefore, Modi has the perfect scenario set up to visit Bangladesh.
Arriving in Dhaka on the morning of June 6, Modi will first pay homage to freedom fighters and martyred soldiers of the 1971 Liberation War at the Jatiya Smriti Soudho or the National Martyrs' Monument.
A visit to Bangabandhu Bhawan at Dhanmondi to pay respect to the country's founding father and first president Bangabandhu Sheikh Mujibur Rehman will be next on the schedule.
He will visit the house where Bangabandhu was assassinated in a military coup on August 15, 1975.
Narendra Modi will receive the Friendship Award on behalf of India's former prime minister Atal Bihari Vajpayee from Bangladeshi President Abdul Hamid.
The Friends of Bangladesh Liberation war award initiated by the ruling Awami League government has been conferred upon 226 Indians so far including President Pranab Mukherjee during his 2013 Dhaka visit.
In July 2011, Congress President Sonia Gandhi had received the highest award - Bangladesh Freedom Honour conferred upon mother-in-law and former Prime Minister Indira Gandhi for her unequivocal support to Bangladesh's liberation war.
He will hold official talks with his counterpart Sheikh Hasina regarding bilateral and regional issues with the focus on trade and cooperation on counter-terrorism.
Modi will meet Bangladeshi President Abdul Hamid. Leader of the Opposition in Parliament Roshan Ershad will call on Modi at the Pan Pacific Sonargaon hotel where the Prime Minister will stay.
Sources indicate BNP Chief Khaleda Zia could call on Modi at the Hotel itself, though there is no confirmation yet.
Bangladeshi government is slightly wary of a final go ahead to the meeting as Zia had refused to meet President Pranab Mukherjee in his 2013 visit, despite it being slotted in the official program of the visiting Indian guest.
Khaleda Zia did meet Foreign Minister Sushma Swaraj when she was in Dhaka in June last year.
Sheikh Hasina is likely to host a banquet dinner for Narendra Modi at the hotel.
On June 7, Modi will visit the Dhakeshwari temple in Dhaka city, which rarely finds itself a high profile VIP visitor.
Prime Minister Modi will inaugurate the Indian High Commission's Chancery in the diplomatic enclave to strengthen diplomatic ties.
He will address civil society members, intellectuals, political leaders and dignitaries at the Bangabandhu International Conference Centre before flying back home.
Modi will also lay out the Indo-Bangla friendship roadmap in front of students and youth at Dhaka University during his visit.
Modi heads to Bangladesh on his first official visit on a high following the green signal to Land Boundary agreement by Indian lawmakers after more than 4 decades that witnessed opposition from parties like TMC, AGP, BJP and Assam state itself.
According to sources, Narendra Modi will also extend the Visa on Arrival and E Visa facility to Bangladeshi citizens including businessmen and tourists, traveling to India by air.
The two countries will also ink agreements towards maritime economy, shipping and climate change agreements as well as on joint conservation of the Sundarbans.
Meanwhile Home Minister Rajnath Singh in a press conference in Kolkata on the occasion of the government's first anniversary on Tuesday had claimed that the long standing Teesta water sharing issue with Dhaka will be resolved soon.
Keeping in mind the significance of this relationship and the fact that the last Indian Prime Ministerial visit in 2011 was mired in controversy when Bengal Chief Minister Mamata Banerjee pulled out of Manmohan Singh's official entourage at the eleventh hour - diplomatic sources claim Narendra Modi's Dhaka visit will be sui generis after all.