NSU Startups Next: A platform to set ideas free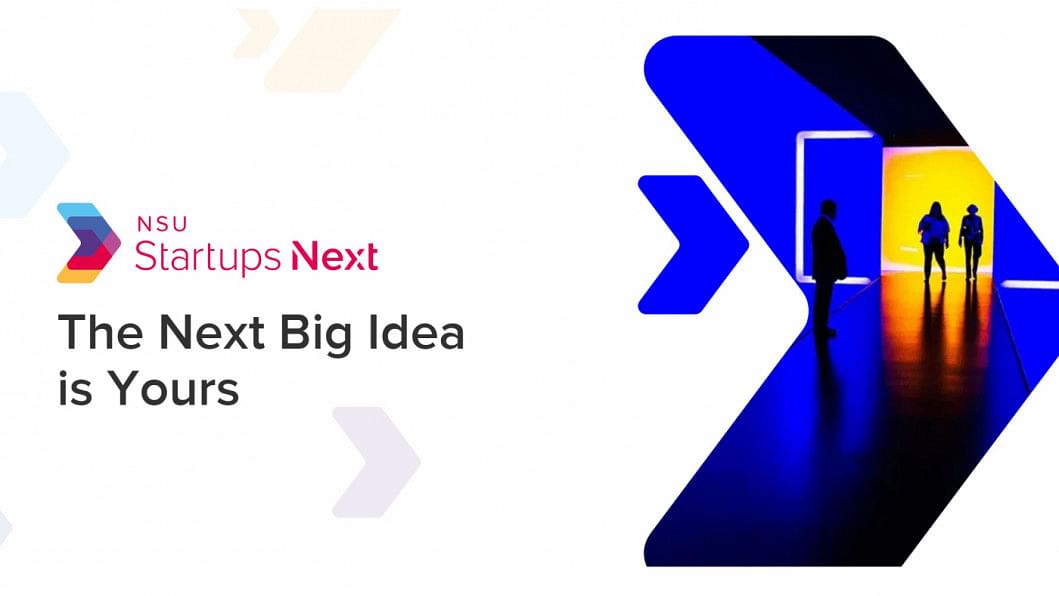 Fahad is a dreamer, dreaming to run a business with his team someday. Those like him may have an excellent idea that needs a lot of support in its early stages, including expert mentors, contacts, resources, and capital for business. But for them, the process to acquire it all has no clear pathway. For today's startups, one of the best ways to get on the path to funding and success is to join incubation programs, Fahad read in an article.  It sounds difficult, but it is surely possible, thought Fahad, so he set off to find a program that could help him.
To the rescue of Fahad
Like Fahad, many aspiring entrepreneurs with big dreams and ideas only need a little push from the right end. For this, incubation programs⁠—or "incubators"⁠—exist to provide the necessary financial, professional and technical support. Entrepreneurs learn from experienced executives, test their business model, and gain industry credibility from the program's prestige. They are programs designed to accelerate the growth of fleshing out one's ideas, testing the market and giving wings to one's ideas so that so it can fly. Much to the delight of entrepreneurs with big ideas, North South University (NSU), Bangladesh's leading private university, has just launched its own incubator, NSU Startups Next (NSUSN). The program is designed to inspire innovation and support founders who want to scale their startups. At NSUSN, founders will learn from experts, form strong connections with those in the startup ecosystem and build a network, to create strong foundations for the rest of their journey as entrepreneurs. 
About NSU Startups Next
NSUSN involves collaborations with academicians, stakeholders, and industry experts. The program will nurture the entrepreneurship spirit and assist young founders. The program kicked off on 29th June from NSUSN's Facebook page, where Zunaid Ahmed Palak MP, Honorable State Minister of ICT Division, was the Chief Guest. The advisory committee of NSUSN includes Professor Atiqul Islam (Vice-Chancellor of NSU), Benajir Ahmed (Chairman of NSU Board of Trustees) and others, including the deans of NSU's schools. The external members include Rahat Ahmed (Founding Partner & CEO, Anchorless Bangladesh), who also serves a Senior Advisor to the program, Tina Jabeen (Investment Advisor, ICT Division, Government of Bangladesh), Hussain M Elius (Co-founder & CEO, Pathao) and others accomplished in their respective fields.
Zunaid Ahmed Palak MP at the launch: "I really applaud North South University to launch such a timely initiative. I believe this program can inspire young founders to believe in their ideas and steer it in the right direction with the support from this incubator program. We'll be happy to provide all kinds of support to this program since it will help future leaders to grow their startups into scalable businesses, steering our economy forward." With an experienced and expert panel for guidance, startups should expect to thrive with the resources provided by NSUSN to ultimately embark on the journey of success. 
The 'Who' and 'How' 
Whether you just have an idea, have gone to market or you are on the path to getting funded, this is an ideal platform for you. Your startup is eligible as long as one of the co-founders are an NSU student, alum or faculty member. The program consists of four steps: online submissions, selection and onboarding, incubation, and graduation.  During the initial online submission phase, applicants will need to fill out the form on the website and answer some questions about their idea, market, business model, and team. It is advised to be fearlessly authentic and simple in describing the idea and your motivations. Applications will close on August 8th. Shortlisted participants will then be invited to pitch to the selection panel studded with industry experts and investors as judges. In the incubation phase, the top teams will go through 3.5 months of the incubation process consisting of weekly thematic sessions for business building and one-on-one sessions with mentors and be offered financial support. After the successful completion of the incubation phase, the teams will present their pitches in front of a panel of investors and experts. The best startups will be selected based on the pitch and their progress throughout the program. The winners will be the proud alumni of the NSU Startups Next and will be given access to additional funding channels to scale their operations. 
Give wings to your ideas
"NSUSN's idea is to take ideas out of the classrooms to the boardrooms. Our platform will facilitate and support early-stage startups, with formal training, practical skill development, and exciting opportunities to grow," said Professor Atiqul Islam, NSU's Vice-Chancellor. This program is not only designed to incubate but also to set the ideas free, providing opportunities that accelerate growth. If you're an aspiring entrepreneur with an idea like Fahad, or if you know a Fahad, visit the website of NSU Startups Next or simply scan the QR Code for more information. Stay updated about the program from the official Facebook page of NSU Startups Next and attend more informative webinars hosted by the team. 
Applications close on the 8th of August.
"Ping!" goes Fahad's phone. Several of his friends have sent him a message: "Check out nsustartupsnext.com… it's exactly what you've been looking for!"